IVZ Price Runs on Positive Result in Same Petroleum System?
Our 2020 Energy Pick of the Year Invictus Energy Ltd's (ASX:IVZ) is drilling one of the last undrilled oil and gas basins in Africa.
IVZ is gearing up to drill its massive prospect late this year. As with all exploration stocks we invested early and continue to hold. We are anticipating a gradual share price in the lead up to this drilling event which is still many months away.
Full details of why we first invested in IVZ in September 2020 are in our article IVZ: Our Top Energy Pick of 2020. We recently added to our position.
IVZ started to have a run in the last two hours of yesterday's trading session - and we have a theory on why...
A few weeks ago we wrote about a comparison between IVZ and a similar company called ReconAfrica (TSXV-RECO).
ReconAfrica is exploring an onshore petroleum basin in nearby Namibia, and is drilling right now in the same petroleum system as IVZ's project.
A few weeks ago we wrote that we think IVZ's project is technically better (we'll show why in a comparison table below). We think based on this, IVZ's drilling could have a higher chance of success than ReconAfrica.
ReconAfrica is a few months ahead of IVZ and ran up 2,150% in the lead up to its drilling. It surged another 58% overnight and is now capped at US$650M...
... and our pick IVZ is currently capped at just $100M.
Now, we suspect IVZ's late run yesterday was because ReconAfrica sent out an email saying they had "found a working petroleum system".
The good news for IVZ is that ReconAfrica's success improves IVZ's chances of finding and negotiating with offtake or farm-in partners.
IVZ started running at about 2:18PM AEST - This Recon message was forwarded to us at 2:19PM...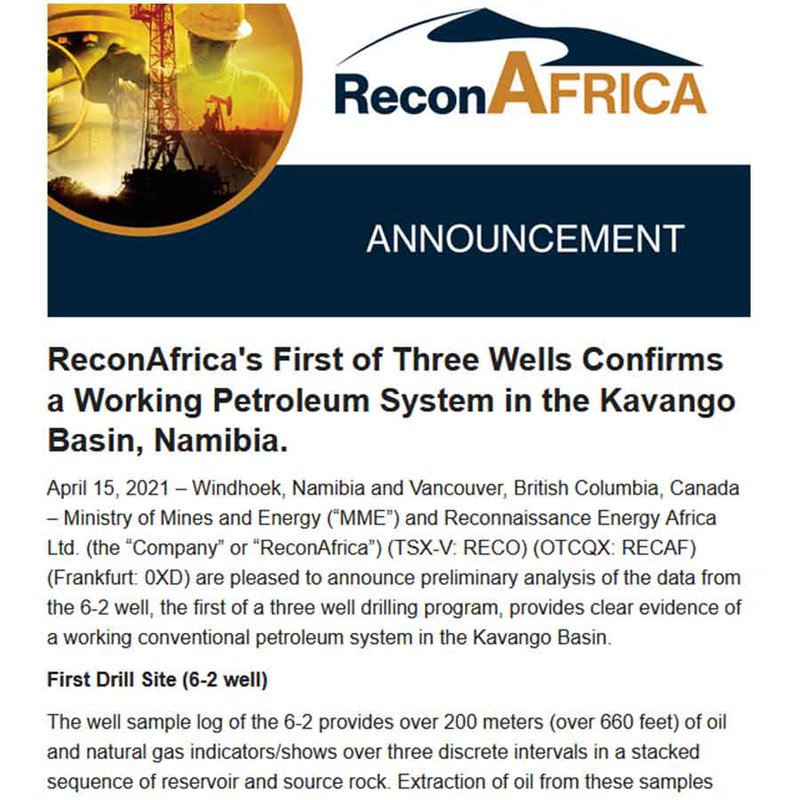 The IVZ price run started at the same time that Recon released its positive drill result - 2:18PM AEST.
ReconAfrica's performance is what we always hope for in oil exploration investing - a run up on speculation, then a good result followed by a further increase (we don't hold shares in Recon).
This is what we were hoping for with 88E - and unfortunately the 'pre result' speculation price run wasn't followed up with a drill result that the market liked. This is why It's always a good idea to invest early but reduce exposure and ideally free carry going into exploration results.
But Recon did just achieve the Holy Grail of oil and gas exploration investing - congratulations to holders of that stock (we still would have reduced exposure in the lead up to the drill result if we were investors in Recon - good drill results are rare and investing in exploration is risky).
We are hoping IVZ can deliver similar drilling success later this year.
ReconAfrica is currently capped at US$650M after its performance overnight - significantly more than IVZ's A$100M market cap.
Here are the key points from our "Why IVZ is similar to Recon" article to save you clicking:

Full details of why we first invested in IVZ in September 2020 are in our article IVZ: Our Top Energy Pick of 2020. We added to our position a few weeks ago.
Compared to ReconAfrica, which has grown to a US$650M market cap in recent months, you can see IVZ is earlier in its journey below.
IVZ is very close to a large potential value uplift, given drilling is around the corner - the image below is from 11th March 2021 - Recon's performance has only improved since: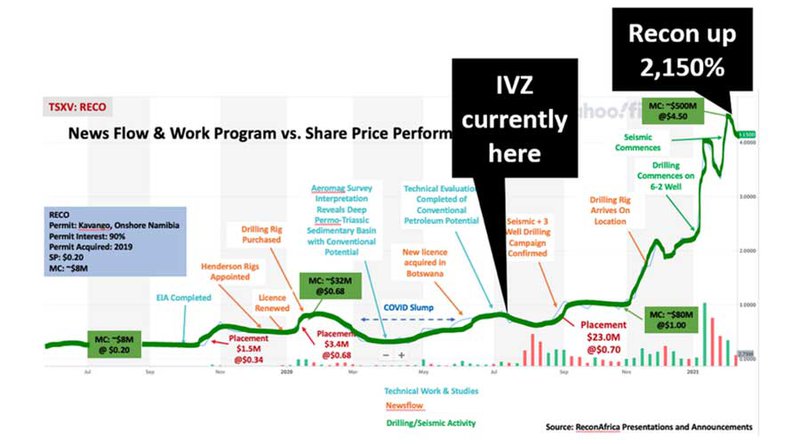 For any technical oil and gas boffins out there, here is a side by side comparison showing why IVZ is better technically - (noting that those market caps need updating since yesterday's news):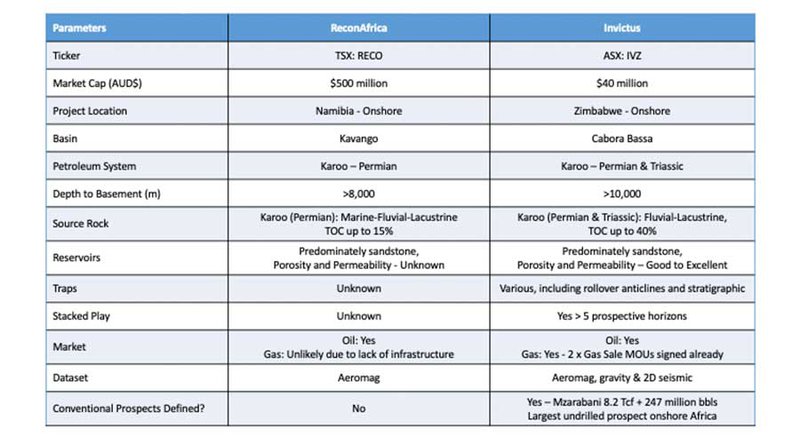 The next IVZ catalysts to watch out for ahead of drilling are:
Conclusion of the non-binding farm-in offer IVZ received late last year
Seismic acquisition to begin.
Hopefully both pieces of news come through in the coming weeks...
---