DXB kidney disease treatment Phase III trial officially begins
We invested in Dimerix (ASX:DXB) in August for its fully funded Phase III clinical trials treating FSGS (a rare kidney disease) and its two near term Phase III trials for COVID-19.
In early stage biotech investing, Phase III trials are the final hurdle to pass before a disease treatment can be sold to market.
A successful Phase III trial result (and the lead up to the Phase III results being announced) is where investors can usually expect upward share price movements as investors speculate on a positive result.
Breakthrough treatments can take time to develop, but the rewards can be significant on a successful outcome for investors who invest early. At the same time, an unsuccessful result can see share prices drop significantly.
Today DXB announced that the ethics approval was granted for its Phase III clinical trial on kidney disease FSGS, marking the "official start" of the trial.
Ethics approval allows DXB to begin recruiting patients into the study and start collecting data to evaluate whether its FSGS treatment is safe and efficient.
In late August we commented on DXB's ethics approval lodgement in Australia. Given the strong safety profile of DXB's treatment, we were not surprised that ethics approval was granted.
In clinical trials, "Patient recruitment" means finding people with the disease who agree to be "dosed" with the experimental treatment and test if it works.
DXB's patient recruitment is expected to begin this quarter and we are hoping that the first patient will be dosed early next year. There are 5 planned sites in Australia, which means roughly 5 FSGS patients that DXB will need to recruit for the region.
A "site" is a location where the trial is approved to run (this could be a hospital). For a rare disease like FSGS, it is generally one site per patient.
We think that a good outcome will be if DXB can have the first 5 Australian patients recruited within the first quarter of 2022.
The majority of the patients and sites will be located overseas, which means that DXB will need to get ethics approval in each new territory that it wants to run the trial.
We are expecting ethics submissions to be made before the end of the year in the US and Europe, and granted early next year - with more countries to follow.
What we are watching out for next from our investment in DXB is:
The first patient recruited into the study (before the end of this year)
Ethics approval granted in the US and Europe (early next year)
Sites set up and the study commenced in more countries / territories
A Reminder: What is FSGS?
Focal Segmental Glomerulosclerosis (FSGS) is a rare kidney disease characterised by inflammation and scarring of the kidney's filtration unit.
There are currently no FDA approved therapies, and the only solution for people with this debilitating kidney disease is a kidney transplant (which is very expensive and requires a long waiting-list).
DXB has today commenced Phase III clinical trials to test whether their drug known as DMX-200, can improve patient kidney function.
Given the lack of treatments for FSGS, DMX-200 was granted "orphan drug designation" - a status the FDA grants for drugs that cure or treat rare diseases that the FDA wants to incentivise companies to develop.
As an orphan drug, DMX-200 is eligible for an accelerated approval pathway, this allows DXB to commercialise the drug before the final trial results, saving months and even years of clinical research.
How big is the market?
There are 210,000 global sufferers of FSGS, it's estimated that 80,000 of those live in the United States.
Orphan drugs are expensive, over $7,000 per month on average. The average person will not be able to afford treatment, however insurance will generally cover the cost of drugs that are approved by the FDA which treat orphan diseases. In the US, insurance is often covered by a person's employer, so there is a high potential for treatment uptake.
The key milestone for investors to keep an eye on is the "Accelerated Approvals Granted" by the FDA, which means that DXB can start commercialising the drug and selling it to people diagnosed with FSGS (note that this is still years away).
The total addressable market for the drug, according to DXB, is north of US$1 billion.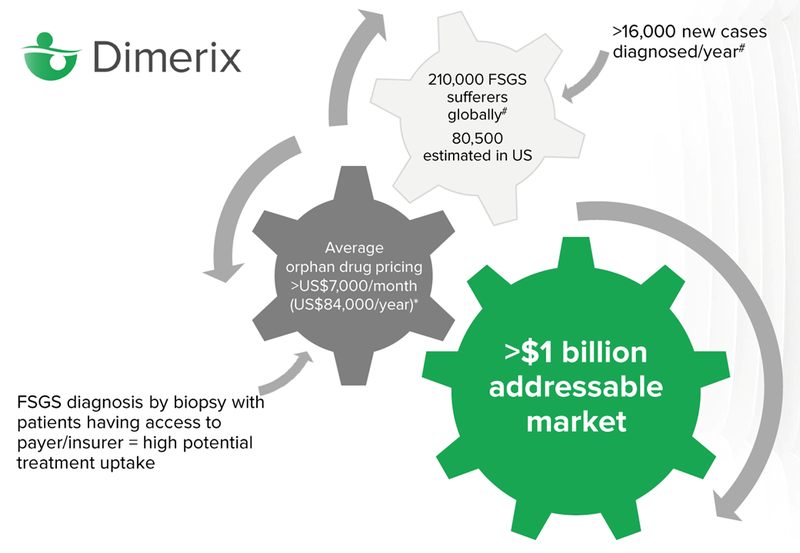 Patient recruitment
For an orphan disease like FSGS, recruitment can be very competitive. The rare nature of the disease makes it such that getting enough patients to conduct Phase III clinical trials can make or break a project.
DXB is in a critical window for patient recruitment as there are no other global FSGS studies underway.
With ethics approval granted today DXB can now start this process in Australia.
In order to undertake recruitment in other jurisdictions DXB will need ethics approvals in that region before they can start.
Each new region that opens up is an exciting milestone for DXB, and with each new patient recruited for the study, DXB gets one step closer to the ~75 patient mark required for the interim trial results.

What we know about the study
The first part of the study will evaluate whether the DMX-200 drug can improve kidney function in roughly 75 patients with FSGS.
The study will evaluate this using the levels of proteinuria (protein in the urine) of the patients. If there is statistical significance that the DMX-200 drug can reduce the levels of protein in the urine of FSGS patients compared to a placebo then it is indicative of the efficacy of the drug in treating FSGS.
The first stage of the trial that we are looking out for are results of the first ~75 patients - This will give DXB a good indicator if the drug is working as expected, and if there are any updates that need to be done to the trial's design.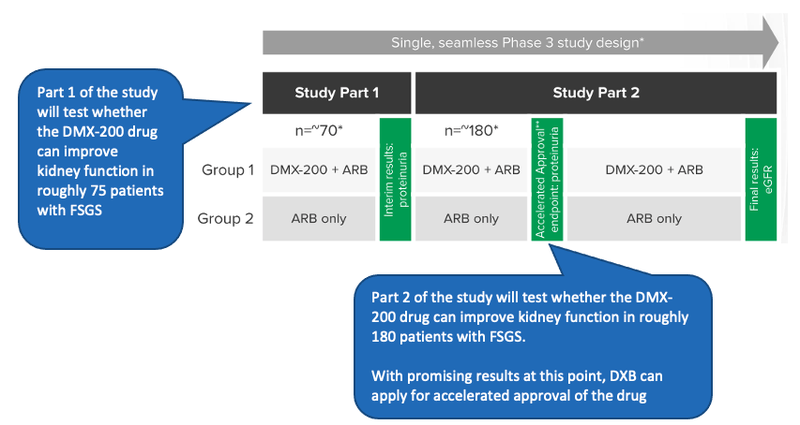 What to look out for next
We are expecting the first patient to be recruited into the study by the end of this year, with the remaining five patients to be recruited in Australia by March next year.
We are also watching out for ethics approval submissions in the US and Europe, and any announcements about the study commencing in new countries / territories.
✅ Phase III Study Design Complete
✅ Study design approval from FDA
✅ Ethics submission and site initiation for first sites (1)
✅ Phase III Trials Commenced: Study Period 1
🔲 First Patient Recruited [By End of 2021]
🔲 Patient Recruitment Update 2
🔲 Patient Recruitment Update 3
🔲 New Region Commenced Recruitment 1
🔲 New Region Commenced Recruitment 2
🔲 ~75 Patient Recruitment Complete
🔲 Interim Results
🔲 Phase III Trials Continue: Study Period 2
🔲 Patient Recruitment Update 1
🔲 Patient Recruitment Update 2
🔲 Patient Recruitment Update 3
🔲 ~180 Patient Recruitment Complete
🔲 Phase III Data collected for accelerate approvals
🔲 Accelerate Approvals Submitted
🔲 Accelerated Approvals Granted (H2 2024)
🔲 Drug Commercialised
🔲 Final Results eGFR (how well is the patient's kidney functioning)
🔲 New Milestones Added
Investment Milestones for DXB
✅ Initial Investment: @ 20c
🔲 Increase Investment
🔲 Increase Investment
🔲 Price increases 500% from initial entry
🔲 Price increases 1000% from initial entry
🔲 Price increases 2000% from initial entry
🔲 12 Month Capital Gain Discount
🔲 Free Carry
🔲 Take Profit
🔲 Hold remaining Position for next 2+ years
---