Could this ASX Junior Join the Gold Producing Giants in Canada?
Hey! Looks like you have stumbled on the section of our website where we have archived articles from our old business model.
In 2019 the original founding team returned to run Next Investors, we changed our business model to only write about stocks we carefully research and are invested in for the long term.
The below articles were written under our previous business model. We have kept these articles online here for your reference.
Our new mission is to build a high performing ASX micro cap investment portfolio and share our research, analysis and investment strategy with our readers.
Click Here to View Latest Articles
North American gold is suddenly back on ASX investors' radars.
There are several reasons for this.
The first is that over $3 billion has been poured into North American gold projects by Aussie companies over the last 18 months alone.
Just last month Evolution Mining (ASX.EVN) announced it will spend up to A$700m on the acquisition of the Red Lake Project.
This latest acquisition takes total investments by Australian resource companies including Newcrest Mining (ASX:NCM), Northern Star (ASX:NST) and St Barbara (ASX:SBM), in Canada to close to $4 billion.
Secondly, like Australia Canada has a combination of low geopolitical risk, a predictable mining regulatory environment and the presence of a skilled workforce due to the country's long history as a popular mining region.
Thirdly, the TSX's recent love affair with crypto and marijuana stocks took the buzz out of Canadian gold. This meant it was much more difficult for local gold companies to raise funds, resulting in a fall in valuations. So, as advanced Australian gold projects became limited and more expensive to run, a stream of notable Australian majors turned their attention to Canadian gold operations, where they have been ploughing serious cash.
One junior ASX company with a $25 million market cap was actually ahead of the curve in heading to Canada. This company was the first Australian gold developer to enter the Canadian gold market following the acquisition of its Cape Ray project last year.
The Company has since grown the resource to over 1Moz Au at a very healthy grade of 2.2g/t Au.
Importantly at this grade, and with the shallow nature of the mineralisation, this project has the potential to become one of the highest grade open pit operations globally in the next few years.
One of the first clues the company was onto something was a $5 million placement conducted in April, which attracted former Executive Chairman of Regis Resources, Mark Clark and other WA gold mining figures, including Nick Giorgetta, as cornerstone investors in the Placement.
Clark and Giorgetta have form. They were behind the sale of Equigold to Lihr Gold for $1.1 billion in 2008. They then took Regis Resource from a microcap company into a $2 billion+ company that paid and declared $325 million of dividends in the last five years. Clark stood down as chairman last year.
These are guys who don't take their investment decisions lightly.
A Scoping Study to be delivered in Q1 2020, is expected to confirm this project is on track to become one of the highest grade open pit gold operations in the world.
Global broker, Cannacord Genuity also support this assumption. Cannacord initiated coverage in November with a target of $0.70 compared to its current price of just $0.25.
This company has been hard at work all year, as it has advanced the project through multiple major development milestones including the largest drill program at the project in more than 30 years.
This program has set the company up for major news flow through 2020, including a resource upgrade and scoping study to be released in the first quarter.
With that in mind, let's look further into how this $25 million capped company intends to achieve this.
Introducing...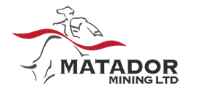 Share Price: $0.25
Market Capitalisation: $25m
Here's why I like Matador Mining...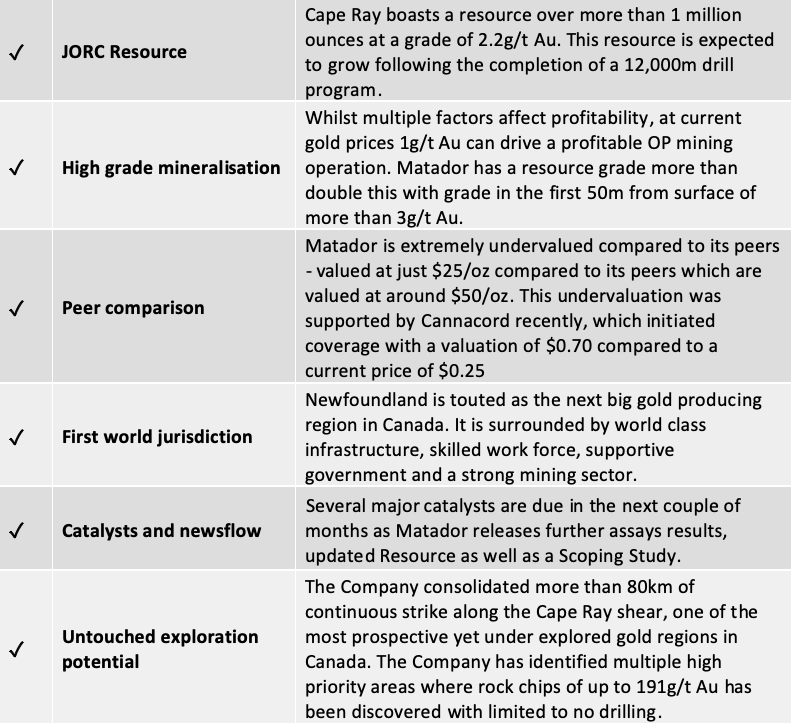 Matador Mining leads the charge into Canada
Whilst the larger gold players have rightly made the headlines regarding their highly publicised acquisitions in Canada, Matador Mining (ASX:MZZ) was actually the first ASX listed company to enter the Canadian gold space following the acquisition of the Cape Ray project circa 18 months ago.
Matador has since transformed the project into a +1Moz resource, whilst also outlining a clear pathway to potentially becoming the next producing gold mine in Newfoundland.
The numbers from recent works, comparisons with peers and history all point to a strong investment case with plenty of newsflow in the pipeline. The following graphic outlines the scope of the project: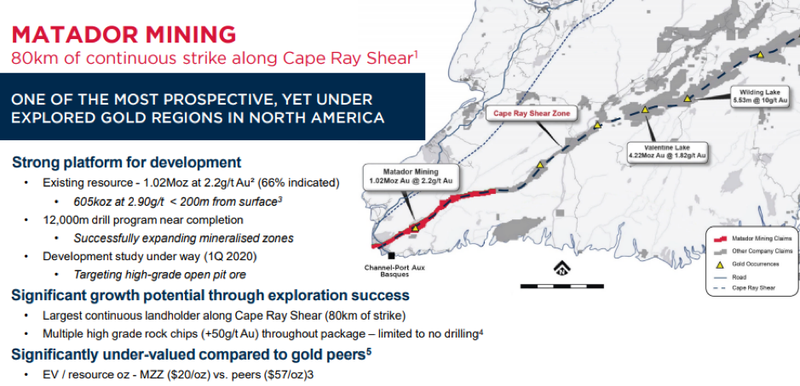 The video below gives you a sense of the project from a recent broker site trip:
Perhaps the most impressive aspects regarding the Cape Ray project is the shallow, high grade nature of the gold mineralisation that could potentially see the project become one of the highest grade open pit projects in a first world jurisdiction. The grade of each of the company's deposits and their respective ounces and distance from surface is highlighted below.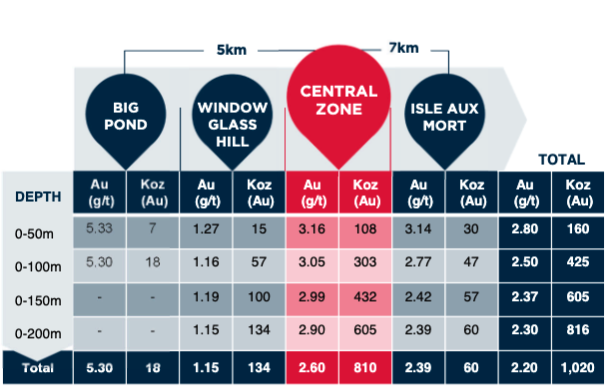 By comparison, other open pit operations have grades far less than this, and also require a considerable amount of pre-strip prior to the commencement of mining.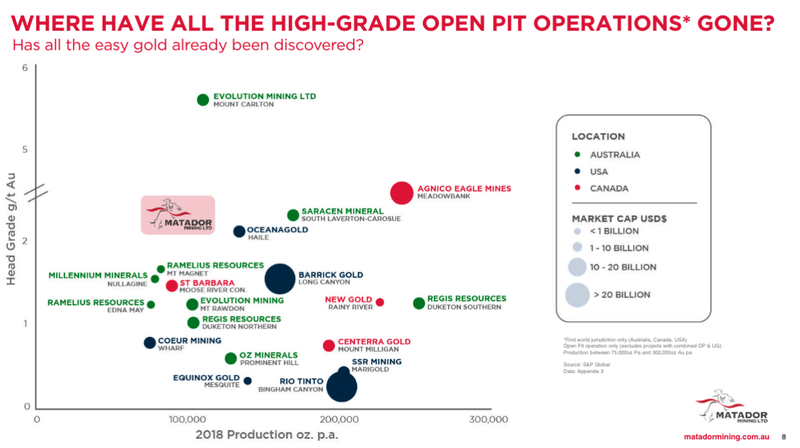 Matador will confirm the expected grade to be mined in a scoping study to be released in Q1 2020, however Cannacord and Hartley's have already cottoned onto the potential of Matador's project.
What the brokers say
Matador has had considerable exploration success to date. This is reflected in the group's share price which has increased some 56% from 16 cents in January to 25 cents today.
As the gold price surged and outstanding exploration results were delivered around the mid-year mark, the company traded as high as 33 cents.
However, similar to other companies in the junior gold space, when the heat came out of the gold price profit-taking occurred resulting in a retracement in Matador's share price.
In the face of this retracement though, Matador once again delivered exceptional exploration results, triggering a significant bounce in its share price in November.
This was one of the factors in Cannacord putting a A$0.70 price target on the company. Of course, as with any analyst report, this is speculative.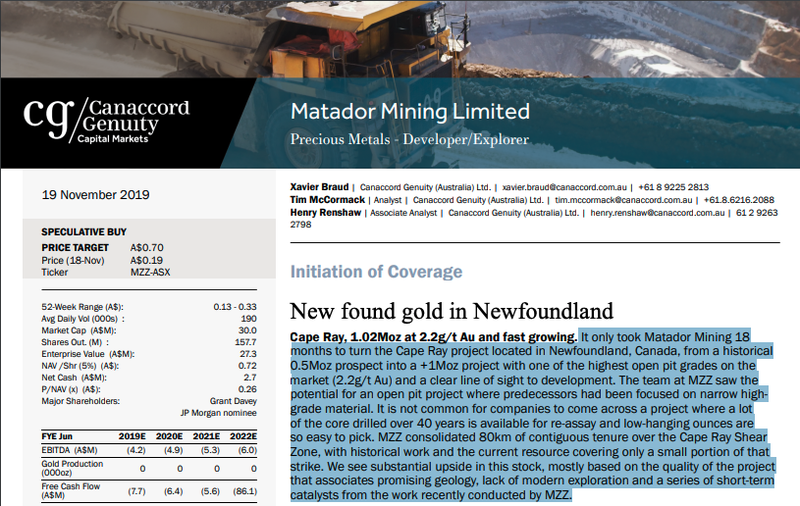 Cannacord states, "MZZ has been aggressively progressing the pre-permitting processes concurrently with its resource expansion drilling program. We estimated a start-up of the project in Q3 2022, first production in Q3 2023, and ramping up to full commercial production Q2 2024."
In terms of its peers, Cannacord believes the company looks even more attractive on an EV/oz basis: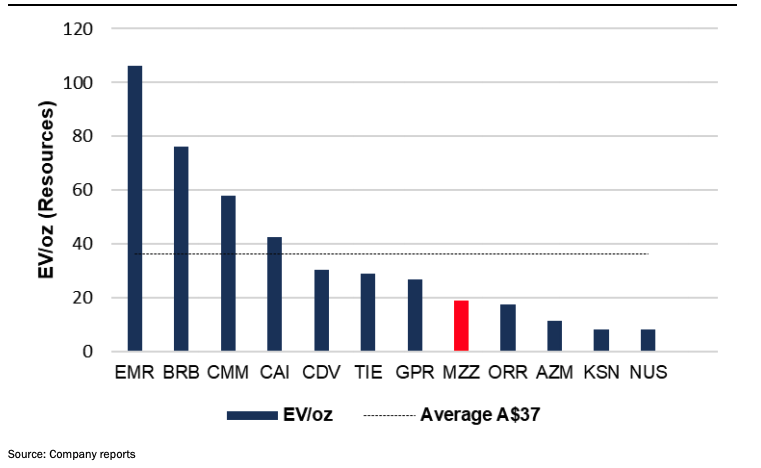 It could be argued that Matador is trading at a significant discount to fair value, particularly given that there is tangible value in its established 1 million ounce resource.
The metrics speak for themselves with the company trading at a significant discount to the peer average of $37 per ounce.
These metrics are very much a base case scenario and do not account for the considerable exploration upside.
Hartley's also released a note shortly after it visited the project in Newfoundland and there were several points of note, specifically covering environmental approvals, which Matador has this week moved further ahead with: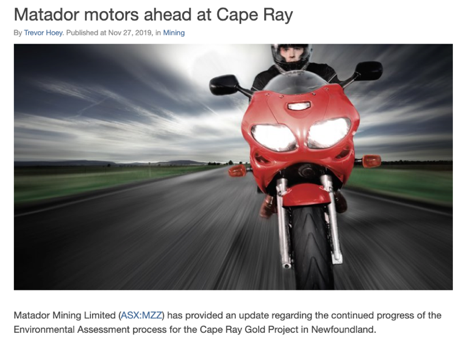 Of its environmental position Hartleys has noted, "As well as visiting site, we were fortunate enough to sit in on meetings with members of both the provincial and federal environmental assessment and approvals teams. The regulators did not appear to raise any major concerns with future approval of the project and MZZ has already made great strides down the path of approvals, having undertaken stakeholder engagement sessions, and base line flora and fauna surveys. In fact, the regulator's messaging was very much a 'when' the approvals come, rather than 'if'. MZZ is eyeing up commencement of project construction in 2022, ahead of first production in 2023...
"MZZ, with the assistance of its on-ground environmental consultants, appears to be very well connected with local and federal government, and cursory conversations with local residents at the nearest town of Port aux Basques suggests the Company has positioned itself favourably among stakeholders."
Canada proves to be a happy hunting ground for Australian miners
Canada tends to be the go-to country for large Australian gold miners who have a low appetite for risk and a thirst for large long life projects. Matador is looking to follow in their footsteps.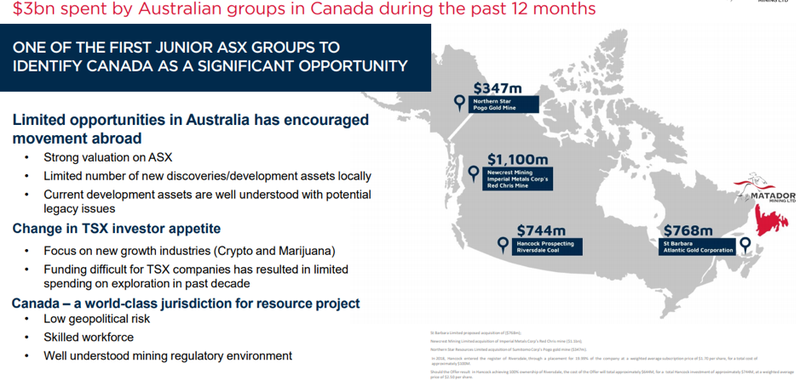 The $6.6 billion capped Evolution Mining (ASX:EVN) is the latest to enter the region.

EVN Chairman Jake Klein said, "Evolution is excited to be adding Red Lake to its portfolio, providing the Company with a high-grade, long life gold mine in Canada. We have been actively looking at assets in Canada since 2017 as we believe it is a country with low geopolitical risk, high geological prospectivity and a strong mining culture. Red Lake is an undercapitalised asset which, through a committed investment in development and exploration, is intended to become a cornerstone asset in the Evolution portfolio."
Other prominent players that have jumped on opportunities in Canada include Newcrest Mining (ASX:NCM), Northern Star (ASX:NST) and St Barbara (ASX:SBM), just three companies that have invested more than $2.2 billion.
Also of note, is St. Barbara's recent AU$780 million acquisition of Atlantic Gold. St Barbara now owns the low-cost Moose River Consolidated (MRC) open pit operation in Nova Scotia, the neighbouring province to Newfoundland.
MRC phase one achieved commercial production in March 2018, before producing 91,000 ounces at less than $800 an ounce. Its resource is a similar size to Matador's and its production is similar to the market's expectations. So, again, there is plenty of upside here and it shows how active this region is.
One of the quality projects also located in Newfoundland is Marathon Gold's (TSX:MOZ) 4.2 million ounce Valentine Lake Gold Project, located approximately 150km from Matador's Cape Ray project. Whilst Marathon resource is four times larger than the Cape Ray project, their current market capitalisation of (C$257m) is more than 10 times the valuation of Matador's.
Where the smart money invests
We mentioned earlier that a placement made in April to Sophisticated and Professional investors brought multiple prominent and highly regarded mining executives into the fold.
The completion of an oversubscribed $5 million capital raising brought former Regis Resources executive chairman Mark Clark and other WA gold mining figures to Matador register.
This is significant for several reasons, not least that this is the only major investment made by this group in a mining company where they have not taken up a management position.
Suffice to say, if the group that took Regis to over a billion dollar capitalisation has confidence in Matador management and the asset, this should give the market confidence as well.

This was Clark's first significant foray into the gold sector since he left Regis.
Clark and Giorgetta were behind Equigold's success, which merged with Lihir Gold in 2008. They followed this by raising Regis from a small explorer to a mid-tier gold miner capitalised at $2.6 billion.
One of the things they saw in Matador was its...
Clear path to production
In September this year, Matador announced that it was accelerating work on its development study.
It had several goals in mind as it began to assess the potential for gold at Cape Ray. Completion of the Study is set for Q1 2020. It will be underpinned by an updated Mineral Resource that will include any additional resources generated from the current 12,000m drill program.
You can see the development timeline below: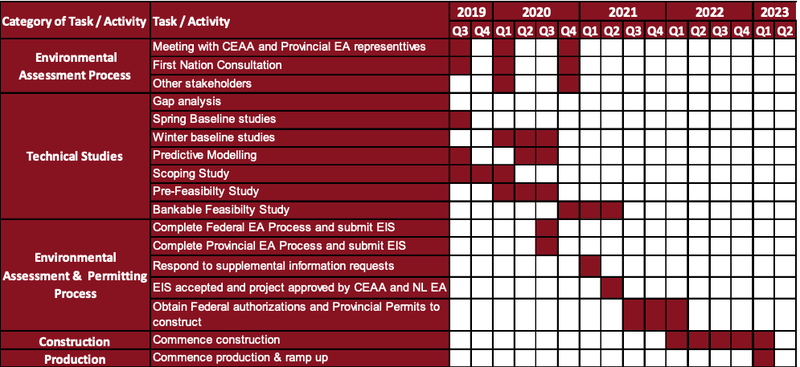 With regards to environmental permitting, excellent progress has already been made and was made easier by work done by the previous owners. Matador gained almost two years of initial work, such that submissions to regulators can be targeted for Q3 2020, with Project permitting to follow.
Estimated timelines towards construction were reduced significantly from previous estimations with Matador looking to execute the project in early 2022 and start production the year after.
The current drill program will be key to achieving this.
12,000m drill program to grow resource further
The majority of Matador's exploration program this year focused on one clear aspect – resource growth. This saw the company complete a 12,000m program focused largely between the Central Zone and WGH deposits – approximately 5km in strike.
The company has had good success with the program as they expanded mineralisation around most of the known deposits – however the standout has been at the Window Glass Hill project which is shaping up to potentially be a much larger bulk tonnage deposit. WGH is also located near the location of the processing facility as it is around 1km from Central Zone which hosts the majority of the current 1Moz resource.
The Company stepped out 240 metres from the existing resource boundary at WGH as shown below and found that gold was not only continuous but was also trending in an up-dip trajectory. This is important as it again confirms that gold mineralisation starts close to surface meaning when mining starts here they hit pay dirt straight away. The width and depth of drill results at WGH also indicate the strip is also likely to be low – another key factor which will determine the profitability of a mining project.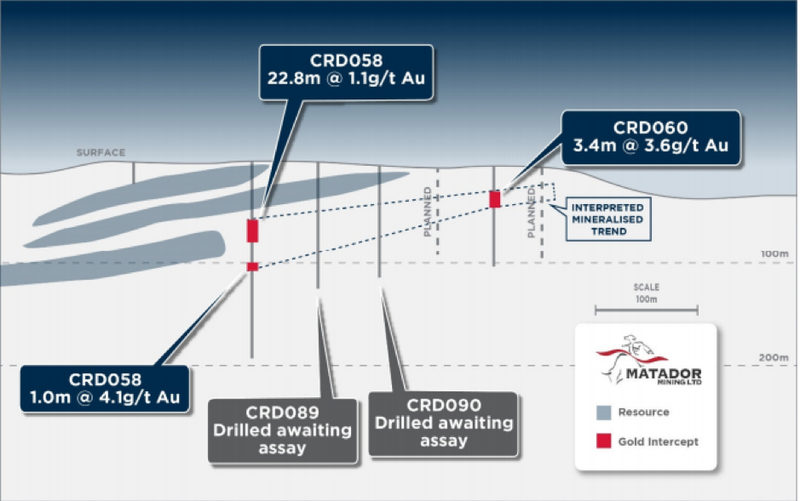 Commenting on the results, executive director Keith Bowes said, "We are pleased with the continued drilling success at Window Glass Hill, as results give further encouragement that this is shaping up as a shallow, large tonnage deposit.
''With drilling having identified shallow resource extensions, mining at Window Glass Hill is expected to be simple and cost effective, providing support for project development."
Interestingly, on the day these results were released Matador's share price increased more than 20% from 19 cents to 23 cents.
Untouched exploration potential has monster potential
Whilst not the major focus for this year's exploration program the greenfield potential for new discoveries looks extremely promising.
The Cape Ray shear is regarded as one of the more prospective, yet under explored gold regions in North America. The Company consolidated approximately 80km of continuous strike across the Southern portion of the shear earlier this year, the first time this ground has been under the ownership of a single company.
The majority of drilling at the Project is within a strike of 5km, between the Central Zone and Window Glass Hill deposits. Outside of this area or 75km of strike has received little historical work.
The Company has begun setting the groundwork for a larger greenfield program in 2020, with significant regions work begun late this year. This program proved successful as they identified multiple high-grade samples of up to 191g/t Au scattered throughout the 80km of strike.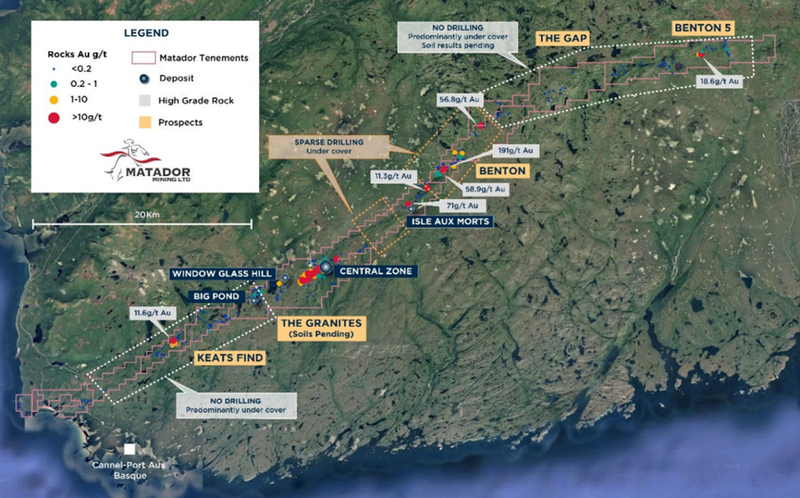 The final word
We can't think of another $25 million cap company with a million oz of high grade gold close to surface, in a first world jurisdiction that has the potential to soon become one of the highest graded open pit operations in the world.
Matador was a first mover in the region and now looks to be making ground, even attracting several of mining's heavy hitters to its registry boosting confidence in the company's assets.
There are a number of share price catalysts on the horizon in 2020: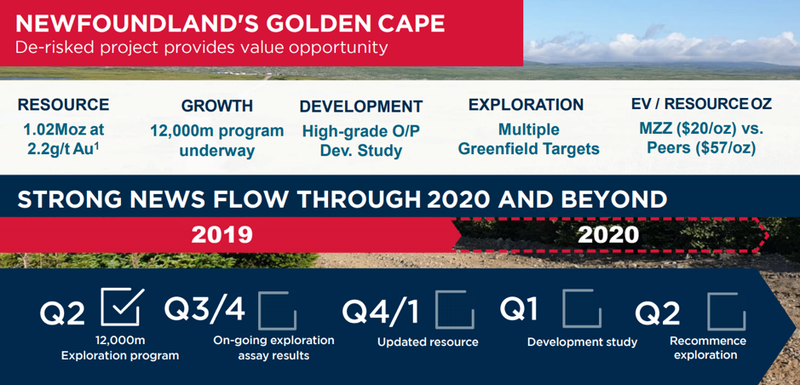 The graphic above indicates where the company is at in terms of meeting the important milestones with the scoping study arguably providing the most significant momentum.
These catalysts aren't far away and if Matador hits each and every milestone, it may move closer to its peers – in terms of valuation – quicker than expected.
---