Australia's top biotechs descend on Queenstown for the 2019 Bioshares Summit
Published 25-JUL-2019 16:28 P.M.
Hey! Looks like you have stumbled on the section of our website where we have archived articles from our old business model.
In 2019 the original founding team returned to run Next Investors, we changed our business model to only write about stocks we carefully research and are invested in for the long term.
The below articles were written under our previous business model. We have kept these articles online here for your reference.
Our new mission is to build a high performing ASX micro cap investment portfolio and share our research, analysis and investment strategy with our readers.
Click Here to View Latest Articles
Queenstown is known as the adventure capital of the world. It attracts over three million people per year to experience the world-class ski runs, zip-line riding, white water rafting, sky diving and is, of course, famous for manufacturing the world's first commercial bungy operation on 12 November, 1988 at the historic Kawarau Bridge.
Take a walk in the mountains, explore forest trails and indulge in a fine wine or two if extreme sport isn't your thing.
There's plenty to do.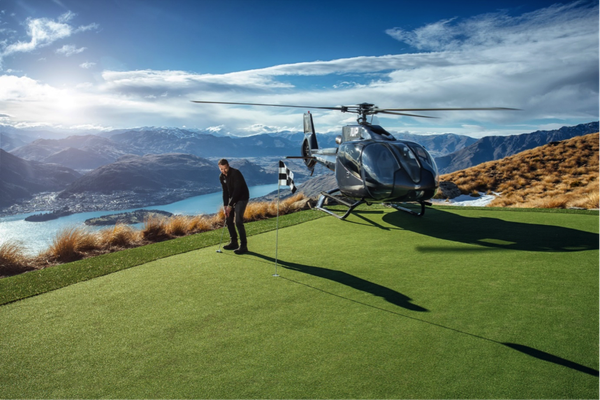 Queenstown is Nirvana for adrenaline junkies. However, once a year it is also some kind of heaven for the biotech community.
This New Zealand extreme sport mecca hosts the annual Bioshares Biotech Summit, gathering together some of the best long-standing and emerging biotech companies in the country to talk all things trials, tribulations and potential cures for cancer.
This year is somewhat of an anniversary for the summit. It's been 15 years since Bioshares, a leading independent biotech investment publication, founded the event.
Last year saw 175 attendees register for the event including biotech CEOs, fund managers and retail investors, with 60 biotech companies represented.
The Summit represents an enormous opportunity for the biotech community to be as one and swap ideas, network and share their findings.
And given the location, it also presents attendees with the opportunity to let down their hair, starting with the official CEO dinner to be held this year on Thursday 25 July at Millbrook Country Club.
Millbrook is a luxury five star resort that just happens to be the home of the NZ Open, a championship golf course with stunning mountain views.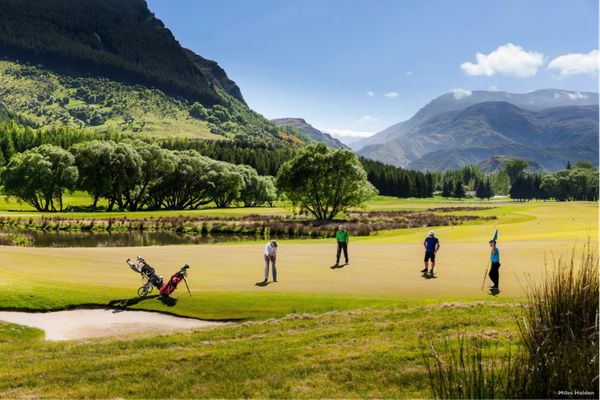 This year the Bioshares Biotech Summit has a long list of CEOs and CTOs who may just want to use the Millbrook facilities. These leaders have been working hard to find the next big biotech breakthrough, which in turn would provide a boon for shareholders.
As with our report on the Noosa Mining Conferencelast week, some of the stocks presenting are well known. Others are less so. The purpose of this preview is to look at a selection (in no particular order) of the presenting companies, what they are investigating and where they sit in the investment chain.
7 Biostocks to watch and listen to in Queenstown
There have been some solid performances by biotech stocks in the front half of 2019. At least 20 have doubled in price and five have quadrupled their share price, putting big smiles on the dials of their shareholders.
The following 7 stocks that are presenting at the Bioshares Summit, have piqued our interest in one way or another. We hope they do the same for you.
Volpara Health Technologies (ASX:VHT)
Volpara Health Technologies' (ASX:VHT) FY19 performance is impressive, with the company posting a 78% increase in revenueon the back of its market expansion in the US.
This Medtech SaaS company, whose artificial intelligence algorithms assist the early detection of breast cancer, now has a 7.1% market share in the US and is expected to grow this further.
You can gain a sense of how the technology works by watching the following presentation:
This month the company entered into a full distribution agreement with AI software company ScreenPoint Medical BV, to further push its international reach.
The agreement allows Volpara to distribute ScreenPoint's TransparaTM product to breast imaging clinics in Australia, New Zealand, the United States, and parts of Asia. Transpara is next-generation computer-aided detection software designed to help radiologists read screening mammograms by marking specific areas of the breast image as likely being cancer or not.
Whilst the share price has levelled off over the past month, you can certainly see an upward trend over the course of the year on the back of its growth: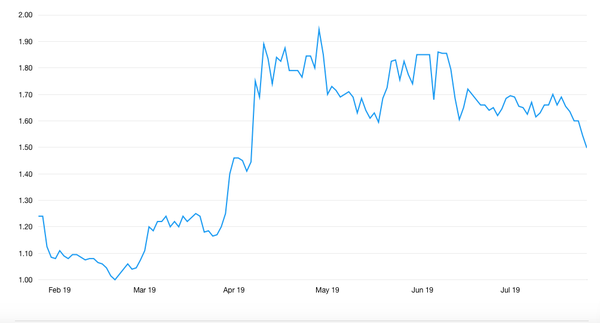 It is also worth noting that Bell Potter ran the ruler across the stock only a fortnight ago, reaffirming its buy recommendation and attributing a 12 month price target of $2.27, implying share price upside of about 50% relative to the company's current trading range.
Companies often come out with market moving news during conferences, so the recent lull in the company's share price may represent a buying opportunity.
With all expectations pointing to a continuing growth trend, the $355 million capped company is on a lot of investors' radars.
Micro-X (ASX:MX1)
There was significant news out of the Micro-X (ASX:MX1) camp this month after it announced that it had joined with Thales to collaborate on the design of novel, miniaturized X-ray sources.
Micro-X is developing and commercialising a range of highly innovative products based on proprietary carbon nanotube emitter technologies which enable the unique miniaturisation of a number of X-ray applications in global medical and security markets.
The company has developed CNT, crystalline variety of carbon with properties that improve the efficiency of x-ray imaging by orders of magnitude.
Micro-X's shares spiked significantly on the back of the news.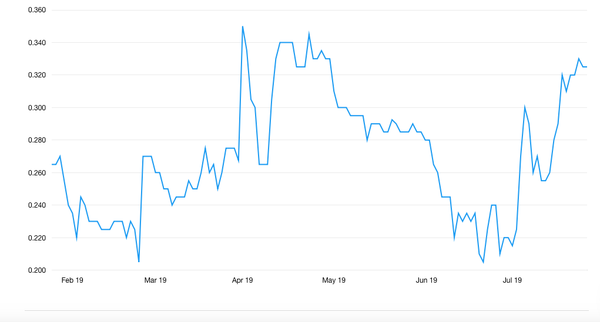 Thales, an established global supplier of defence and security technology systems, and Micro-X will work together on the design of novel, miniaturized X-ray sourceswhich will be produced by Thales and manufactured in Moirans, France, and will power both Thales and Micro-X's future roadmap of innovative x-ray products for medical and security markets.
Thales will also cross-sell Micro-X's Mobile Backscatter Imager (MBI) product manufactured in Adelaide. The MBI assesses Improvised Explosive Devices (IEDs).
Thales endorsement of MX1 couldn't have been stronger with Jean-Jacques Guittard, Thales Vice President, Microwave and Imaging Sub-Systems commenting, "This is just the beginning, like those Silicon Valley pioneers in the 70s we are at the birth of a new technology evolution. CNT is a game changer in so many fields but none offer such practical and quantifiable benefits as in the X-ray imaging market. From airport checkpoints to counter terrorism activities to future medical imaging devices, Thales and Micro-X are on the edge of a historically decisive moment. In addition to these high-tech synergies and as a major player in the digital domain, this partnership will give us a technological leap none else can offer."
Peter Rowland, Micro-X Managing Director believes the alliance with Thales is a key turning point in MX1's future success. So far, the market agrees.
Imugene (ASX:IMU) has been diligently testing its HER-Vaxx B-cell peptide cancer vaccine. The vaccine is designed to treat tumours that over-express the HER-2/neu receptor, such as gastric, breast, ovarian, lung and pancreatic cancers.
The company has been making good headway. New data on the Phase lb study of the vaccine shows cancer fighting antibody and clinical response rates continue to be positive in patients receiving the optimal biological dose of vaccine.
Good progress is being made:
However, in what could be game-changing news for IMU, the clinical stage immuno-oncology company was recently presented with the opportunity to break into the oncolytic virotherapy (OV) space.
OV is the leader in the field of immunotherapy and infects and kills cancer cells.
IMU has negotiated to acquire a worldwide exclusive license to a promising OV developed at LA's City of Hope Hospital, an acclaimed cancer research centre.
City of Hope's chair of the dept. of surgery is Professor Yuman Fong, the inventor of this new OV, known as CF33, which in pre-clinical trials has shown to be more efficacious than most OVs, including, potentially, Cavatak. It shrinks injected tumours with very low doses, whilst also shrinking non-injected distant tumours.
We mention Cavatak because that was the treatment that attracted Merck to Viralytics and was the reason for Merck's $502 acquisition of Viralytics.
CF33 is predicted to be more powerful than Cavatak.
CF33 has a long life patent through to 2037 and its potential application also spans many cancer types.
Investors would also be interested to know that Paul Hopper, the man behind the Viralytics acquisition is also the executive chair of Imugene.
Anatara (ASX:ANR)
Anatara Lifesciences (ASX:ANR) is developing and commercialising innovative, evidence-based products for gastrointestinal health where there is significant unmet need.
This life sciences company with expertise in developing products for animal and human health is focused on building a pipeline of human gastrointestinal health products.
It is currently conducting an active market awareness program on the back of two very positive broker reports.
This, equity research teams at PAC Partners and Pitt Street Research independently updated their analyst coverage of Anatara. PAC Partners provided a Buy rating and price target of $0.90/share and Pitt Street Research providing a base case valuation of $1.09/share.
Anatara is currently capped at $15.07 million and trading at 0.34 cents (at time of publish).
Late 2019 should see a human clinical study of GaRP in Irritable Bowel Syndrome (IBS) initiated as pre-clinical animal studies for GaRP in Inflammatory Bowel Disease (IBD) continue.
GaRP is a microbiome-targeted multi-component dietary supplement that has been designed to address the primary underlying factors associated with gastrointestinal disorders such as irritable bowel syndrome (IBS) and inflammatory bowel disease (IBD).
It is Anatara's lead product. The following video gives you a sense of why it is so important:
Both studies are anticipated to be funded using existing resources.
Good news this quarter was the return to the Company of rights to the worldwide development, manufacturing, distribution and marketing of Detach® for livestock animals and horses.
Following this announcement, Anatara's management initiated a strategic review of Detach's commercialisation opportunities, including launch of the APVMA approved product in Australia, regulatory approval in overseas markets, development for species other than piglets and, global or regional licensing of Detach®.
It is one of the smaller capped companies presenting, however its progress would suggest plenty of upside.
ResApp Health Ltd (ASX:RAP)
ResApp Health Ltd (ASX:RAP) is a leading digital health company, developing smartphone applications for the diagnosis and management of respiratory disease.
The company's shares fell in line with the broader market in October last year, but they took some time to recover.
However, they finished off the June half on a good note, having more than doubled since March to hit a six month high of 19.5 cents.
ResApp's machine learning algorithms use sound to diagnose and measure the severity of respiratory conditions without the need for additional hardware.
Clinical studies at leading hospitals in Australia and the US have demonstrated accurate diagnosis of lower respiratory tract disease, upper respiratory tract infections, asthma/reactive airway disease, pneumonia, bronchiolitis, croup, chronic obstructive pulmonary disease and obstructive sleep apnoea.
Potential customers of ResApp's products include healthcare providers in telehealth, emergency department, urgent care and primary care settings as well as humanitarian organisations in the developing world.
Rhythm Biosciences Ltd (ASX:RHY)
Rhythm Biosciences Ltd (ASX:RHY) is developing and commercialising a screening and diagnostic tool for the early detection of colorectal cancer, the third biggest cause of cancer-related deaths globally.
The company's lead product, ColoSTAT®, is intended to be a simple, low cost, minimally invasive and effective blood test for the early detection of bowel cancer for the global mass market.
It is expected to be comparable to, if not better than the current standard of care, the faecal immunochemical test (FIT).
ColoSTAT® also provides an alternative for those who choose not to, or are unable to be assessed using current screening programs.
Rhythm Biosciences released some promising news in late June, advising the market that Melbourne's Alfred Hospital was the third to join its prospective clinical trial of ColoSTAT®.
This news appeared to trigger investor interest with the company's shares increasing 30% from 16.5 cents to a recent high of 21.5 cents.
The hospital's Head of Endoscopy, Associate Professor Gregor Brown is well recognized for his research into improving colonoscopy techniques, including polyp removal during colonoscopy and balloon enteroscopy, as well as for the development of new treatments for coeliac and inflammatory bowel diseases.
Consequently, this represents a strong endorsement of the group's emerging technology.
It is worth noting that over 850,000 people die of colorectal cancer each year, highlighting not only the health benefits that such a technology would provide but also the associated cost savings.
AusCann Group Holdings Ltd (ASX:AC8)
Pharmaceutical company, AusCann Group Holdings Ltd (ASX:AC8) is focused on the development, production, and marketing of cannabinoids-based pharmaceuticals within Australia and internationally.
AusCann appeared to be the subject of tax loss selling as the end of financial year grew closer, but since June 30 ticked over, the company's shares have increased from 36.5 cents to a high of 48.5 cents on Thursday, representing a gain of more than 30%.
No doubt contributing to this strong share price momentum was news that the company had signed a new supply agreement for the purchase of cannabis resin from Tasmanian Alkaloids (TasAlk).
TasAlk is one of the world's largest manufacturers of controlled substances producing alkaloid raw material in Tasmania for medicinal purposes.
Medicinal cannabis products will be added to this portfolio with analytical testing, cultivation and manufacturing services available in early 2020.
As medical cannabis legislation provides increasing global opportunities, companies are striving to better differentiate themselves by specialising in parts of the value chain where they operate with higher margins and can leverage economies of scale.
The supply agreement with TasAlk provides AusCann with flexibility in supply chain management and cost controls while maximising value creation as the company starts to bring its pharmaceutical cannabinoids-based product to market.
Get the most out of it
There are over 25 companies presenting at this year's Bioshares Summit. You can find a full list of speakers here.
Everything from cannabis, to cancer, to cognition and drug delivery solutions will be covered.
It's a comprehensive conference and one that can really enlighten investors and potential investors to the good work being done by Australia's biotech industry.
---