Alexium up 16% as ASX 200 plunges more than 150 points
Hey! Looks like you have stumbled on the section of our website where we have archived articles from our old business model.
In 2019 the original founding team returned to run Next Investors, we changed our business model to only write about stocks we carefully research and are invested in for the long term.
The below articles were written under our previous business model. We have kept these articles online here for your reference.
Our new mission is to build a high performing ASX micro cap investment portfolio and share our research, analysis and investment strategy with our readers.
Click Here to View Latest Articles
A promising commercial update released by Alexium International Group Limited (ASX:AJX) on Thursday morning triggered a share price increase of some 16%, defying broader market sentiment as the S&P/ASX 200 gave up more than 150 points.
Some key features of the update included a strong pipeline of opportunities for the group's Alexicool® products currently valued at US$45 million per annum, as well as successful development work on flame retardant nylon/cotton (FR NyCo) technology for US military applications.
We go on to highlight the company's proprietary technology and its robust markets, but first of all it is important to gain an appreciation of management's views regarding recent developments and their implications in terms of the group's broader outlook.
Commenting on the strong pipeline of opportunities for Alexicool® products that supports Alexium becoming EBITDA positive by the end of the 2019 calendar year, Alexium chief executive Bob Brookins said, "We are seeing rapidly growing interest in our Alexicool® technology and its application to the bedding market.
''Our current pipeline of potential opportunities for Alexicool® products now stands at US$45 million per annum.
"As well as entirely new initiatives, a significant share of our current pipeline includes opportunities from new product launches incorporating Alexicool® technology due at the upcoming Las Vegas bedding show.
''We are actively working to further support new and existing customers in growing this market segment."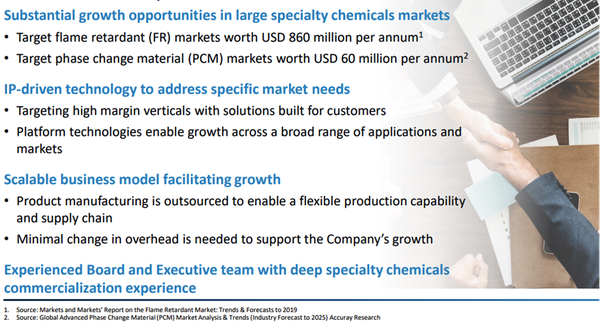 Establishing technical and sales support in China
Brookins said that two key factors are expected to underpin long-term growth in the Alexicool® arm of the business as Alexium executes on key initiatives in fiscal 2020.
The company is establishing technical and sales support in China where customers are increasingly manufacturing consumer goods and there is a burgeoning demand for phase change materials (PCM) applications for domestic products in that country.
Management is also looking to expand the company's product portfolio for bedding and adjacent markets.
This will involve building on the company's reputation as an innovative provider of solutions in markets currently serviced as well as developing products that can project the company beyond its PCM and FR products.
Brookins noted that the company has been working with Pine Belt Processing on providing production-scale FR NyCo fabrics for the next phase of testing and evaluation by the US military.
This work has been conducted under the terms of the Development Agreement established with Pine Belt which we will discuss later.
Pine Belt is a current supplier of finished garments to the US military for applications such as permanent-press finish and insecticides.
Over the past quarter, Alexium has worked alongside Pine Belt staff in their production facility on the usage of Alexium's FR NyCo technology and integration of that technology with Pine Belt's current processes.
Production-scale work at Pine Belt has been successful on the following primary specifications.
Alexium's staff are now working with Pine Belt on finalisation of the process parameters for optimal process performance and cost.
Final production goods will be required for testing and evaluation by testing at government facilities which includes lab-scale testing and limited user evaluation, also referred to as a ''wear trial''.
Progress has also been made with ICL as both parties have focused on the sales/distribution strategy for launching Alexiflam® NF with ICL.
We discuss the nature of the Memorandum of Understanding between the parties that underpins this collaboration at a later stage.
Alexium already showing signs of a turnaround
The annual report released by Alexium this week made for interesting reading.
As a backdrop, the company holds proprietary patent applications for environmentally friendly flame retardants that have applications across several industries, while also involved in developing proprietary products for advanced thermoregulation utilizing phase change materials.
Alexium's patents include a process developed initially by the US Department of Defence, and the company has signed an exclusive development agreement for US military uniforms.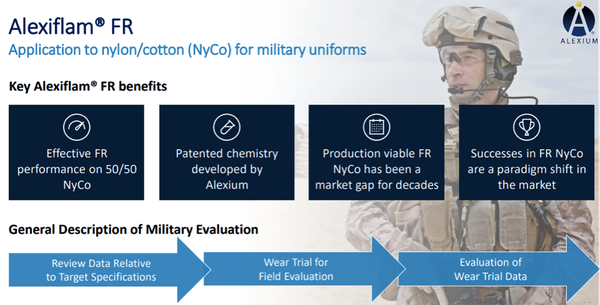 Harking back to the annual report though, sometimes these are simply a rehash of historical events, but in Alexium's case there is some insightful commentary regarding the company's strategy and outlook for fiscal 2020, both operationally and financially.
While management has pointed to some of the anticipated drivers in today's commercial update, Finfeed provides a comprehensive take on the company's operations.
To provide perspective it is worth examining the company's history and its core products and markets in order to understand how it is likely to turn things around in the near term, including transitioning to profitability.
Can Alexium ten-bag it again?
Having followed the company's progress for some 10 years and watched the progress made in terms of developing new technologies for a mix of markets, it would appear that Alexium's current share price doesn't reflect the easily defined value creation that the group offers.
Step back to 2014/2015 and you will see a company that investors couldn't get enough of - Alexium was an overnight ten-bagger with the merits of its proprietary technology duly recognised.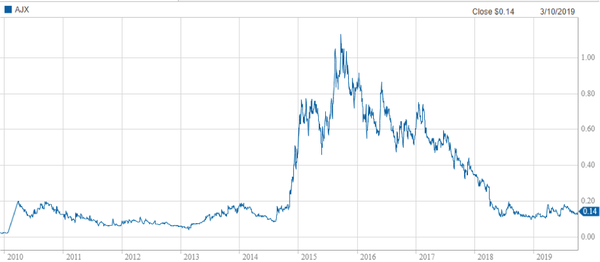 From a technology perspective, Alexium is a better company today than it was five years ago with a broader suite of products targeting a more diversified range of markets.
It is worth noting that Alexium has now been trading in a tight band between about 15 cents and 20 cents for 18 months, the longest period of share price stability experienced by the group since the turbulent period between 2015 and early 2018.
A break above the 20 cent mark could be a sign that confidence has returned.
Because Alexium's technologies are an integral part of the company's inherent value it is worth revisiting what appears to have been lost as the company's share price was impacted by ad hoc selling, weakness in broader equities markets and tax loss selling.
Granted, there were some milestone misses, but none that warranted a substantial sell-off.
With a reinvigorated and highly experienced management team in place it is likely that Alexium's technologies will provide the traction for it to make significant strides towards transitioning to profitability in the near term.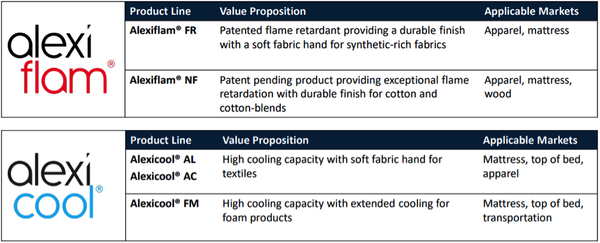 Alexium has transformed to focus on high margin cornerstone initiatives that will underpin sustainable growth, allowing the company to commercialise its world leading technologies in partnership with key manufacturers in global markets.
Revenue drivers in fiscal 2020
Product sales should provide substantial revenue growth in 2020, and the deal flow that provides earnings predictability in the near to medium-term may be the catalyst for sustained share price momentum.
However, as we said, Alexium's future will be driven by its technology.
Chair Ms Rosheen Garnon reminded shareholders in the company's annual report, ''Alexium is an IP-driven business and our strategy is to target high margin verticals with solutions specifically built for our customers.
''Accordingly, our dedicated staff have worked tirelessly to establish the Alexium brand in the wider market by aligning ourselves with strategic partners in key markets.
''We now have two suites of valuable products, namely Alexicool® and Alexiflam® that are gaining market traction.''
The key takeaways to look out for in fiscal 2020 will be core sales, diversification of revenue streams by tapping into a broad range of markets, the establishment of collaboration agreements with strategic partners, the transition to positive monthly EBITDA by the end of 2019 and the negotiation of short and long-term contracts with the latter important in terms of creating a sustainable product portfolio and business model, rather than being an overnight boom/bust tech stock.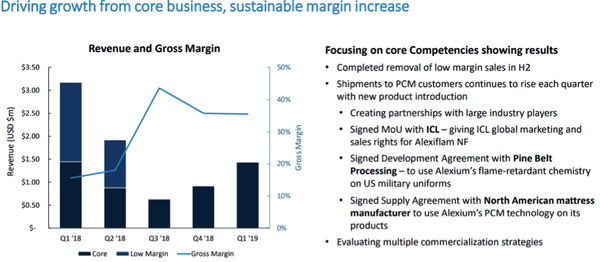 Products that will be in the spotlight
From a broader perspective, Alexium holds proprietary patent applications for novel technologies developed to provide flame retardancy for a wide range of materials.
These environmentally friendly flame retardants have applications for a wide range of industries and there is scope for customisation that will potentially open up new markets.
Further, Alexium develops proprietary products for advanced thermoregulation utilising phase change materials.
Alexium holds patents for a process developed initially by the US Department of Defence which allows for the surface modification and attachment of nanoparticles or multiple chemical functional groups to surfaces or substrates to provide fire retardancy and various additional functionalities.
While the technology behind the product is complex, the important takeaway is that applications are under development which include but are not limited to textiles, packaging, electronics, and building materials.
Alexium's chemical treatments are currently marketed as Alexicool® and Alexiflam®, and the progress the company has made in terms of technological advancements and collaborative agreements needs to be discussed.
Alexicool® and Alexiflam® to lead the way in 2019/2020
Being central to Alexium's near to medium-term growth, it is important to examine where the company is at with its Alexicool® and Alexiflam® products.
With regards to the former, there has been strong demand for thermal regulation technology in bedding products.
There are substantial opportunities for Alexium to capitalise on this demand through its Alexicool® Phase-Change Material products, having launched a new Alexicool® FM product line in the March quarter of 2019.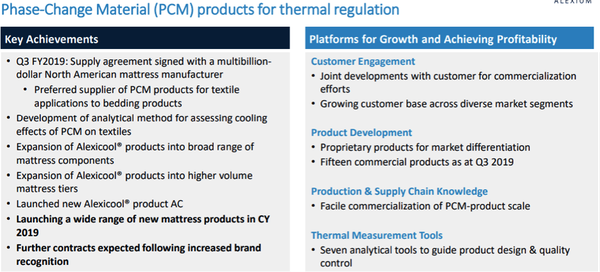 The market represents a $30 million opportunity for Alexium, and management noted increased demand for its products for top of bedding applications, as it signed supply contracts with a multi-billion-dollar North American mattress manufacturer and Pegasus Home Fashions, a world class manufacturer of pillow products.
Management has identified the bedding industry as a key strategic priority for Alexium, and it is anticipated that customers will increase their range of Alexicool-based bedding products, driving Alexicool® sales growth in fiscal 2020.
The future is also looking bright for the Alexiflam® FR technology with Alexium having established an exclusive development agreement with Pine Belt Processing, providing the company with access to the large US uniform market.
Management expects to sign a supply agreement following an integration process, a development that could well be a significant share price catalyst.
Alexium also successfully secured a Memorandum of Understanding (MOU) with ICL, establishing a framework for the potential commercialisation of Alexiflam® NF.
Having received approval from the US Environmental Protection Agency (EPA) to manufacture and sell product in the US, Alexium is well positioned to drive commercialisation in the global market for flame-retardant cotton.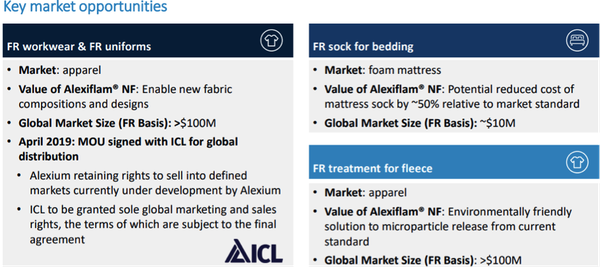 The product was developed to address a market gap for environmentally friendly flame retardant treatment for cotton with applications covering workwear, apparel and even extending to wood.
Negotiations with ICL could see Alexium tap into an annual global market valued at more than US$100 million.
Quarter on quarter growth in cash inflow provides confidence
In identifying positive financial metrics and pointing to operational initiatives that should benefit Alexium in fiscal 2020, chief executive Bob Brookins said, ''We are encouraged by the strong quarter on quarter growth in cash inflows during the second half of fiscal 2019 as the benefits of our growth strategy flow and we begin to scale up growth.
''We expect this positive trend to continue in fiscal 2020, underpinning positive EBITDA by the end of the 2019 calendar year.
''Alexium is well positioned for strong growth in the future as we execute on our strategy and leverage strategic partnerships.''
Brookins has an interesting background having achieved at an extremely high level academically with a key focus on areas of synthesis and characterisation of conjugated poly-electrolytes and polymers with an emphasis on developing new polymerization methods.
Upon completion of his Ph.D., he worked at the US Air Force Research Laboratory where he developed decontamination methods for chemical and biological threats and developed novel synthetic routes for reactive and functional surfaces.
Consequently, he not only brings highly relevant scientific expertise to the table, but also practical experience in fields that align closely with Alexium's products.
---