AI: How we arrived at the 4th industrial revolution
Hey! Looks like you have stumbled on the section of our website where we have archived articles from our old business model.
In 2019 the original founding team returned to run Next Investors, we changed our business model to only write about stocks we carefully research and are invested in for the long term.
The below articles were written under our previous business model. We have kept these articles online here for your reference.
Our new mission is to build a high performing ASX micro cap investment portfolio and share our research, analysis and investment strategy with our readers.
Click Here to View Latest Articles
You could be forgiven for wondering why AI is so big all of a sudden. Hasn't humankind been dreaming about human-like robots for a long time? The first Star Wars film (with crowd-pleasing 'droids' R2D2, C-3PO) was released in 1977; Terminator (starring Arnold Schwarzenegger as a cyborg assassin) was a massive success in the mid -1980s, a few years after Blade Runner (starring synthetic – or not? – 'replicants') wowed audiences.
The idea of an intelligent machine is not exactly a new one, yet our ability to create something with Artificial Intelligence has increased dramatically in the last decade or so. There is now scope to use AI to make legal assessments, create games, predict purchases, navigate through traffic, translate words into different languages and diagnose diseases. Soon we may even see the 'automation' of war via the use of military drones.
In October last year, CEO of Google Sundar Pichai put it this way: "The last 10 years have been about building a world that is mobile-first. In the next 10 years, we will shift to a world that is AI-first."
We have arrived at the dawn of what many are calling the 'fourth industrial revolution'. Artificial Intelligence is here.
A new era of AI
The term 'Artificial Intelligence' was coined by Assistant Professor at Dartmouth University, John McCarthy in 1955. He used it to describe hardware or software which can behave as though it possesses intelligence.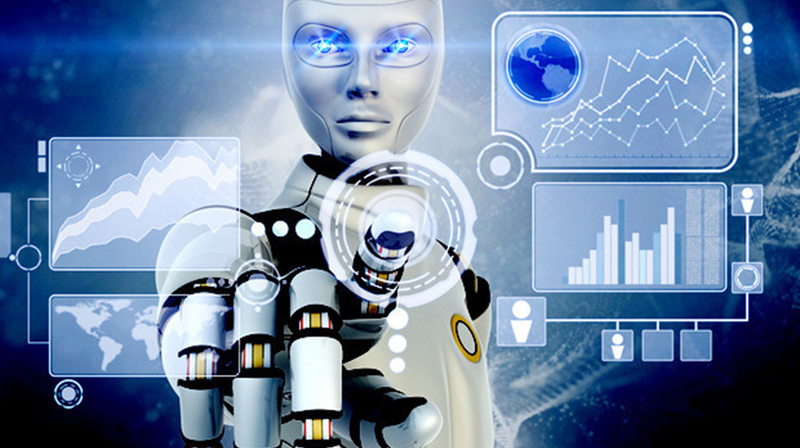 Source: Flamingo AI
More and more, the field has become about making intelligent computer programs. As touched on earlier, it's clear that this is not a new idea, and has in fact been part of the zeitgeist for some 70 years. So what has enabled the shift from fantastical idea to very real possibility?
Machine learning — a term first coined in 1959 by Arthur Samuel, an American pioneer in the field of computer gaming and artificial intelligence. Machine learning is a sub-type of AI. And deep learning, a term commonly used in reference to modern AI applications, is a sub-type of machine learning.
A machine 'learning' is really about its ability to make accurate predictions about the future through weighing up key factors from inputted data — all via an algorithm (instead of a brain).
While the foundations underpinning 'machine learning' are, once again, not new, the introduction of powerful processing tools as well as the enormous amounts of data required to make it feasible, are both paving the way.
Enter 'deep learning'
Deep learning relies on a system which mimics the neural system of the human brain through software-based calculators. The 'deep' part of deep learning comes from the fact of having a layered approach (which gives depth) to this neural system.
When input is received by a neural network, the network arrives at a prediction (output), and is then informed whether that prediction was correct or not. Through this process, the system can learn, in a similar way to a human child.
And, like with a child practicing a new skill, the more information and feedback provided over more time, the better it will get at making the right connections that result in more accurate responses.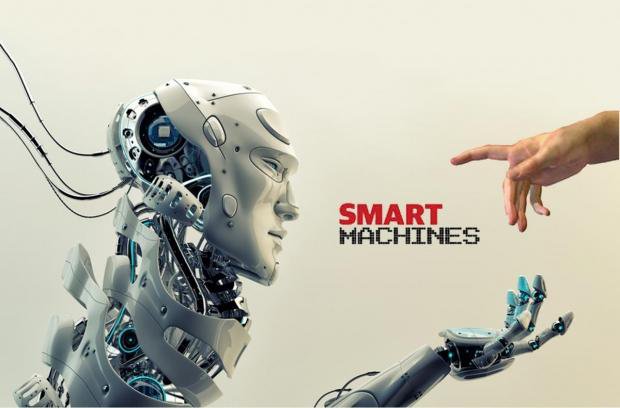 Source: Flamingo AI
In the past, a major drawback with machine learning has been a) the considerable amount of data required to achieve true 'intelligence' and b) the processing power required for such 'learning', with the amounts of data that need to be fed through a system.
All sorts of technological applications developed in the last several decades have dramatically increased our ability to gather data. Add in specialised modern hardware and you have a ground-breaking boost to rapidly accelerate the pace of AI progress.
Advancements in hardware — a key piece of the puzzle
The emergence of GPU-based computing (that stands for Graphical Processing Units) has allowed the acceleration of neural network processing capabilities.
A GPU at the basic end of the spectrum can allow for improvements of up to five times the speed for training a neural network. An improvement up to ten times and higher can also be achieved for larger problems (that would usually require longer than standard timeframes).
With established machine learning software joining forces with advanced processing hardware such as GPUs, we are honing in on the target of creating powerful AI programs which can self-train and become 'intelligent' to a level similar to that of an average human being.
Obviously, this has major implications in the world of business.
How AI is set to impact business
If you've visited a metropolitan supermarket in the past few years, you will have noticed that most now allow you to shop there without interacting with a human staff member. With your items in tow, you can head straight for the self-serve checkout.
This is an experience that is likely to become more commonplace in all sorts of purchasing scenarios covering a range of industries, where a piece of sophisticated software can handle a simple transaction just as well, or better than, a human being.
Some industries are particularly suited to this sort of automation, particularly those with stringent rules and regulations and well-established procedures. These scenarios can make the particular use of what's known as 'narrow AI'.
The particular advantages of Narrow AI
Put simply, narrow AI focuses on solving specific, reasonably well-defined problems. And there is major investment going on in this space, as narrow AI technologies are seen more and more as providing solutions to a range of key business tasks.
One example is the world of insurance. Gathering and analysing data has always been central to the business of insurance, which relies heavily on accurate predictions and sophisticated categorisation when dealing with customers.
The ASX-listed Flamingo AI Limited (FGO) is taking on major clients in the US market (Nationwide Insurance), the Australian market as well as securing clients in the Asian market such as Metlife Asia.
It should be noted here though that FGO is an early stage play and investors should seek professional financial advice if considering his stock for their portfolio.
FGO has created ROSIE the 'cognitive virtual sales assistant'. ROSIE seamlessly guides customers through sales, on-boarding, claims and service enquiries that call centres typically handle. In sales, she guides customers through research, quotation, application and payment. When in claims and service, ROSIE helps customers solve a problem, make a change or lodge a claim.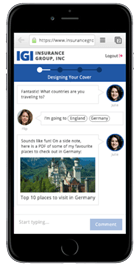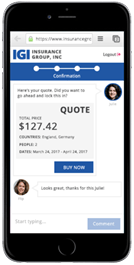 ROSIE helping a customer via iPhone. Source: Flamingo AI Limited
The platform comes pre-loaded with insurance related data, providing a solution that is affordable for insurance companies looking to automate customer sales and service.
By utilising ROSIE, FGO's client base can make their products more accessible to online customers, saving them time waiting on hold to a call centre, sifting through drawn out email communications or visiting a retail site to make an enquiry or purchase.
Then there's MAGGIE, Flamingo's virtual enquiry assistant. MAGGIE is excellent at answering the many questions customers have when they arrive at a website or product page. She can connect to Twitter, Facebook Messenger and interact with other message or voice interfaces. MAGGIE sits at the top of the sales funnel and not only qualifies leads but seeks out and generates them.
Another obvious benefit of these 'virtual assistants' is that they are available to all customers all of the time, unlike a human staff member who can only serve one person at a time.
When you consider the business implications of bringing such technology on board, for example ROSIE joining the team at the average insurance provider, you can see how great an impact narrow AI is set to have on business within only a matter of years.
While there are already a number of companies with such tech solutions listed on the ASX, there are relatively few that are true machine learning companies, like FGO — or that are focused on targeting the industries such as insurance, that are most likely to be impacted by AI in the very near term.
The evolution of the machine
The first industrial revolution came around the turn of the 19th century when the benefits of mechanisation meant that some animal and human labour could be substituted by mechanical labour. Then, in the early 20th century, mass production became possible through assembly lines — that was revolution number two, and it coincided with the introduction of railways. The third revolution came in the second half of the 20th century when certain manufacturing processes were automated via machines capable of repeating a set of tasks with minimal human supervision.
Today, all the technological developments of the last few centuries have brought us to this historical moment — true AI and the robotisation and digitalisation of labour, set to dramatically impact every industry. The possibilities are endless.
---