High-purity product sets Euro Manganese apart
Hey! Looks like you have stumbled on the section of our website where we have archived articles from our old business model.
In 2019 the original founding team returned to run Next Investors, we changed our business model to only write about stocks we carefully research and are invested in for the long term.
The below articles were written under our previous business model. We have kept these articles online here for your reference.
Our new mission is to build a high performing ASX micro cap investment portfolio and share our research, analysis and investment strategy with our readers.
Click Here to View Latest Articles
Euro Manganese Inc. (ASX | TSX-V: EMN) has made strong progress at its Chvaletice Manganese Project (CMP) in the Czech Republic in 2019, and with several near and medium-term share price catalysts on the horizon it could be a stock to snare before it takes off.
Canaccord specialty minerals and metals analyst, Larry Hill certainly believes this is the case.
After running the ruler across the stock in May, Hill stuck by his price target of $1.10, implying substantial upside to the company's recent trading range.
Not only does Hill like manganese because of its exposure to the electric vehicle industry, but he's particularly attracted to Euro Manganese because of the anticipated shift in the metals used in battery production.
Hill says, "An important component of battery materials demand forecasting is cathode chemistry.
"In our view, we can expect a strong shift toward higher energy density batteries for increased range, which generally involve higher nickel content and lower cobalt content but consistently high manganese content.
"One can consequently expect growing manganese demand in parallel with EV penetration, particularly in high purity electronic manganese metal (HPEMM) and high purity manganese sulphate monohydrate (HPMSM)."
Importantly, EMN has produced a PEA for the CMP showing the potential for a 25-year operation producing approximately 50,000 tonnes per annum of HPEMM with 65% to be converted to HPMSM.
The other compelling attraction with CMP is its location in the hub of the European automotive and battery manufacturing region as indicated below.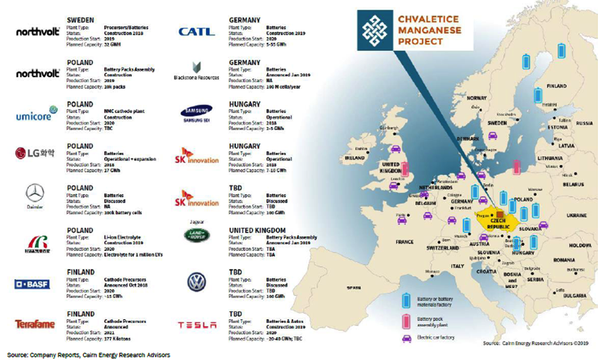 A mining project that benefits the environment
At a time when there is a strong focus on environmental footprints, it would be hard to find a project that is more environmentally friendly.
As highlighted by Marco Romero, EMN's president and chief executive, "The CMP will not be generating new waste, like those of a traditional mining operation. Instead, it will reprocess old mine wastes. There will be no need for any hard rock mining, crushing or milling."
The use of EMN's premium products in automotive batteries will not only provide improved driving performance, but it will also offer safety benefits.
Romero and his directors have demonstrated their faith in the project by investing millions of dollars in the company, and at this stage they have a combined stake of more than 20% in EMN.
Importantly, management has already conducted successful testing in a pilot plant setting which will now be taken to a larger scale demonstration plant, a model for the anticipated processing facility which should generate pre-tax net cash flow of more than $4 billion from the production of premium quality HPEMM and HPMSM.
Given the large scale of the project and its capacity to generate substantial earnings, one would normally expect long lead times.
However, Romero expects to have the demonstration plant running by early 2020, and he anticipates that the timeframe from commencement of construction of the full-scale facility would be between 18 months and 24 months, effectively bringing it on stream by 2022.
As we will discuss later, that chimes in with the commissioning of numerous battery manufacturing facilities that are being developed in Europe and the associated acceleration in demand for HPEMM and HPMSM.
Know the product, know the company
In order to fully appreciate the value of the CMP project, one needs to understand the underlying resource and its points of difference in terms of mining, processing and industrial applications.
The EMN's Chvaletice manganese tailings deposit is western Europe's largest known manganese resource, with about two million tonnes of manganese contained in the tailings.
Although the 27-million-tonne mineral resource grade is only 7.33% manganese, EMN has reported that no mining or milling is required to liberate the manganese minerals prior to leaching the tailings, as the primary ore from which they were made was crushed and finely milled when it was originally processed.
While the chemical differences between both product in the ground and the end products are somewhat complex, in compiling the Public Report and Preliminary Economic Assessment for the Chvaletice Manganese Project, Tetra Tech has done an excellent job of highlighting the differences between the products, decidedly underlining the premium value that can be attributed to the CMP resource.
These are the salient points straight from the report.
The Chvaletice resource is hosted principally in acid-soluble manganese carbonate minerals.
EMN has recently demonstrated the suitability of the Chvaletice tailings for the production of HPEMM and HPMSM in extensive bench and pilot scale metallurgical tests.
Electrolytic Manganese Metal is produced through an electrolytic process using manganese sulphate solutions that contain ammonium sulphate typically 35 g/L Mn and ~130 g/L of (NH4)2SO4. In contrast EMD solutions do not contain ammonium sulphate. The resulting product is a 'conventional' EMM of 99.7% purity when selenium is added to the solution.
The name High Purity EMM (HPEMM) is used to describe electrolytic manganese metal containing at least 99.9% of Mn which is made by adding sulphur dioxide (SO2) to the electrowinning solution and eliminating the use of hazardous chromium containing passivation reagents in the post processing of the EMM flakes.
The difference of 0.2% is significant for battery manufacturers who demand grades higher than 99.9% pure metal with stringent impurity limits on various chemical elements. The Chinese national standards identify so called 'battery' grades of EMM that differ to standards adopted by battery makers in other countries.
And here is a virtual tour of how EMN expects to produce the much sought after white gold.
Premium product, long life, low-cost
EMN started the year strongly, delivering its Preliminary Economic Assessment (PEA) for the development of Western Europe's largest manganese deposit in January.
The metrics from the PEA were impressive, particularly in terms of highlighting the project's low-cost, premium product, long life features.
These factors all contributed to outstanding headline numbers as featured below.

What makes the project unique and valuable in an environmentally conscious world is that the products from the project would be produced by recycling waste.
Examining upcoming developments, planning, process engineering design and metallurgical test work are ongoing, ahead of the upcoming feasibility study, which management expects can be completed by late 2019.
EMN's plan for this year includes building and operating a demonstration plant capable of producing multi-tonne, high-purity manganese product samples for customer testing and qualification.
Management also intends to intensify community, stakeholder and regulatory consultation, as well as taking steps towards the filing of Project Permit Application in 2019.
From an operational perspective, this is a summary of the PEA that provides a snapshot of the proposed development.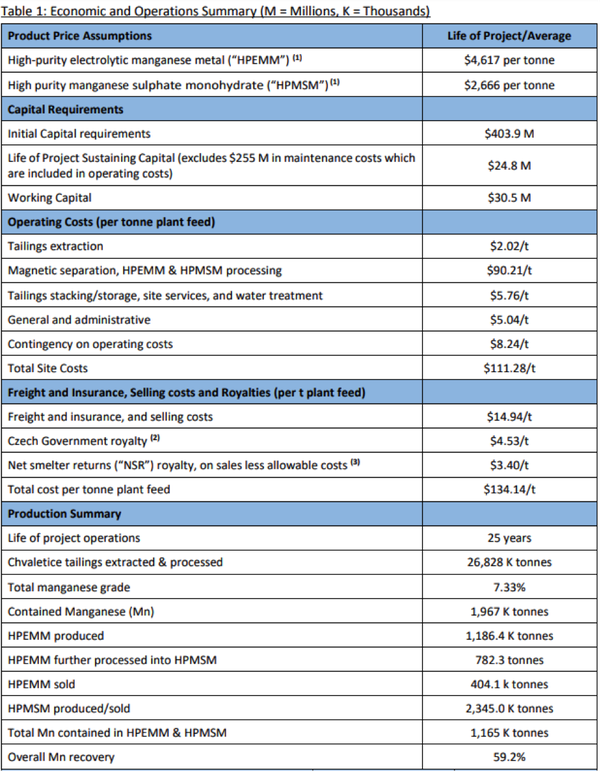 Commenting on the market dynamics for manganese and Euro Manganese's strategic benefits in servicing the fast growing battery industry Romero said, "The PEA demonstrates the compelling potential of the Chvaletice Manganese Project.
"Euro Manganese is in a unique position in the battery industry, with its 100% holding of Western Europe's most significant and strategically-located manganese deposit.
"What makes this project even more significant for an automotive industry focused on making our world greener, and for other consumers striving to secure sustainably produced raw materials, is that these products would be produced by recycling waste."
Strong demand for high purity manganese products
EMN's chairman Roman Shklanka pointed to the intricacies behind the use of manganese in the battery industry, underlining the fact that technological advancements suggest strong demand for high purity manganese.
Indeed, this was highlighted in Tetra Tech's comments, and the uptick in demand for HPMSM and HPEMM between 2020 and 2040 is clearly demonstrated in the following graphic.
More specifically, note the significant uptick in demand around 2022 that we referred to earlier, coinciding with management's targeted commissioning date.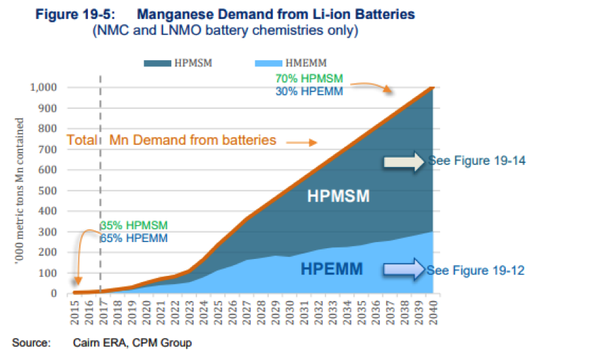 Shklanka said, "Manganese is emerging as a key component in the dominant formulations of lithium-ion batteries, which are expected to drive strong demand for highly-refined manganese products well into the coming decades.
"A great deal of high-purity manganese materials production capacity needs to be brought on stream to meet the requirements of electric vehicle battery makers alone.
"Our plan is to be there for them, as a reliable supplier of environmentally-superior, high-purity manganese products."
Demonstration plant and feasibility study
In early May 2019, EMN signed a strategic agreement with a potential customer of high-purity manganese products from the project, which provides a framework for strategic and technical cooperation that is focused on large-scale lithium-ion battery manufacturing, including the production of high-performance lithium-ion batteries for several market segments, including electric vehicles.
Pursuant to the strategic agreement, both parties intend to collaborate so that the company's proposed Chvaletice Manganese Project plant can be designed and built to meet the long-term supply requirements of environmentally-superior, high-purity manganese products of the counterparty and its customers.
Under the terms of the agreement, the company intends to deliver a specified quantity of high-purity manganese sulphate monohydrate (HPMSM) as the "Demonstration Material" to the counterparty's facility in early 2020.
The Demonstration Material will be produced at the company's demonstration plant, which is anticipated will provide bulk, multi-tonne finished product samples for customer testing and evaluation.
The plant is intended to replicate the entire process flowsheet proposed in the PEA and should produce the equivalent of 100 kilograms per day of HPMSM.
Upon completion of testing and qualification of the Demonstration Material, the parties intend to enter into negotiations with the objective of agreeing on the terms and conditions of an offtake agreement with respect to the supply and purchase of high-purity manganese products produced at the project.
Such agreements would potentially support a prospective financing package.
There is also the prospect of other commercial agreements being negotiated, and on this front management said that it continues to hold active discussions with several consumers of high purity manganese products in Europe, Asia and North America.
Entering into agreements with companies for testing and qualification of products with a view to ultimately negotiating binding offtake agreements and long-term commercial or strategic relationships would be of significant benefit to EMS.
Developments such as this are one of a number of potentially market moving events that are likely to occur in 2019/2020, suggesting that the group will continue to be a news driven story.
Strong support on the back of promising news earlier in the year resulted in the company's shares surging more than 60%.
While there has been a tapering off in recent months, the story remains compelling and with numerous catalysts on the horizon this may be an opportune time to take advantage of the retracement, particularly if Canaccord is on the mark with its price target.
---