The search for a cure for chronic kidney disease: an interview with DXB Executive Chairman James Williams
Hey! Looks like you have stumbled on the section of our website where we have archived articles from our old business model.
In 2019 the original founding team returned to run Next Investors, we changed our business model to only write about stocks we carefully research and are invested in for the long term.
The below articles were written under our previous business model. We have kept these articles online here for your reference.
Our new mission is to build a high performing ASX micro cap investment portfolio and share our research, analysis and investment strategy with our readers.
Click Here to View Latest Articles
Chronic Kidney Disease, otherwise known as CKD, affects an estimated 26 million people in the US alone. As scientists working in medical-based companies strive to find cures for CKD, it seems we are slowly moving closer to combating this serious problem.
One company working hard in this space is Dimerix (ASX:DXB).
Dimerix is an ASX listed $8 million capped biotech company that has two major assets helping it deliver a global solution to kidney disease.
Jonathan Jackson spoke to Dimerix Executive Chairman James Williams about the rise of CKD, the industry and the assets DXB has that could solve the problem.
Finfeed (FF): James, you have been involved with biotech companies previously, can you give me a brief history of your time in this space?
James Williams (JW): I started out in academic medical research, with a PhD and 6 years as a post-doc researching the molecular and cell biology of kidney disease then cancer. I got interested in the translation of medical research, completed an MBA, and was hired from there into the biotech industry in 2000.
I soon ended up as Managing Directory of Argus Biomedical where we took an artificial cornea through FDA, CE Mark and TGA approval before launching it. I then ran Resonance Health (ASX:RHT) where we again secured FDA, CE Mark and TGA approvals for their MRI-based diagnostic for liver iron levels.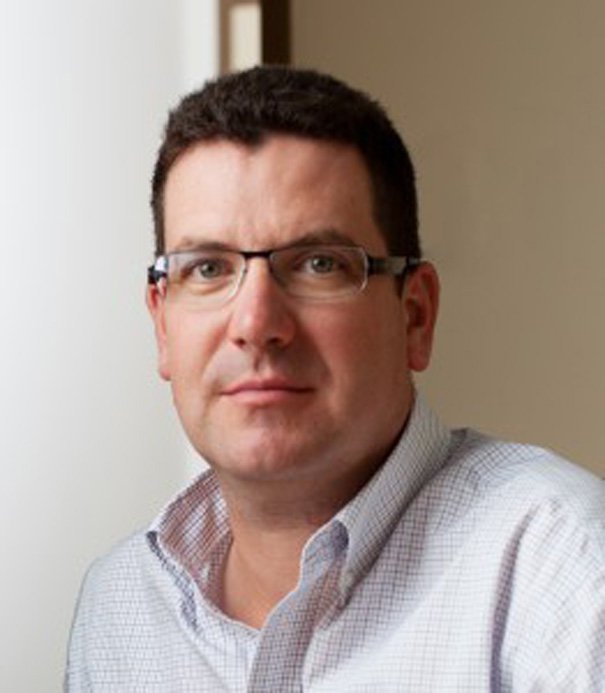 Between 2002 and 2009, with my colleague Liddy McCall, I ran a consulting firm that advised many biotech companies, but was really focused on finding projects we liked, and that required management teams for which we were willing to work principally for equity. During this time we founded both iCeutica and Dimerix.
In 2009, Liddy and I were joined by Matthew Macfarlane where were successful in raising a $40 million venture capital fund called Yuuwa Capital, with half the funding sourced from private investors, and the other half from the Australian Federal Government's Innovation Investment Fund (IIF) program. Yuuwa invested in 10 IT and life sciences projects after reviewing more that 500 opportunities from around Australia. Five of Yuuwa's portfolio continue to do well, and we expect to start seeing some exits in the next 2 – 3 year period.
FF: You had excellent success with one company in particular which was acquired from you for $60 million, how did you go about growing iCeutica?
JW: I conceived the business plan and technology that became iCeutica after reviewing a related nano-technology that had been invented at the University of Western Australia. Early proof of concept was done with grant funding from UWA, we then incorporated and ran the business as a virtual company from incorporation to exit.
As there was limited capital in Australia interested in the iCeutica project, we sourced seed funding from some Philadelphia-based angel investors with deep links to the pharmaceutical industry, and matched this along the way with various grants and R&D rebates. As the technology continued to mature, we were able to secure early licencing deals that mitigated the need for significant capital raisings.
Ultimately we got the to point of having multiple drugs in clinical trials with our partners, and interest from broking firms for an Australian IPO to fund our own development activities. The underwriting agreement was never signed as we received a cash offer to buy iCeutica.
FF: What did this company do and what was it about the company and its assets that were so attractive?
JW: iCeutica's technology enables very small drug particles to be made. This has major benefits in the performance and safety of some drugs as, simplistically, they can either work faster or with a lower dose.
An analogy is the dissolution a sugar cube versus the same amount of granulated sugar in you coffee – the larger cube takes longer to dissolve. At iCeutica, we initially focused only on improving currently marketed, but off patent drugs. This meant that we were only focused on improved safety and efficacy, not establishing the performance of new chemical entities which significantly shortened the development time for each product.
Our early focus was on non steroidal anti-inflammatory drugs (NSAIDs) for which there were some known side effects that we thought we might be able to reduce by using smaller doses, and for which any acceleration of pain relief would be beneficial.
Our hypotheses worked, and we demonstrated the technology in clinical trials with our partners, and secured new patents for these old drugs. The success of the trials supported the continued development of the assets by the partners and ultimate acquisition of the company. Subsequent to the acquisition in 2011, three of the drugs we reformulated have been approved by the FDA and are now being marketed in the US. The time from inception to the sale of iCeutica was only six years, and required less that $5 million of total investment. On the sale, we returned 10-times the investment from the initial seed round.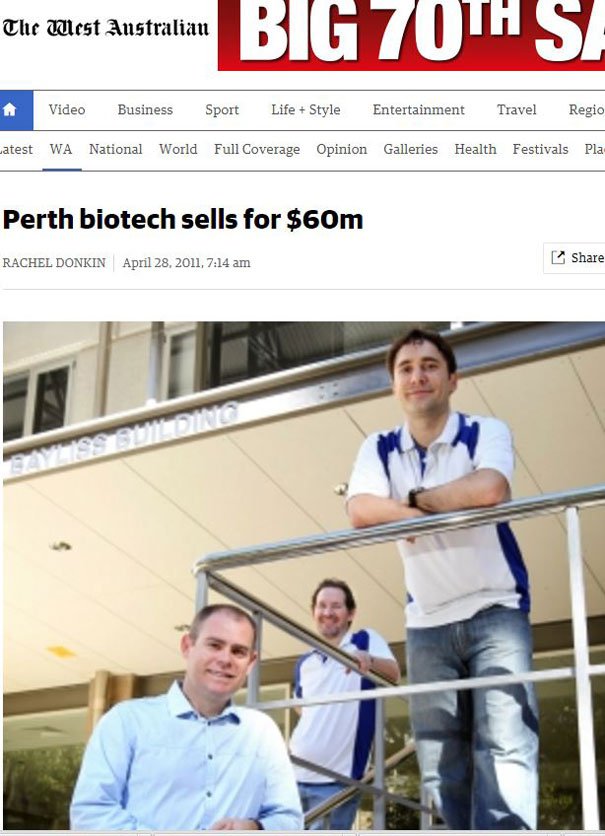 FF: Why did you found DXB?
JW: We founded DXB because of the belief that the combination of the cutting edge science coupled with the leading scientists in the field had the potential to have a profound impact on drug development. The science in question allowed us to look at drug targets, which already were acted upon by almost 50% of currently marketed drugs, in a unique and enabling way. The opportunity had similarities to iCeutica in that we could use the technology to repurpose existing drugs (and so shorten the development cycle), partner the technology early to reduce the reliance on external capital, and ultimately build significant value through development of our own programs.
FF: What is DXB's main focus?
JW: The main focus is on the DMX-200 clinical asset, currently in a Phase 2 trial in Australia for the treatment of chronic kidney disease. Secondary activities including using the receptor HIT technology to identify and progress further clinical assets, and generate some revenue through partnerships with other biotechs or big pharma companies.
FF: What are DXB's main assets?
There are two main assets, however the first of these is a platform, which by its very nature is an engine room to create more assets.
The platform technology (receptor HIT) is a patented method for identifying new groups of receptors which interact with each other (known as heterodimers). The body has hundreds of these proteins called receptors, which are critical in performing all of the cells functions, as they drive the cells pathways. Standard therapies target receptors individually, however our technology shows that these receptors actually talk to each other. This means that only interacting with one receptor is not always enough to have full therapeutic effect, or may result in unexpected side effects from the cross talk between the receptors. This provides the opportunity to uncover mechanisms to treat disease which may be either more effective of have fewer side effects than traditional approaches.
DMX-200 is the clinical asset of the company, and is a treatment based on the heterodimer approach elucidated using the receptor HIT technology. It is a treatment for kidney disease which is currently in Phase 2 clinical trials in Australia
FF: How serious is the CKD problem?
JW: Chronic kidney disease is a serious and growing problem, particularly in first world countries where obesity and disease such as type 2 diabetes and metabolic syndrome are fuelling the growth of this problem. Currently there are estimated to be some 26 million people in the USA with chronic kidney disease. Current therapies do little more than slow the progress of the condition, meaning many patients will progress to the costly and invasive end stage treatment of dialysis, or require a kidney transplant. Unfortunately even a kidney transplant is not a "cure" as in many cases the condition can reoccur.
FF: How does DXB's patented technology work to curb CKD?
JW: The technology works by targeting 2 receptors known to be involved in inflammation and also progression to fibrosis (the scarring of the kidney). Dimerix identified that these two receptors 'talk' to each other, and blocking both of them together, seems to better reduce the inflammation and the progress to fibrosis. The goal is to stop any further decline of the kidney's ability to filter the blood, thereby removing the ultimate need for dialysis or transplant.
FF: You were recently granted a US patent allowance for DMX-200, what does this mean and what does it mean for DXB?
JW: This patent allowance means that Dimerix has patent protection for this program, and also similar programs using different drugs for the same receptors, out until 2032. This is a critical step required for the commercial development of any new therapeutic approach.
FF: What are the chances of having this patent extended into Europe and Asia?
JW: Patents are processed country by country and the same patent is in the process of being examined in Europe and Japan at the moment, with other countries to follow based on the timing in their system. We are hopeful of securing relevant protection in these important jurisdictions.
FF: You also have orphan status, what advantage does this give?
JW: An orphan designation allows Dimerix to target a specific section of the chronic kidney disease patients, in a way that enables a small company to progress the therapy to market.
The orphan designation recognises that this particular cause of chronic kidney disease (a disease called focal segmental glomerularsclerosis (FSGS) has very few patients and therefore the FDA recognises that only a smaller number of patients can be recruited than for very prevalent diseases (such as kidney disease in type 2 diabetics).
This provides the potential for a much more rapid completion of the stages to register a drug. If a drug is registered for this condition, the FDA will give the owner 7 years of exclusivity in selling that drug and so providing significant commercial incentive to register this drug.
FF: How do you maximise this advantage?
JW: Engaging with the FDA early is critical to establishing the package of information which Dimerix will need to register the drug, and therefore a timely development program.
In addition the market for treatments for rare diseases in the US enables very high entry pricing for the treatment, making it commercially attractive for potential partners which may want to license the program.
Importantly, success in the orphan arena provides indirect support for broader studies in larger sub-groups of CKD. These represent areas for which we would expect our ultimate partner to pursue, with the potential for Dimerix to further benefit as they progress through payment of development milestones.
FF: How are the clinical trials coming along?
JW: We are a little disappointed with the speed of the recruitment in Australia, although that said, we know that recruitment for trials for patients with kidney disease can be very slow due to a number of factors. The Australian trial is expected to continue to recruit slowly, but is providing us with good information to continue the development of the therapy. During this trial, we are working in parallel to start the process to open a trial in the USA and/or Europe, where there are larger population centres and therefore more patients available. The process to open a trial in the USA involves interacting with the Food and Drug Administration (FDA) to determine whether there are further specific activities we may need to conduct first. We have commenced preparing for this interaction.
FF: Is this is a competitive market, if so how do you stand out from competitors?
JW: The market for chronic kidney disease treatment is extremely competitive, with no real effective treatment. We believe that as our therapy is based on an understanding of how the receptors interact, there is a good chance it will show benefit for patients with this condition. In addition we now have a patent allowed in the USA, which covers this combination approach.
FF: What are the short term growth projections?
JW: The short term milestones are focused on continuing to generate supporting data from the Australian DMX-200 study, and to progress our activities required to ultimately secure marketing approval for the initial orphan indication (initially in the US).
We also plan to increase our efforts in establishing commercial relationships around our platform technology. We have already had several commercial arrangements with major companies in this area, and with the ever-increasing acceptance of the heterodimer paradigm, we believe there are significant opportunities emerging around receptor-HIT.
FF: What is the long-term play?
JW: The long term play is ultimately to license the DMX-200 program and the patent to one or more biotech or pharma companies, and to continue to grow the business based on a pipeline of opportunities identified from the receptor HIT technology, so that multiple therapeutic programs can be developed.
---