PYL to merge with Canadian peer: Forming a global, vertically integrated medical cannabis company
Published March 30th, 2015
The ASX's first Medical Grade Cannabis company – PhytoTech Medical Ltd (ASX:PYL) – is set to merge with privately held Canadian peer MMJ Bioscience Inc. ("MMJ").
The merged company will become the first global, vertically integrated medical cannabis company that spans the entire medical cannabis value chain from "Farm to Pharma".
MMJ is an established holding and investment company, specialising in Medicinal Grade Cannabis growing operations, supply chain optimisation and product development for the emerging global cannabis market.
One of the reasons that the medicinal marijuana market is flourishing in Canada is that the country's Marihuana for Medical Purpose Regulations ("MMPR") is one of the only fully legal, well-defined and federally regulated medical marijuana regimes worldwide.
Federally licensed producers have accessed millions of dollars of public investor's money and there are now 8 well followed, well traded public companies with one or more facilities that are licensed under the MMPR in Canada.
That said, the process of becoming a federally licensed producer is exceedingly difficult, costly, and seemingly capricious. At the time of writing only 17 producers were fully licensed to produce and distribute with another 8 licensed only to produce.
Canada therefore has the legal clarity, the acceptance by the public and capital markets and is also a very good place to do business. For these reasons, PYL elected to pursue a merger with MMJ – a Canadian based company.
MMJ was an early mover when the MMPR was announced, submitting its application promptly and being assigned application number 23 at its Duncan Facility. The Duncan Facility is therefore extremely advanced in the licensing process, and once granted the facility can produce up to 700kg of medicinal marijuana per annum.
Whilst MMJ is not yet a licensed grower, PYL's merger with MMJ at its advanced pre-license stage exposes existing PYL shareholders to a considerable value uplift upon the successful grant of a license to MMJ.

The merger deal is based on a PYL pre-deal share price of $0.305 per share of $15.5M upfront and an additional $5.185M in performance shares subject to completion of milestones.
MMJ has something that none of the other MMPR applicants have – a biotech angle where it is pushing R&D beyond smokeable marijuana and towards the pharmaceutical realm.
MMJ has a Swiss-based subsidiary, Satipharm, which is in the business of R&D of cannabis-based pharmaceuticals, nutraceuticals and cosmetics. They have a web of agreements with best-in-class pharma, cannabis-related researchers and contract pharmaceutical manufacturers.
As a result of this, aside from production facilities in Canada, MMJ has a first-to-market and highly sought after GMP–produced (good manufacturing practice) gastro-resistant Cannabidiol ("CBD") pill that it will begin shipping to customers in the E.U. beginning in July 2015.
Cannabinoids are a class of diverse chemical compounds – including THC and CBD – that are contained in the cannabis plant. Of the cannabinoids, CBD is thought to have the greatest therapeutical potential across the greatest range of diseases, and following the merger, this pill is anticipated to generate significant revenue for PYL from July 2015.
The CBD pill is understood to be the first of its kind in the Medical Grade Cannabis market, and will be sold as a dietary supplement across the European Union.
"Farm to Pharma" strategy
At first glance this simple merger seems straightforward but upon further inspection it becomes clear that there is more than meets the eye.
This is captured perfectly by the strategy that is being talked about by both groups: the "Farm to Pharma" strategy.
The easiest way to understand this is by thinking about the spectrum of cultivation of marijuana all the way to the production of a pharmaceutical derived from the marijuana and all the steps in between: extracts, testing, clinical trials, testing, more trials, etc.
MMJ's current business stops on this spectrum just as PYL's starts.
So the two combined groups therefore complete the entire supply chain loop from "Farm to Pharma":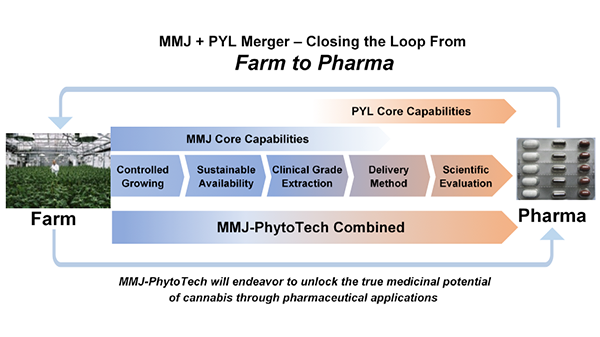 PYL and MMJ Bioscience to combine their strengths
PYL saw the market opportunity presented by Medical Grade Cannabis (MGC) and debuted on the ASX in late January of 2015 with an oversubscribed IPO that brought $5.9M cash and a current market cap of around $15M.
PYL has a two stream business plan that will see it develop and manufacture innovative products that administer Medical Grade Cannabis (MGC) (a vaporiser and pharmaceuticals) and also become a grower and supplier of unique strains of legal cannabis for therapeutic uses.
Using this two-tier approach, PYL plans to tap into the multi-billion dollar MGC market that's rapidly growing in the USA, Canada, parts of the Eurozone, and Israel, while positioning itself strategically to enter new markets as they emerge.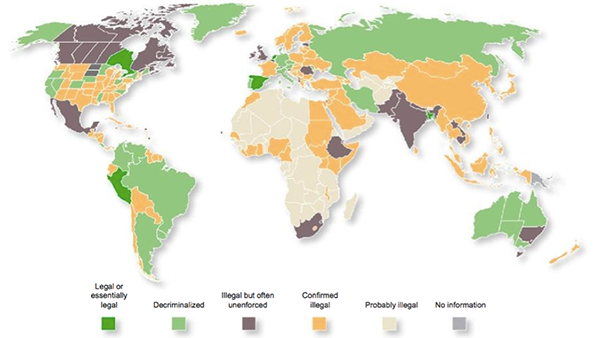 The proposed merger between PYL and MMJ would see the merged group's plans absorbed into a business that can span the globe with a vertically integrated operation. It also opens up the opportunity for synergies between the two companies.
Working inside Canadian regulations, MMJ is developing a strong domestic business, whilst at the same time focusing on the nutraceutical and pharmaceutical MGC opportunities which are likely to be the key value drivers in the future.
MMJ has three fully owned subsidiaries working in different areas of the medical cannabis sector. The merged entity formed with PYL would be structured as follows: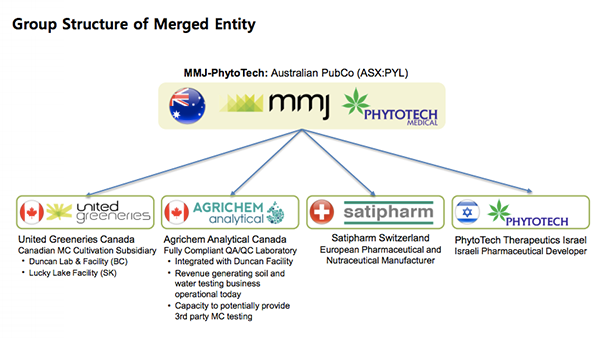 MMJ's three subsidiaries to add to PYL's existing business
Further details of MMJ subsidiaries that will join PYL as part of the deal are as follows:
United Greeneries Ltd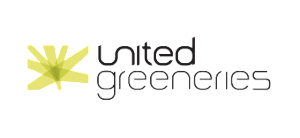 United Greeneries currently owns two state-of-the-art MGC cultivation facilities with a combined footprint of 78,000ft2 – the Duncan Facility and the Lucky Lake Facility.
There is potential to expand to over 800,000ft2 on 18 acres of owned land at its Lucky Lake facility, using custom two storey facilities.
The Duncan Facility and Laboratory is a 16,000ft2 building with a level-8 vault, 3 bays and close to 10,000ft2 of cultivation area.
The facility is completely built out and is located on Vancouver Island in the town of Duncan, BC, and is only 20 minutes away from Vancouver via float plane. Duncan has an integrated fully compliant QA/QC laboratory for internal testing as well as third party testing services as required by Health Canada.
The Lucky Lake Facility is a 62,000ft2 modern architectural structure based in Lucky Lake Saskatchewan. The specifications of the building's modern and robust structure meet or exceed what is required under the MMPR in many cases. As a result, the anticipated build out cost is quite low for a building of this size. The building comes as close as to being a purpose-built MMPR building as it could get but was actually originally intended for storing potatoes.
The Duncan Facility will be able to produce up to 700kg of MGC per annum once granted an MMPR production license.

Meanwhile at the Lucky Lake Facility, on top of the 62,000ft2 existing facility, the site has approximately 18 acres of uncovered land that could theoretically support at least 800,000 ft2 of additional indoor cultivation area if using purpose built, custom two story structure.
The structure is well-suited for MGC production and is now awaiting final fit-out. As is, Lucky Lake could theoretically produce 12,000kg, but MMJ's assumption is 11,000kg.
With the current market price for MGC in Canada being between CDN$7 and CDN$10 per gram, cultivation and then production from the Duncan Facility will lead to substantial regular revenue for PYL soon after finalisation of the merger (subject, of course, to the MMPR licence being granted).
The Lucky Lake Facility thereafter provides a 'blue sky' production opportunity should the Canadian market for MGC continue to expand at Health Canada forecast rates.
However, in addition to only financial benefit, owning actual legal medical marijuana growing capacity has significant strategic value for the PYL and MMJ merged outfit.
Satipharm

MMJ's fully owned Swiss subsidiary develops cannabis based pharmaceutical, nutraceutical and cosmetic products for a variety of conditions.
The company has, together with its extracting and technology partners, developed a proprietary gastro-resistant Cannabidiol (CBD) pill – as mentioned earlier.
The CBD pill will be legally sold as a dietary supplement over the counter in Europe – meaning that pharmaceutical approvals are not required to generate immediate sales revenue.
From July 2015 on, Satipharm is targeting to sell a minimum of 30,000 CBD pills, quickly ramping up to 135,000 CBD pills per month at a cost of €3 each.
Immediately demonstrating one of the synergies between MMJ and PYL, Phytotech Technologies Israel intends to quickly engage in the clinical testing of safety and bioavailability of this pill for the purpose of integrating it into its pharmaceutical product development.
AgriChem Analytical

This subsidiary of MMJ provides state-of-the-art biochemical quality control testing and Cannabinoid analytics, as required under the Canadian MMPR.
AgriChem Analytical is directly integrated with United Greeneries' Duncan cultivation facility, and is currently generating revenue from its soil and water testing business.
These services play an essential role in furthering Cannabinoid drug development and once the merger is finalised will allow PYL to become a supplier of high-compliance services to other companies in the sector.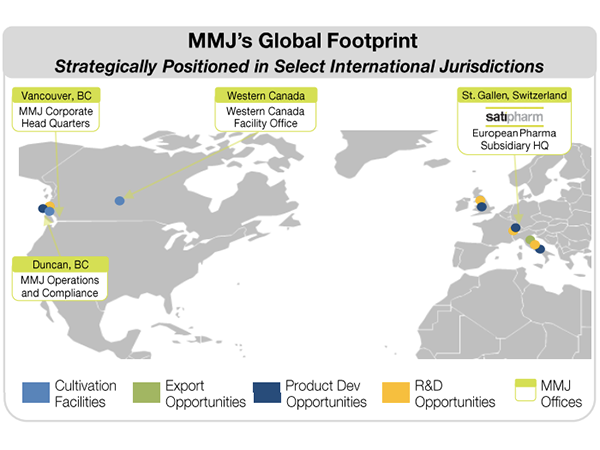 So based on its three subsidiaries businesses, MMJ has a strong platform set for international growth in both the Canadian and European MGC markets.
But by combining with PYL, MMJ will become part of a vertically integrated MGC company covering every key aspect of the industry's value chain, including the production, research and development and distribution of MGC products.
Details of the PYL and MMJ merger
Major shareholders of MMJ Biosciences have entered into a Binding Heads of Agreement with PYL setting out terms for a 100% acquisition of MMJ Biosciences.
The merger deal consideration is based on PYL's share price of $0.305 at the time of the announcement, and covers $15.5M in PYL scrip and an additional $5.185M in performance shares, subject to completion of value creating milestones.
The first tranche of 8.5 million PYL shares will be released in the event that United Greeneries is granted a license to produce under Canada's MMPR within 12 months from settlement of the merger.
The second tranche of 8.5 million PYL shares will be granted in the event that MMJ and its subsidiaries generate at least CAD$5,000,000 in revenue from operating activities within 36 months from settlement of the merger.
The merger deal is subject to successful completion of due diligence by both companies, approval from both sets of shareholders and MMJ debenture holders, as well as the satisfaction of all regulatory hurdles.
The timetable for the merger is set out here:

PYL has sufficient existing funds available to meet the working capital requirements of MMJ until revenues commence, meaning the transaction does not require an equity raising by PYL.
Management and board to combine
Upon completion of the merger in late May, three nominees of MMJ will join the board of PYL.
PYL's Managing Director, Boaz Wachtel, says the merger offers an opportunity to combine with a business that can help create a dominant medical cannabis operation.
"We are extremely pleased to be partnering with a business that has a complementary asset portfolio and significant potential to become a key Medicinal Cannabis producer within the near future in Canada," he says.
"Partnering at this important stage provides significant benefits and synergies to both parties, and we expect substantial value uplift upon completion of each of the performance milestones structured into the deal. Furthermore, we are excited by the opportunity to produce and supply a GMP-produced CBD pill which, to our knowledge, will be the first of its kind in the Medical Cannabis market."
Regulated Medical Cannabis markets continue to grow in value and scope
The legal cannabis market is expanding rapidly as the drug becomes decriminalised in many countries and embraced as a therapeutic aid for medical situations such as terminal illness and pain management.
The United States is leading the way, with 23 states in the country now allowing the legal use of cannabis with varying conditions. There's even rising competition between states, such as Colorado and California, over where the best legal cannabis is grown.
The medical cannabis market is well developed in Canada as highlighted earlier, and is strong in 10 nations in the Eurozone, as well as in Israel. Countries around the world, including Australia, are also trialling the drug.
This rising level of legal recognition has created a growing global industry for legal cannabis, particularly Medical Grade Cannabis, or MGC, which the re-structured PYL plan to develop products for and eventually grow their own strains of cannabis to supply to users.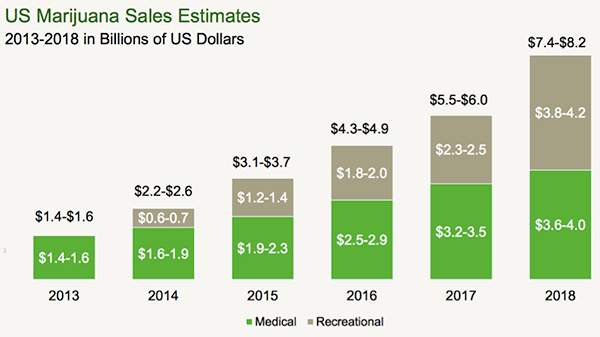 MGC use is predicted to grow into a $4BN industry by 2018 in the USA, up to $10BN in the Eurozone over the same period, then expanding to a $40BN in global industry by 2020.
The main therapeutic function of MGC is pain relief, and studies have found cannabis to have greater pain relieving effects than regular medicines.
As more and more countries, doctors and medical establishments embrace MGC as a legitimate form of treatment, PYL has strategically positioned itself to service this growing industry with a range of products.
'Nespresso' style legal cannabis points the way for PYL
Aside from the merger news, PYL is working to roll out a core group of products, including registered therapeutics such as an oral pill and topical applications, as well as medical vaporisers and inhalers.
PYL has recently signed a Heads of Agreement with Canigma A.L Ltd, to license, develop and commercialise a capsule based vaporiser device to administer doses of MGC to users.
PYL says the patent pending vaporiser device delivers a higher dose of the active ingredients of legal cannabis – THC and CBD – to the user through a more efficient handling and heating process. It's smaller and easier to use than competing devices, and will include an innovative way of inhaling.
When it comes time to sell it, the device's marketing is intended to be based on the 'Nespresso' range of coffee machines and products, wherein dispensaries of MGC will supply different types of capsules designed to treat different ailments.
This will give users more choice and allow doctors to prescribe certain ratios of MGC's active ingredients to different patients, preventing abuse of the system and allowing the monitoring of its effects to be monitored more closely.
Canigma holds a number of IP interests related to the medical cannabis vaporiser device, and under the agreement PYL will fund its development for up to $1M from patent to proof of concept and then development and launch to the market.
Once a patent is granted, PYL will subscribe for 50% of Canigma's shares in consideration for its investment. PYL then has the option of acquiring the remaining 50%.
Partnerships to drive PYL's growth
In addition to the CBD pill that the merged group will sell following the merger and the development of vaporiser device, PYL is also working on an oral pill and a buccal patch for administering THC and CBD, the active ingredients of MGC, as pharmaceutical products.
The oral pill and buccal patch have had favourable pre-clinical studies and their basic formulations (excluding THC and CBD) are already commercial. PYL says compared to rival product, Sativex, both products potentially promise longer shelf life, no adverse taste, and better delivery performance.
Both products are now on the clinical-development regulatory route, and PYL anticipates they will have shorter periods of registrations because they draw on proprietary technology developed by its project partner, the Yissum Institute of Israel, the commercialisation arm of the Hebrew University.

This partnership with the Yissum Institute is one of the key drivers of PYL's business growth – it essentially gets world-class scientific and commercial support for all of its products.
Yissum has over 8,000 patents, more than 700 technology licences, and in excess of 80 companies spun out from its research work. Products based on its technologies have generated over $2BN in sales and earned it a reputation as one of the world's leading technology transfer companies.
With Yissum's support, PYL has a competitive advantage as it pushes to bring new and advanced MGC products to the market in a time where demand is soaring across the globe.
Grower and supplier – PYL's Agri-Medical strategy
PYL is developing strategic alliances with other medical cannabis companies around the world to acquire sophisticated genetic plant strains.
The idea here is for PYL to become a leading grower and supplier of advanced strains of MGC for sale to the global market, allowing it to make money from every commercial area of the sector.
The merger with MMJ will enhance this strategy and expose PYL to growers in Canada and European technology innovators.
Cannabis strains can be developed with unique characteristics that make them suited to the treatment of different types of medical conditions. In the USA, there are even online guides for patients giving advice as to what kind of cannabis they should be taking.
By partnering with MMJ, PYL can potentially become a Licensed Producer in Canada, commercially producing cannabis under regulations which currently only permit a limited number of outfits to sell to registered users.
There were 15,545 patients signed up under the MMPR with an estimated 20,000 – 30,000 continuing to hold on to their Marijuana Medical Access Regulations (MMAR) license at the end of 2014 in Canada. The MMPR program was enacted in July 2013 and has replaced the previous MMAR program.
Health Canada predicts that the market will grow at a compounded annual rate of 22% until 2024 when there will be over 300,000 users and annual sales in the industry $1.3BN.
PYL now plans to look for similar arrangements in other markets such as the Eurozone, Australia and the USA.
What's Ahead for PYL's MGC Play
With $4.9M in the bank, PYL has money to fund its two-tier strategy of developing delivery technology and acquiring the ability to grow and supply Medical Grade Cannabis over the next two years.
The company has accelerated development plans for a vaporiser device, as well as a pill and buccal patch – all of which could be used to tap into the growing demand for MGC products around the world.
With its Israeli technology partnerships, proposed merger with MMJ, and ASX listing, PYL is strategically positioned to become a leader in both well-established and emerging MGC markets around the world.
With PYL set to merge with MMJ, an unprecedented international MGC operation will be created that is vertically integrated – controlling every aspect from cultivation and sale of dried marijuana to R&D on pharmaceutical applications of cannabis-based compounds.
The PYL investment proposition
PYL has short, medium and long term drivers for company growth.
Short term – almost immediate revenues
Unlike many other companies in the MGC space, PYL and MMJ Bioscience will almost immediately be generating revenue and profit from the sales of the CBD pill as a dietary supplement.
Medium term drivers – Canadian opportunity
The Canadian market represents a significant opportunity in the short to medium term. Demand for MGC amongst Canadian patients is strong and forecast to grow significantly.
Long term drivers – Blue Sky Pharma
The real money in the future for MGC is likely to be in pharmaceutical products that can be delivered safely and consistently to patients. This market could be worth billions of dollars in the future.
S3 Consortium Pty Ltd (CAR No.433913) is a corporate authorised representative of LeMessurier Securities Pty Ltd (AFSL No. 296877). The information contained in this article is general information only. Any advice is general advice only. Neither your personal objectives, financial situation nor needs have been taken into consideration. Accordingly you should consider how appropriate the advice (if any) is to those objectives, financial situation and needs, before acting on the advice.
Conflict of Interest Notice
S3 Consortium Pty Ltd does and seeks to do business with companies featured in its articles. As a result, investors should be aware that the Firm may have a conflict of interest that could affect the objectivity of this article. Investors should consider this article as only a single factor in making any investment decision. The publishers of this article also wish to disclose that they may hold this stock in their portfolios and that any decision to purchase this stock should be done so after the purchaser has made their own inquires as to the validity of any information in this article.
Publishers Notice
The information contained in this article is current at the finalised date. The information contained in this article is based on sources reasonably considered to be reliable by S3 Consortium Pty Ltd, and available in the public domain. No "insider information" is ever sourced, disclosed or used by S3 Consortium.