How Imugene is tackling gastric cancer
Hey! Looks like you have stumbled on the section of our website where we have archived articles from our old business model.
In 2019 the original founding team returned to run Next Investors, we changed our business model to only write about stocks we carefully research and are invested in for the long term.
The below articles were written under our previous business model. We have kept these articles online here for your reference.
Our new mission is to build a high performing ASX micro cap investment portfolio and share our research, analysis and investment strategy with our readers.
Click Here to View Latest Articles
With one in every two Australians expected to be diagnosed with cancer by age 85, that accounts for about 3 out of every 10 people who will pass away.
Looking globally, WHO reported 14.1 million new cases of cancer worldwide in 2012.
How to solve the problem?
It's an age-old question that seems to have no concrete solution.
However, one particular field of cancer treatment, immunotherapy, is showing a great deal of promise.
Immunotherapy is the treatment of cancer with substances or drugs that stimulate the patient's own immune response. This type of treatment helps patients' immune systems recognise cancer cells and create antibodies to attack them.
This field has seen substantial, multi-billion dollar deals being made, as Big Pharma companies jockey for position in an effort to bring to market an effective cancer treatment – that could be profitable for years to come.
Immugene is a $30 million capped ASX stock developing cancer immunotherapy drugs based on antibodies.
Before we go to far, we should note that this company is an early stage biotech play and a speculative stock. Investors should seek professional financial advice if considering this stock for their portfolio.
Immugene is attempting to develop and commercialise a cost effective, first in class cancer treatment drug known as HER-Vaxx.
The company is soon set to recruit patients suffering from gastric cancer for its Phase 1b/2 trial.
Gastric cancer is the second leading cause of cancer death in the world and little evolution has been made in its treatment thus far.
Through immunotherapy treatments, world leaders in cancer research are asking whether we are, at last, on the brink of turning the cancer story around.
In the following video, Immugene CEO Leslie Chong reveals just what the company is working toward:
Imugene has two compelling antibody programs, which could open up a raft of commercial opportunities, especially given the size and nature of recent deals in the space.
Those antibody programs are as follows:

These two technologies build on the multiple levels of a person's immune system, through the identification of cancer targets for a variety of cancer indications.
B-cell antibodies have a number of advantages including safety, efficacy, durability, usability and cost.
Company backing
One of Imugene's key backers is Kerr Neilson's Platinum Asset Management, an Australian fund manager.
Platinum Asset Management has taken a stake nearing 10% (as of Dec 2016), having been impressed with IMU's board and management.
Platinum is working with Imugene to attract licensing deals much like those detailed below.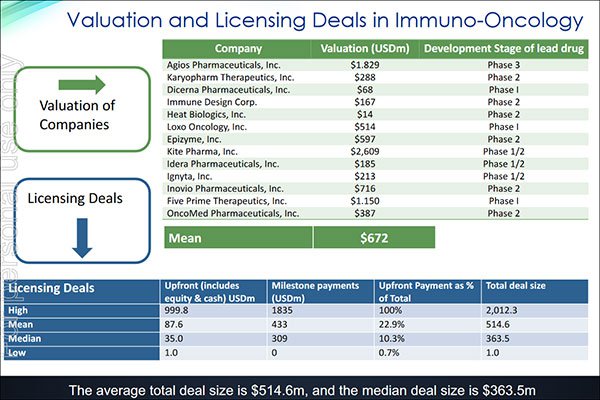 Imugene is currently on the cusp of a Phase 1b trial that could be in a licensing window as immunotherapy is said to be the most promising area of immune oncology today.
Imugene's goal would be to attract Big Pharma in the way that Five Prime and Regeneron did. Those companies' molecules were in-licensed or partnered by BMS and Sanofi for $1.7 billion and $1.6 billion respectively.
20% of the top Big Pharma deals in 2015 were in the antibody space, which augurs well for Imugene given the assets it is attempting to commercialise.
However, at the same time, this is a speculative investment – and like all speculative investments, there is no guarantee that IMU will increase in value. Investors should thus take a cautious approach to any investment decision made with regard to this stock.
What is HER-Vaxx?
HER-Vaxx stimulates the B-cells of the patient's own immune system to produce antibodies against the HER-2 receptor. These antibodies then attach to HER-2+ cancer cells and block the cancer cell growth signals.
HER-2 is a receptor that relays messages from outside of cells, to the cells themselves. One of its significant functions is to give orders to the genes that control cell multiplication and proliferation.
In some cancerous cells there is way too much HER-2 (referred to as "over-expressed"), which is what causes cancer cells to reproduce uncontrollably. When this is the case the cells are called "HER-2-positive", or HER-2+.
Imugene's HER-Vaxx is a vaccine that stimulates a patient's own B-cells (which are basically little personal antibody factories) to go into immune response and create antibodies against HER-2.
HER-Vaxx includes not one, but three different B-cell peptides, which help ensure the immune system will be able to come at the cancerous cells from a few different directions at once – so that tumours won't be able to hide from the good guys (as they are wont to do).
What Imugene is attempting here is to significantly advance a new but known immunotherapy strategy, aiming to create a treatment drug that's first in class – and with a unique difference.
HER-Vaxx therapy attacks exactly the same target as the world's leading breast cancer drug Herceptin attacks: they both use antibodies to target HER-2 in cancer cells.
The key difference is that Imugene's HER-Vaxx therapy uses natural, polyclonal antibodies produced by the patient's own immune system, whereas Herceptin injects synthetic monoclonal antibodies into the patient.
HER-Vaxx B-cell immunotherapy can offer a whole range of advantages:
safety, as it stimulates the production of natural antibodies, which have fewer potential side-effects (whereas synthetic antibodies can produce quite serious side-effects including ventricular dysfunction, CHF, anaphylaxis, immune mediation);
efficacy, as polyclonal antibodies reduce the risk of resistance, by comparison with monoclonal antibodies (single shot).
Then there's durability: antibodies are continuously produced by the patient's own immune system, providing a lasting immune response to inhibit tumour recurrence (whereas the synthetic monoclonal antibodies can have a half-life of 12 days or less).
Relatively few vaccinations are required over the course of a year – compare this to monoclonal antibody therapy which requires regular infusion.
The low cost of production enables greater pricing flexibility; whereas courses of monoclonal antibody treatment can be extremely expensive – > USD100k per year expensive.
Patent protected
In February, Imugene announced it had received a Notice of Acceptance from the Australian Patent Office for Patent (application: 2016250289) which protects its HER-Vaxx cancer immunotherapy.
So while HER-Vaxx is being tested for the treatment of gastric cancer, with some promising initial results.
This new patent protects innovative new vaccine formulations designed to enhance the immune response obtained on administration of HER-Vaxx – IMU's proprietary HER-2 positive cancer immunotherapy that stimulates a polyclonal antibody response in patients with HER-2 positive cancers.
Baker IDI agreement – arginine modulators
Imugene signed an exclusive agreement with the world-renowned Baker IDI Heart & Diabetes Institute in Melbourne to develop and commercialise a portfolio of small molecule arginine modulators for the treatment of cancers.
Arginine is a naturally occurring amino acid which plays a key role in the activation, growth and survival of the body's own cancer-fighting cells. Low or deficient arginine has been observed in renal cell carcinoma and acute myeloid leukaemia patients.
There's a growing body of evidence that points to the idea that more arginine available in the patient's body could help restore the tumour-fighting ability of the body's own cells.
Those in the field have known about this potential for arginine modulators for some time, and have been developing treatments. However Imugene aim to develop therapies in this area and advance the research through pre-clinical development.
A company like IMU has a pretty clear goal in mind: develop a great biotech idea, find proof that the idea is a good one, and then sell it to a large pharmaceutical company who can see it through to market.
Assuming the trials continue to go well, Imugene could soon find itself in a strong position.
Of course there is no guarantee that will happen, so investors should seek professional financial advice and take all publicly available information into account if considering this stock for their portfolio.
---