A healthy six pack in a hot sector: Part 2
Published 11-SEP-2019 11:27 A.M.
Hey! Looks like you have stumbled on the section of our website where we have archived articles from our old business model.
In 2019 the original founding team returned to run Next Investors, we changed our business model to only write about stocks we carefully research and are invested in for the long term.
The below articles were written under our previous business model. We have kept these articles online here for your reference.
Our new mission is to build a high performing ASX micro cap investment portfolio and share our research, analysis and investment strategy with our readers.
Click Here to View Latest Articles
Yesterday, Trevor Hoey looked at the turnaround in the health services sector. He pointed out that the S&P/ASX 200 Healthcare Sector blitzed the rest of the market, increasing 12.7% against the ASX 200 which interestingly by the start of September was already back in positive territory, up 4.5%.
He then proceeded to outline three of six stocks in this two par series that have been making strong moves.
You can read part 1 here: A healthy six pack in a hot sector: Part 1.
Today, Trevor takes a look at three more stocks that are worth a look.
Lifespot Health Ltd (ASX:LSH)
Lifespot Health's core expertise is in connecting medical diagnostic devices and digital medicine delivery systems via Bluetooth and Smart device APPs to its cloud based ISO13485 accredited BodytelTM patient management system.
The company's systems and applications are cloud and smartphone-based and easy to use.
Lifespot's strategy revolves around providing its diagnostic systems and medicine delivery platforms to healthcare enterprises for own branding white label contracts.
The company's German based BodyTelTM system is based on modern and future-proof internet technology utilising advanced technologies such as document-based databases and biological neural networks.
Lifespot's German based Seng-Vital specialises in the development of hardware in the medical and non-medical cannabis categories.
In 2019, the company launched Medihale®, a digitally integrated medical cannabis vaporiser hardware and software solution that incorporates BodytelTM App's to be the world's first fully integrated vaporising system.
Management believes the vaping industry has a strong outlook, recently quoting Euromonitor International forecasts for the cannabis industry which point to an increase in global legal sales of more than 1200% from US$12 billion in 2018 to US$166 billion by 2025.
Management is in discussions with medical cannabis clinics in the US, Canada and Australia that already have a strong patient flow across a broad range of therapeutic areas.
The Medihale® integrated BodytelTM system provides a comprehensive technology platform for clinics to provide a high quality standard of care with integrated doctor supervision via the BodytelTM system.
Lifespot signed a Heads of Agreement (HOA) with IONIC Brands Corp in July with the commitment from both companies to sign a Joint Venture Agreement within 60 days.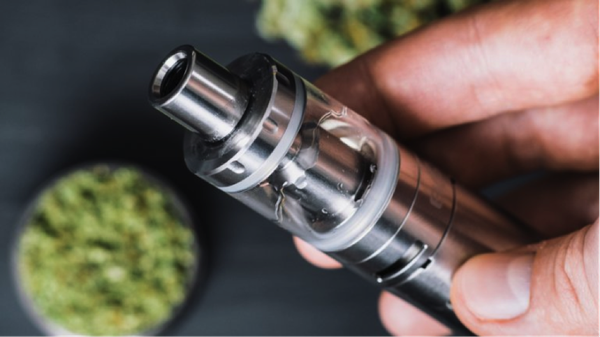 Under the terms of the HOA, the parties have committed to launching in 2019 independently of the completion of the JV to ensure the company is first to market with its unique technology.
The signing of a joint venture agreement and/or the product launch could provide significant share price momentum.
Prescient Therapeutics Ltd (ASX:PTX)
Prescient Therapeutics (ASX:PTX) is a clinical stage oncology company developing targeted therapies that address specific mutations that drive cancer and contribute to resistance.
Fiscal 2019 was one of continued progress for the company as it advanced the group's promising pipeline of small molecule targeted cancer therapies through the clinic.
The company continues to develop its two drug candidates, PTX-100 and PTX-200, for potential new therapies to treat a range of cancers, including breast and ovarian cancer, as well as leukaemia.
PTX-100 is a first in class compound with the ability to block an important cancer growth enzyme known as geranylgeranyl transferase-1 (GGT-1).
It disrupts oncogenic Ras pathways by inhibiting the activation of Rho, Rac and Ral circuits in cancer cells, leading to apoptosis (death) of cancer cells.
PTX-100 was well tolerated and achieved stable disease in a Phase 1 trial in advanced solid tumours.
The compound is believed to be the only RhoA inhibitor in the world in clinical development.
PTX-100 will soon commence a PK/PD basket study of haematological and solid malignancies, focusing on cancers with Ras and RhoA mutations.
PTX-200 is a novel PH domain inhibitor that inhibits an important tumour survival pathway known as Akt, which plays a key role in the development of many cancers, including breast and ovarian cancer, as well as leukaemia.
Unlike other drug candidates that target Akt inhibition which are non-specific kinase inhibitors that have toxicity problems, PTX-200 has a novel mechanism of action that specifically inhibits Akt whilst being comparatively safer.
This highly promising compound is now the focus of three current clinical trials.
The coming year will see a number of important clinical, regulatory and commercial inflection points in management's efforts to bring important new cancer therapies to global markets.
This includes the much anticipated expansion of the acute myeloid leukaemia trial to explore the potential of PTX-200 in lower doses of chemotherapy based on the strong data from the Phase 1b study and endorsement of medical investigators.
Prescient is collaborating with a leading private US-based drug discovery company to create new formulations of its lead compound, significantly expanding the group's already robust intellectual property position.
On the corporate front, the company raised $9 million, supported by both US and Australian specialist life science investors.
Starpharma Holdings Ltd (ASX:SPL)
Starpharma Holdings Ltd (ASX:SPL; OTCQX:SPHRY) has established a prominent position in the development of dendrimer products for pharmaceutical, life science and other applications.
The company's underlying technology is built around dendrimers – a type of synthetic nanoscale polymer that is highly regular in size and structure and well suited to pharmaceutical and medical uses.
Starpharma has two core development programs, being VivaGel® portfolio and DEP® drug delivery with the company developing several products internally and others via commercial partnerships.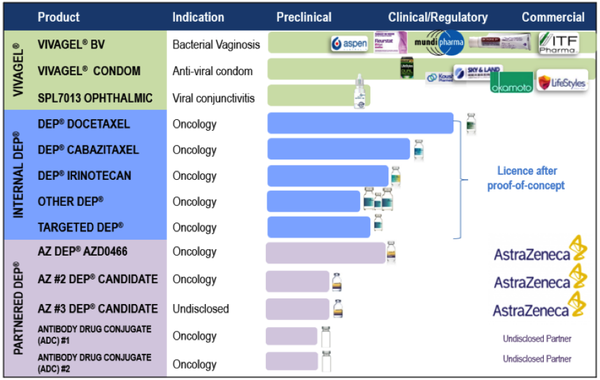 The company's women's health product - VivaGel® BV is based on SPL7013, astodrimer sodium, a proprietary dendrimer.
VivaGel® BV for bacterial vaginosis (BV) is available for sale under the brand name Betadine BVTM (Europe) and Fleurstat BVgel (Australia) and a new drug application has been submitted to the US FDA.
VivaGel® BV is a novel, non-antibiotic therapy for the treatment of bacterial vaginosis and prevention of recurrent BV.
Bacterial vaginosis is the most common vaginal condition worldwide and twice as common as thrush.
Based on industry statistics, one in three women will experience BV and half of these women will have recurrent BV.
VivaGel® BV is an Australian innovation – invented, fully developed and taken through to commercialisation by Starpharma.
It was only last week that Starpharma received a further regulatory approval in an Asian country for VivaGel® BV.
This follows multiple country approvals in the region as previously announced on August 15 2019.
Mundipharma will be rolling-out the product in Asia under the brand name BETADINETM BV Gel.
Starpharma has licensed the sales and marketing of VivaGel® BV to ITF Pharma for the US.
Mundipharma is the licensed sales and marketing enterprise for Europe, Russia, CIS, Asia, the Middle East, Africa and Latin America, while Aspen Pharmacare is handling that role in Australia and New Zealand.
Starpharma also has licence agreements to market the VivaGel® condom (an antiviral condom which includes VivaGel® in the lubricant) in several regions, including Australia, Europe, Canada, China and Japan (Okamoto).
The VivaGel® condom has been launched in Japan under Okamoto's 003 brand, and in Australia and Canada under the Lifestyles® Dual ProtectTM brand.
Starpharma's Dendrimer Enhanced Products® (DEP®) drug delivery platform represents a number part of its product portfolio.
This has demonstrated reproducible preclinical benefits across multiple internal and partnered DEP® programs, including improved efficacy, safety and survival.
Starpharma has three internal DEP® products, being DEP® docetaxel, DEP® cabazitaxel and DEP® irinotecan, with the latter in clinical development in patients with solid tumours.
The company's partnered DEP® programs include a multi-product DEP® licence with AstraZeneca, which involves the development and commercialisation of two novel oncology compounds, with the potential to add more.
In June 2019, Starpharma signed a Development and Option agreement with AstraZeneca for a DEP® version of one of AstraZeneca's major marketed oncology medicines.
Bell Potter's Tanushree Jain's valuation of $1.94 per share is in line with consensus estimates, and it implies upside of 75% relative to Monday's opening price of $1.11
Jain highlighted that the group's proprietary dendrimer technology is versatile with wide applicability across the pharmaceuticals sector.
He sees the partnership with AstraZeneca as validation of the company's ability to enter the oncology market.
Jain expects recurring revenues to commence in fiscal 2020 following the launch of VivaGel BV in Australia by Aspen and the launch in Europe by partner Mundipharma.
With regard to share price catalysts in fiscal 2020, Jain said, ''The drug delivery portfolio albeit early stage is progressing rapidly with key data read outs in the December half of 2019 which could act as significant re-rating catalysts for the stock.
''We also expect further deepening of ties between SPL and partner AstraZeneca.
''First partnered compound AZD0466 is to enter into Phase 1 trials in the December half of 2019 which will trigger a US$3 million milestone, and by the end of fiscal 2020 we expect progress on the recent option agreement on AZN's marketed oncology drug towards potential exercise of the option.''
Starpharma had cash of more than $40 million as at June 30, 2019, leaving it well funded to progress research and development, sales and marketing initiatives.
Summing up what has been a successful year for the group, Starpharma's chief executive, Dr Jackie Fairley said, "Starpharma has achieved significant milestones across the business this year, including international product launches, new commercial deals, and trial progress for our three high-potential, clinical-stage DEP® products.
''The company is in a strong financial position with more than $40 million in cash at bank.
''With our anticipated revenues from products on market and future launches, we are well placed for future growth".
---