Will the Vape Crisis Kill Canada's Legalisation 2.0?
Published 04-OCT-2019 16:01 P.M.
Hey! Looks like you have stumbled on the section of our website where we have archived articles from our old business model.
In 2019 the original founding team returned to run Next Investors, we changed our business model to only write about stocks we carefully research and are invested in for the long term.
The below articles were written under our previous business model. We have kept these articles online here for your reference.
Our new mission is to build a high performing ASX micro cap investment portfolio and share our research, analysis and investment strategy with our readers.
Click Here to View Latest Articles
With Canada preparing for the legalisation of edibles and extracts later this year, the vaping crisis could not have come at a worse time.
If you follow cannabis in any way, shape or form, and have not heard about the "vaping crisis" then you have been living under a rock. It has now spread to 46 US states, with over 850 reported cases and at least 12 deaths, with the first one being recorded on August 23 in Illinois.
The disease has been almost exclusively targeting men in their late teens to early 20s. In all cases, victims have reported heavy usage of vaping either nicotine, THC or in some cases both.
The symptoms are a combination of shortness of breath, chest pains, lots of vomiting and nausea, and fatigue and fever. Most come in reporting difficulty breathing, and some have ended up having to stay in hospital. For lengthy periods of time, hooked up to ventilators and other intensive care equipment.
The real problem is that no one has yet been able to correctly identify what the root cause of this sudden epidemic is. The Centers for Disease Control and Prevention (CDC) does not have data on every victim, but in a recent announcement, they were able to identify that 76.9% of the cases reported using THC, with only 56.8% reporting the use of nicotine.
36% said they exclusively vaped with THC. So there can be no doubt that this could affect the cannabis industry. They currently have more than 100 doctors working on trying to understand what exactly is making people sick.
"Although investigations and data collection are ongoing, it appears that most, if not all, of the reported cannabis-related cases so far stem from products sourced from the unregulated criminal market."
– Neal Levine, CEO of the Cannabis Trade Federation (CTF)
All bar one of the reported cases has been associated with products from the black/illicit market. The primary issue is that on the black market, there is no list of ingredients that are mixed in with the oil, and there is obviously no third party quality control and testing.
The black market uses volumisers to increase their margins (as they do with other illicit drugs like heroin and cocaine) and this seems to be one of the primary causes. Vitamin E oil has been found to be in many of the vape pens. While harmless when applied in skin creams and the like, inhaling Vitamin E oil vapour is extremely dangerous.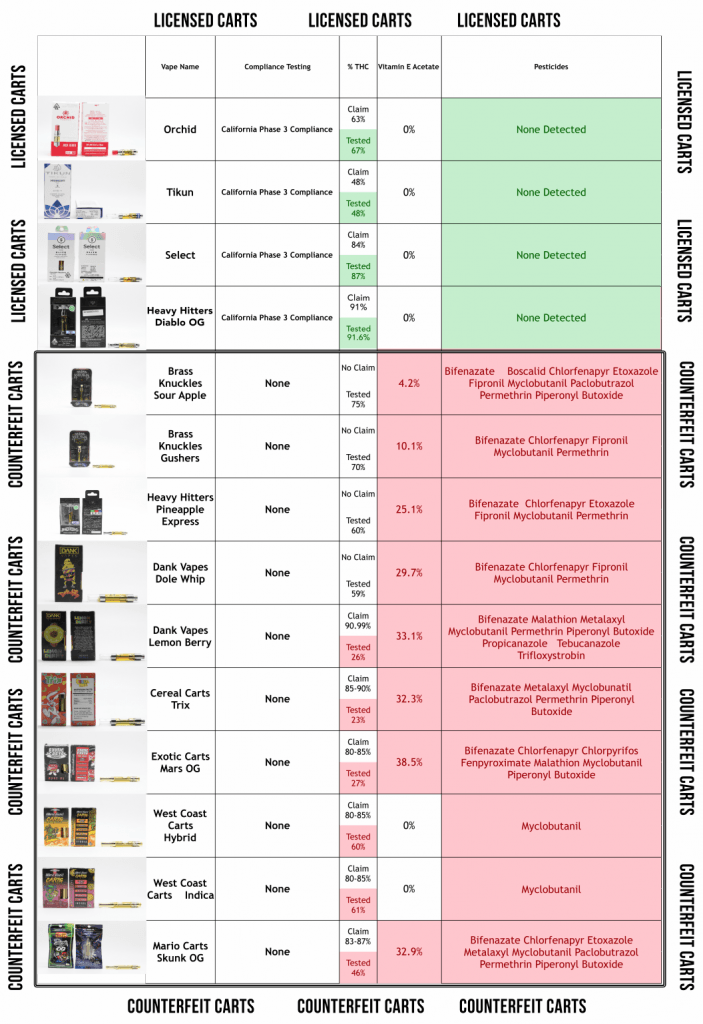 In a recent article by NBC News, they analysed and tested 4 cartridges bought from legal Californian dispensaries, and another 15 that was bought off the street (from the black market). The findings were deeply troubling.
Of the four vape cartridges purchased from legal dispensaries in California, the testing company found no heavy metals, pesticides or residual solvents like Vitamin E.
But 13 out of the other 15 samples from black market THC cartridges were found to contain Vitamin E, and 10 of the unregulated cartridges also tested positive for pesticides. Some of the products contained myclobutanil, a fungicide used in the cultivation of cannabis, that can transform into hydrogen cyanide when burned. Yup, you read that right.
On the face of it, this looks like the perfect argument for legalisation, to ensure that only quality products are consumed in the market. Yes, that certainly makes sense, however, in this case, hysteria may well trump sense.
"In theory, it should promote the legal market, but if you don't have very aggressive education behind these products, a good portion of the population doesn't see the difference."
– Jason Zandberg, research analyst at investment dealer PI Financial.
The epidemic is extremely dangerous to two emerging industries, namely e-cigarettes and legal cannabis. Both of these industries have pointed to vaping as a healthy alternative to smoking.
The e-cigarette industry-leader, Juul, has been very hard hit by the crisis. Not only is Congress and other agencies conducting their own investigations into their marketing practises, but they are also actively considering the health implications from continued use of their flavoured pods. Just last week, Kevin Burns, the company's chief executive, resigned from his position with immediate effect.
Let's be clear on this though. He did not resign because vaping is bad, and will kill you. Rather, the main point of contention is the fact that Juul was actively marketing to the teenage generation through their social media channels, and can be directly attributed to the astronomical rise in vape usage amongst teenagers.
Will it impact the cannabis industry?
There's a couple of issues at play here. First off this is still a very polarising topic. Even in legalised States, there are many towns that have decided not to have cannabis retail stores, and to openly support legalisation. Many who are pro-prohibition speak to the fact that it will make it easier for the kids to access (even though this is paradoxical to the actual outcome).
The ban of favoured e-cigarettes was as much about the harmful chemicals in the favoured pods themselves, as it was about stopping the rampant increase in teen vaping. This is essentially about "keeping it out of the hands of children" which speaks directly to the cannabis industry.
According to Morgan Fox, spokesman for the National Cannabis Industry Association (NCIA), "there's a lot of preliminary concern that this could be used to negatively impact cannabis-related regulations at the federal level when that process begins."
Vaping is quickly becoming the most dominant form factor for cannabis consumers. According to Seattle-based data analytics firm Headset, from Sept. 1, 2018, to Aug. 31, 2019, the vapour category (vape pens and cartridges), was the No. 2 product category in California, Colorado, Nevada and Washington state, second only to marijuana flower.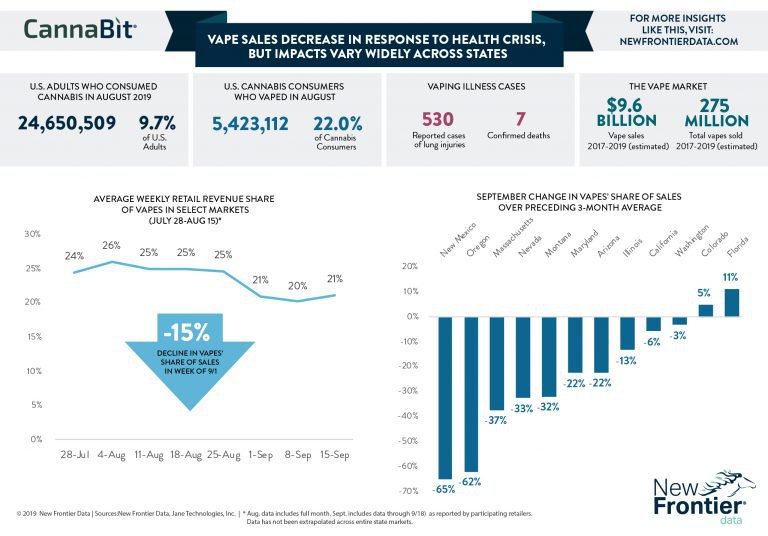 Vaping accounts for 24% of the legal U.S. market, according to Cowen & Co. But already these numbers are starting to fall. In a recent article, New Frontier Data noted that there had been a 15% decline in vape's share of sales since the beginning of September.
The fact remains that while people are dying, and no one can definitely answer why there is going to be more and more calls to simply ban vaping altogether until the epidemic is better understood. This has already happened in Massachusetts where all vaping products have been banned until February 2020, while the investigation into this crisis continues.
And so to Canada
On September 18th, the nascent Canadian cannabis industry was rocked by the news that the vaping epidemic which has already claimed 13 lives across the US, had finally made its Canadian appearance.
And with legalisation 2.0 around the corner, Canadian weed regulators are now very concerned that their legalisation of vapes could have a significant impact on the health and lives of their fellow Canadians. Canada legalised recreational cannabis on October 17, 2018. However, they only legalised flower and low-potency oils, which is not the dominant form factor of choice.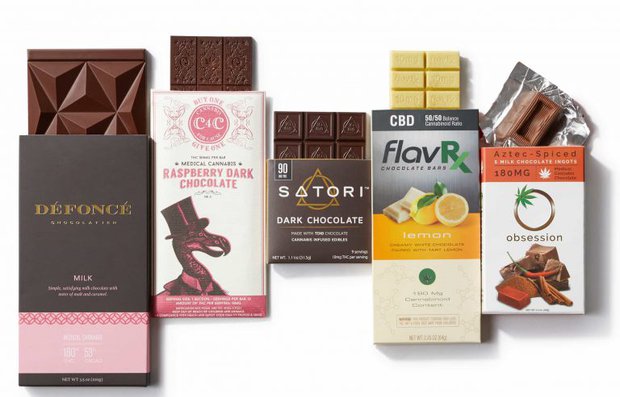 This has been reserved for what is affectionately known as "legalisation 2.0" when the government legalised edibles and extracts later this month, with most of the product due on shelves around 2 months later – call it mid-December.
However until the vaping crisis is better understood, this creates a real overhang on the market, as Canadian regulators could well place an indefinite suspension on vape cartridges and pens if this is not resolved by the end of the year
"If we can get to the bottom of what the root cause is and we can offer assurances to consumers that that ingredient is not used in cannabis vape pens in Canada, I don't think it should have any effect on demand. If it's a more systemic problem and these products generally are an irritant or somehow a precipitant to lung disease, that would be devastating to the vape industry," said business attorney Trina Fraser in a recent Bloomberg interview.
And the problem for the cannabis companies, is they have been really gearing up and preparing for the incoming legalisation of vape pens and cartridges. These products have the double-whammy of being higher-priced products with higher margins, exactly what the flailing Canadian cannabis companies need right now.
" Organigram is earmarking approximately one-quarter of its cannabis for the concentrate market ahead of the demand it hopes to see for vape products."
– Ray Gracewood, Senior Vice-President for Marketing at Organigram
If the government did delay (or worse completely ban) the roll-out of vape products in Canada, this is going to have a significant impact on the industry, and the companies that support that industry.
As yet, there has been no word from Health Canada or any regulators regarding any delays or bans on vaping and vaping products. But with legalisation 2.0 around the corner and the predicted mass of vaping products due on shelves by Xmas, only time will tell the extent to which the vaping crisis will impact Canada.
Mark Bernberg is a long-time cannabis investing enthusiast and founder of The Green Fund. The Green Fund is Asia Pacific's preeminent media house, positioned at the forefront of the global cannabis industry. Committed to driving the industry forward, we spotlight the sector from all angles, explore the companies and the players making headlines, and cover some of the biggest cannabis companies in the world.
---