Interview: Mike Harsh on the evolution of Imaging and Imagion's role
Hey! Looks like you have stumbled on the section of our website where we have archived articles from our old business model.
In 2019 the original founding team returned to run Next Investors, we changed our business model to only write about stocks we carefully research and are invested in for the long term.
The below articles were written under our previous business model. We have kept these articles online here for your reference.
Our new mission is to build a high performing ASX micro cap investment portfolio and share our research, analysis and investment strategy with our readers.
Click Here to View Latest Articles
With over 40 years' experience in the healthcare diagnostic imaging industry, Imagion Biosystems (ASX:IBX) Board member Mike Harsh is one of the world's most qualified people to speak about the evolution of diagnostics.
Finfeed's Jonathan Jackson sat down with a very enthusiastic Harsh to discuss the industry, the limited ways to image the human body (X-ray, CT, MRI, ultrasound, and PET/SPECT) and how Imagion is reimagining the process.
Harsh has served as Vice President and Chief Technology Officer for GE Healthcare and as the Global Technology Leader of Imaging Technologies at GE Global Research, where he led the organizations research on X-Ray, CT, MRI, Ultrasound, Nuclear Medicine, PET, Optical Imaging, and computer visualization/image analysis systems.
Jonathan Jackson (JJ): Mike, thanks for joining us today. Can give me a little bit of background on yourself and your overall views on the evolution of the imaging industry.
Mike Harsh (MH): Well, it's interesting. I fell into this industry back in the late seventies, just after CT had come out. My background is electrical engineering and I had job offers from all over America, however I'd never seen anything like the work being done on digital image reconstruction on mini computers.
I had the chance to play with the image processing lab and thought 'I'm going to plug in here for a while. This looks pretty exciting'. Right after that, I wound up working in nuclear imaging – SPECT. I spent quite a few years in x-ray and had the chance to work on the design of the first digital subtraction angiography system. We were digitising videos back in the early eighties.
I spent quite a few years in x-ray and did CT along the way, then ultrasound. For 11 years, I dedicated my time to patient monitoring, cardiographs, IT systems, MRI and then I went up to GE's research labs and ran the research for imaging across the entire company.
I then went back to GE healthcare as the Vice President, Chief Technology Officer for the healthcare business. I did that for almost 36 years.
JJ: When you say you fell into it, what did you originally think you'd end up doing?
MH: I knew I always wanted to design electronics. I had taken a job at a research lab when I first got out of college, but I really didn't like it. I knew I liked designing electronic equipment and I wound up looking around and had a lot of offers at the time from the aerospace industry. I thought, I can either work on weapons delivery systems or bombs or whatever, or I can work on these new medical scanners that at least made some contribution to the betterment of society.
It was a simple decision in the end.
JJ: You retired five years ago, but you seem busier now than ever before.
Michael: Time has gone really quickly. And, I find myself as busy, if not busier now, in the field of medical instrumentation and imaging, than I've ever been.
JJ: What brought you out of retirement?
MH: I get a chance to work with a lot of smaller companies where I see interesting technology. Hopefully, I can help them along. I've made a few mistakes over my career, so hopefully I can help them figure out how to get through the technology and the clinical acceptance and then see what we can do.
JJ: It has been a long and memorable career, what have been some of the biggest achievement or advancements you've seen.
MH: It's been a blast. X-ray has been out for over a hundred years, but I had a chance to watch how x-ray became digitised. CT was always there, but MRI didn't exist when I came into this field. Ultrasound was in its infancy.
Things called a single positron emission tomography (PET scans), which was a nuclear scan, were around but that was very analogue in nature.
So, I just look at this and I'm fascinated by the advancements. We've got five ways of imaging the human body. When I look at x-ray, I look at CT, I look at ultrasound, I look at the molecular imaging technologies, but frankly, those have been around a while.
So what excited me to come out of retirement was to start working with a company like Imagion BioSystems to find out if there's another way that we can look at imaging and get a functional image with no radiation.
You have to ask yourself the question, 'why do I have such a large expensive scanner when all I need to do is image my wrist?'
I think the time will come, and we'll see a trend here, where we'll see application specific scanners that are much easier to use, come at lower cost and higher performance.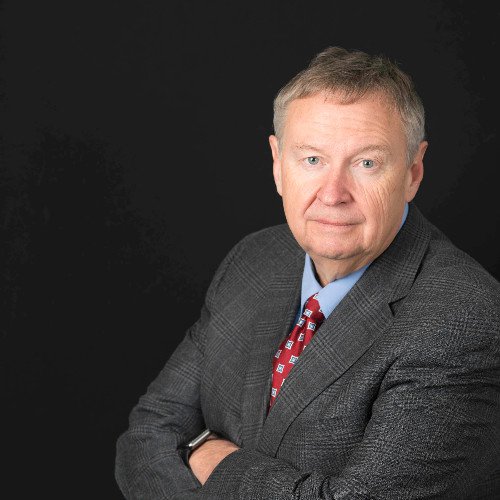 Mike Harsh.
JJ: Imagion is looking to take the radiation out of imaging and simplify it. Where do they sit in terms of the progress being made within the industry in relation the bigger players? Is it a piece of the puzzle? Did they fit in within the puzzle?
MH: It's completely complementary. What you have here is, technology that uses a super paramagnetic nano particle – a really small core – and we functionalise that with specific antibodies that will attach to a specific cancer. If they're bound, they demagnetise slowly. If they're unbound, they demagnetise quickly. We can pick that up with a sensitive detector. It's called a SQUID, Superconductive Quantum Interface Device. From that, we can basically take that data in, solve an inverse problem, and come up with a functional map of where these particles are.
So what excites me, is it's just another way of accomplishing something with an extremely high amount of sensitivity and specificity. You want to make sure you have a lot of sensitivity, because if you have a lot of sensitivity and no specificity ... you're going to see things that don't matter.
To be able to get those two things right is extremely important. That's again, what attracted me here.
JJ: How far along is Imagion on the path here?
MH: We've been able to synthesise the particles. We've been able to conjugate these with antibodies. We've proven these in mouse models, including preclinical.
We've had an instrument that we've deployed for pre-clinicals in other tests at MD Anderson. We've got one in our lab. What we need to do now is march towards getting a set of particles that are compliant so that we can go into first in human studies.
That's really our next step.
JJ: It's interesting. It's not only, I guess, beneficial for the industry itself, but cancer is just getting worse really.
MH: What's interesting to me, and I've seen it throughout my career, is if you can see it, you can treat it. So, the sooner you see it, the better the outcome. Being able to see things before you've got millions of cells that have been recruited or cancerous is crucial. If we can get that number down into the hundreds of thousands, we can start to detect things that are very small. Our job right now, is to get this to the next level. A recent rights offering will get us the material that we need and should get us into those trials.
JJ: And the expectations from those trials?
MH: I completely expect that we're going to see what we've seen in our preclinical models. We're going after a very narrow indication of use so that we can get this technology out and available.
JJ: What are you targeting first?
MH: We're trying to target HER2 positive breast cancer. We're going to look for a sentinel lymph node involvement because that'll fit very well into the clinical care pathways today.
We also have a pipeline of other antibodies that we're wanting to try and we've done some experiments on a prostate specific cancer or prostate specific antibody. Then, I think, the one that is really exciting to me is ovarian cancer.
By the time that's detected, it's already stage three, stage four and that's one where if there's a way that we can find it much earlier, that is going to have a significant impact in terms of outcomes.
JJ: That's the thing isn't it? Early detection.
MH: The sooner you can see it and find it, the much better the outcome.
JJ: How would it help doctors or surgeons?
MH: We want to get to the point where you would have a simple test to know whether you need to have surgery. You wouldn't need surgery because the initial cancer couldn't be detected. You wouldn't need to have your lymphnodes removed prematurely.
We'll go through all the testing early next year. It'll be a small clinical trial, but first in humans. Based on the outcome of that, we'll then do a pivotal study.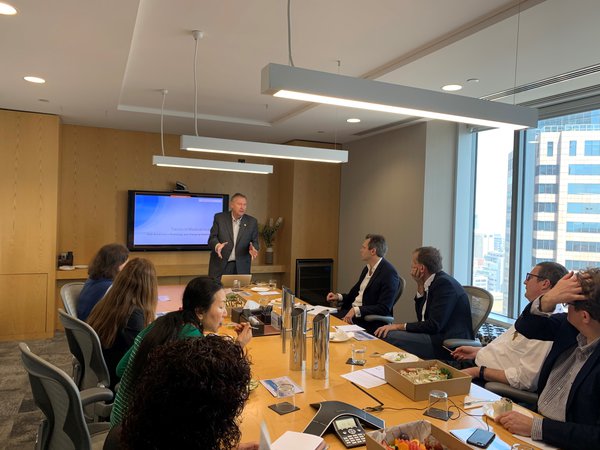 Mike Harsh presenting at an investor lunch in Sydney.
JJ: Is Imagion looking to partner with anybody? Get on board with some of the bigger vendors or things?
MH: It'd be great, but coming from one of those bigger vendors, the bottom line is they're going to want to see technology and ask where does it fit in the organisation?
If it doesn't fit in a business unit, you just don't know how to deal with it. That is my opinion. Once you develop the technology, gain clinical acceptance and start to get some traction, now that's when it becomes more attractive at that point.
JJ: A lot of small cap companies walk that fine line between trying to create a profit, trying to keep shareholders happy, while trying to actually do something good. Especially in the biotech world.
MH: Right. but, the interesting thing is you get a chance to really take some swings for the fence and with this one, we've got so much of the technology understood. We've got to prove it in a clinical environment.
In terms of the complete ecosystem, I think imaging is going to continue to march forward. I'm sure that the person who invented the vacuum said what could possibly be next until a transistor came out. And, when the transistor came out, someone said what could possibly be next until integrated circuits came out. It's the same thing here. When I look at what I see going on, and again, anatomical imaging, physiological imaging, metabolic type imaging and really understand and being able to make that link, I just see more and more opportunity.
I've been in this industry for so long. When CT came out, it was fascinating. I remember MRI came out and I know people were thinking at the time, if we release MRI what's going to happen to CT? It turned out, they both grew and it's because they were so complementary in terms of the information provided and the access.
It's the same thing now.
JJ: Just finally, what are some of the major highlights of your career?
MH: The one that I am most proud of is bringing GE Healthcare into the ultrasound business. I'll never forget at the time, we were just a small company, with maybe $8 million in sales one year. We were able to incubate essentially a start-up within a large company.
Today, I don't know the numbers, but I know it's probably over $2 billion and ultrasound has become ubiquitous.
When I look at where it's going, it is becoming very much a point of care treatment.
JJ: Which is what Imagion is trying to achieve with its potential breakthrough. Mike, thanbks gor your time.
MH: Thank you.
---