How one start-up shifted into high gear
Published 18-OCT-2018 13:21 P.M.
Hey! Looks like you have stumbled on the section of our website where we have archived articles from our old business model.
In 2019 the original founding team returned to run Next Investors, we changed our business model to only write about stocks we carefully research and are invested in for the long term.
The below articles were written under our previous business model. We have kept these articles online here for your reference.
Our new mission is to build a high performing ASX micro cap investment portfolio and share our research, analysis and investment strategy with our readers.
Click Here to View Latest Articles
Emma Sharley, Founder of Sharley Consulting and Co-Founder of personalised shopping app ShopYou (AI and fashion tech AKA 'predictive fashion') made the switch from corporate to start-up a few years ago.
Emma was one of the expert panellists at the Mrs V Shift Day Event (held in Sydney on 27 September), an event for women in business which was hosted by Brand Expert, Scarlett Vespa, Founder of Mrs V Society.
Emma and Scarlett have since collaborated together as they each look to grow their start-up businesses. Finfeed's Megan Graham recently tracked them down for a joint interview to discuss women in start-ups.
Finfeed: How did you begin working together in the start-up space?
Scarlett: I had the idea for Mrs V Society and I wanted to create a blog for women over 40. I heard Emma speak and tracked her down. And we got together and I asked her to help me do it properly.
Emma: When I started my consulting business it was to primarily work with businesses to develop their brand and marketing strategies. It's hard to create a marketing strategy without a holistic understanding of the brand—why the business exists, what role it plays and what it wants to be known for. That's how we started working together.
Scarlett: I realised with Mrs V Society, originally conceived as something for women over 40, it is actually for all women. We have the same issues that are coming up, and we have lots of interest from younger women. It's been great bringing Emma on board as an expert with Mrs V Society to talk about brand and marketing. She knows it so well. We complement each other — we're both in branding but what we each do is quite different.
Emma: At that time (a few years ago) there were hardly any brands that were talking to this audience, women over 35. Virtually any woman over 35 has been spoken down to by a brand, or marketed to with irrelevant content. Simply because the business hasn't done the work to understand her.
There have been improvements since then, yet amazingly this segment is still not well-understood (despite this group being the most dominant in terms of buying power across various categories). We need to give this audience the attention they deserve.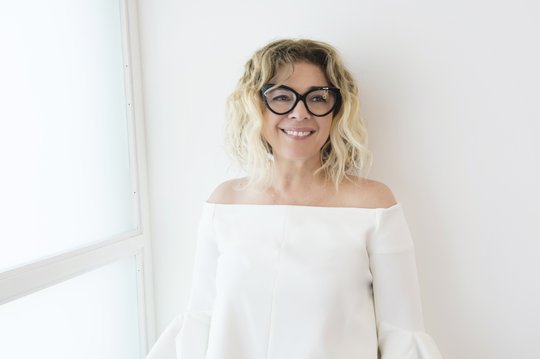 Finfeed: The two of you collaborated on Scarlett's recent Mrs V event is that right?
Scarlett: I have key experts I draw on in different areas for the Mrs V events. I have health, beauty, career, business and finance (I even have clairvoyants!) — we have Julie Elliott, former Head of Bank of Sydney and other notable panellists. I find curators and amazing people to speak at the events, and Emma has become one of them.
Finfeed: You recently held an event, Mrs V Shift Day. How did that go?
Scarlett: It went well. This was the second one. We held one last year around the same time. How it started was about two and a half years ago I did some video interviews with key influencer women; Jane Caro, Julie Elliott and others.
I realised that when we bring certain people together, we have this incredible authentic conversation on topics like career, health, current events, the experience of being in business over 40 and being in business as a woman. I wanted to bring it on stage.
I believe everything has to be integrated, all parts of our life, and so I also wanted to bring that in as a whole. A few comments from the Mrs V Shift event were, 'It's like a magazine coming to life' and 'I feel like I'm not alone'. The day was about nurturing and meeting the needs of this segment.
Emma: One of my favourite quotes is from the ex-CEO of Coca Cola that describes having five areas in our lives: work, family, personal, health and spiritual. If you drop your work ball it can always bounce back. If you drop any of the other balls, it's unlikely they will bounce back with the same power.
Scarlett's event was great for that. Because there's a lot out there around leadership and gender equality in the workplace — all with a strong focus on career. It's nice to have something that talks to us, and about us, as a whole.
Scarlett: I plan to begin doing shorter workshops too. Emma and I will be doing a panel on technology and AI, which is great because there's so much fear in that space. The day will be about what's happening right now in the world. How do you reshape your skills and what you have? I've done a lot of research into AI. Having used an AI assistant, the key component is our humanity — that's what will give us a sustainable future.
But people aren't recognising that's the answer. They're getting more fearful. It's about looking at ourselves as innovative, creative and emotional beings. And thinking how we hone those sensibilities and be proud of them, and have confidence in them.
Finfeed: It's interesting how business has traditionally focused so much on logic and rationality — those that AI can emulate most — but has, perhaps too easily, dismissed the emotional or intuitive side of the human brain...
Scarlett: Yes, companies are now organising creative people to come in; the philosophers, the creatives, to balance out that side of things. Artificial intelligence needs someone to lead it. We need to ask what is our 'why' with AI?
An executive assistant who attended our event realised she'd be out of work soon because of automation. She saw that her role had changed to be more about culture change — she largely looked after relationships in that role. So she said to her employer, I don't want to do this role anymore, I want to be your Head of Culture Change. And she got the job.
That was a great example of how you have to reshape and rethink your skills. That's where I'm passionate to help — especially for those over the age 40 or 50. Rather than saying 'My god, I'm old' it's about saying 'My god, do you know what I've done? The experience I bring to the table?' It's a different attitude.
Finfeed: Many women in their 40s and 50s seem to be branching out with their own businesses at the moment. Have you both found evidence that this segment is growing quickly?
Emma: There's been some recent research into the age of entrepreneurs, and the average age of entrepreneurs who are launching their own businesses successfully is early 40s.
Hats off to anyone in their early 20s starting a business, that's very courageous, but the research coming through shows that those beyond 20s have the most success with it. When you're building something off a concept, you're bringing on people, investor and partners — based on your vision. You've got to have a strong sense of who you are and where you want to go; and be able to bring everyone together and on the same page. And you need excellent communication and stakeholder management skills, which often comes from experience.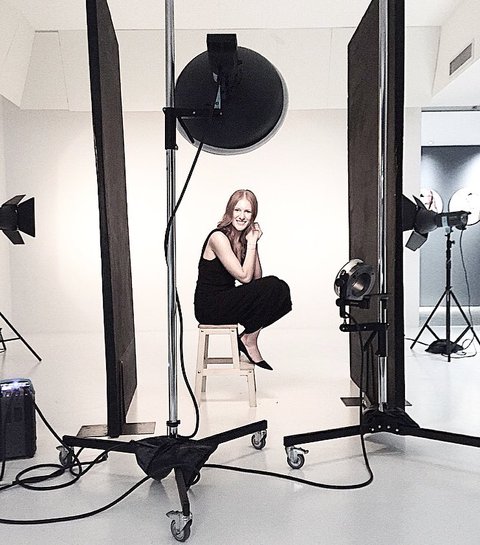 Scarlett: When you're an entrepreneur you have to show up every day. And create every day. I love to help people show up every day and be their best selves. It is hard.
You have to generate all that time and energy, you have to put negative stuff aside and keep going. It is incredible personal development. It is often challenging, but that's life; and that's learning about who you are. We are building a world of entrepreneurs now, and 50% of people are going to be contracted in the next 10-15 years.
I have wondered why everyone is becoming a coach these days, and I think it's because humanity is going to need help. Tech is growing exponentially and we're not keeping up. That's why I love branding. It's very much around: Who am I and how am I expressing myself in business and personal life? In a sense they're the one in the same.
Finfeed: You've both written or spoken before about the importance of self-care in starting your own business. Emma, your Shop You app is perhaps itself a tool for self-care! For women who want to shop for clothes but are time or energy poor...
Emma: ShopYou (an AI-enabled personalised shopping app that matches the user with brands that suit their size, style and preferences) was developed to provide a uniquely personalised shopping experience that is convenient, as search results are curated for the individual. In addition to saving someone time or money, if you add in an element of fun or escapism then you're onto something. There's a reason why we're hooked to Instagram and Candy Crush and it all comes back to the way these apps tap into our dopamine.
When it comes to self-care, it's great to have that feeling on the device but it's also important to get off the device, reset the brain and keep it fresh. For entrepreneurs, get up everyday and treat it as a new 24 hours to achieve as much as you can in that time — but also allow time to reset because we're not robots!
Finfeed: Well, that's why we have the ShopYou AI robot, so we don't have to be robots, right...
Scarlett: Yes, and the thing is about self-care — I'm an absolute workaholic because I love it and I'm very passionate about what I do. But I know I need self-care. Because there's a vision you have as an entrepreneur, and you want to fulfil that... it means your holidays could be minimal for the first 2-3 years.
In the last three years, what I have done is look for my respite inside the day. Rather than ploughing through to get to a point, then stopping — see, I realised that that point never comes. The list will never be done, it's continuous. I've changed how I think about things now. I've stepped out of that way and am finding my respite in the day; I'm finding those breaks need to be closer together and shorter. And you need to be conscious of it.
Emma: If you do that, it's a lot more sustainable from a health perspective. You also do better work, and you're better for the people around you.
Scarlett: Yes. And how do we slow ourselves down in a very fast-paced world? Even in business, how can we learn to streamline what we're doing. Nowadays, no one really answers emails. Before you may have taken the time to put together a thought-out response. Now, everyone is very short, and things can change so quickly.
You need to work out how to shape the world where you're doing less in a more strategic way.
---