Rat's Rant — The best betting sting in the last decade
Published 09-OCT-2019 11:18 A.M.
Hey! Looks like you have stumbled on the section of our website where we have archived articles from our old business model.
In 2019 the original founding team returned to run Next Investors, we changed our business model to only write about stocks we carefully research and are invested in for the long term.
The below articles were written under our previous business model. We have kept these articles online here for your reference.
Our new mission is to build a high performing ASX micro cap investment portfolio and share our research, analysis and investment strategy with our readers.
Click Here to View Latest Articles
Did you know that on this day last year those of you that were on this list at that time were given some pretty good mail on one of the best betting stings I've seen in the last decade.
My mates from Sports Bet offered a market for some random Souths fan to be shown in the crowd during the Conor McGregor vs Khabib Nurmagomedov UFC event in Las Vegas and they started the market @ $3.50.
There may or may not have been ­some smart money that got a piece of it early including a few of you on this list and it finished at a quote of $3.
It was paid out after the second fight of the night and it was easy money my friends.......... just hope a few of you got a piece of it!!!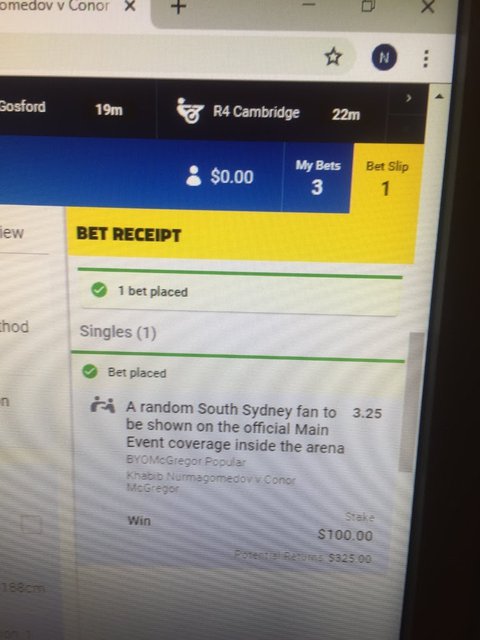 An extract below from The US Open Golf Edition on 4/10/18 - don't say you weren't in on it!!!
"Late last month, White said he was confident Saturday's UFC 229 pay-per-view offering, which comes at a price tag of $64.99, would surpass 2 million buys.
"Which is a great lead in to what I reckon could be the bet of the weekend, it's a bit of a novelty but as most of you would know I am a pretty big Souths fan who hasn't had much to get excited about recently.
"I reckon there are so many of us Souths fans around that one or two jerseys might be spotted in the crowd as it always seems to happen, I ran into some bloke in a bunnies jersey in Poland a few years ago of all places.
"Anyway my mates at Sports Bet are offering $3.25 for anyone in the crowd to be spotted in a Bunnies jersey and I wouldn't be surprised if it actually happens so that's my best bet of the weekend.
"I hope while I am sipping on a cocktail or Bintang watching the fight somewhere that the mighty Bunnies jersey does get some air time.
"Enjoy your weekend once again and get long Conor and the random bloke in the Souths jersey."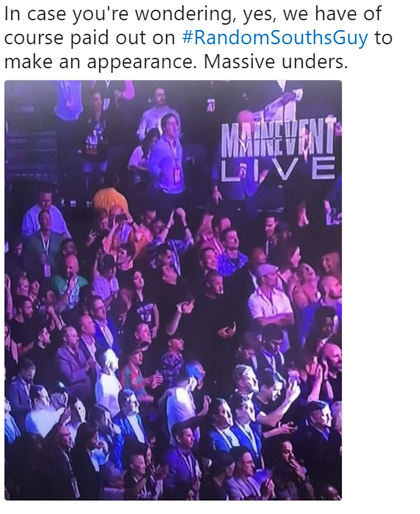 The shot above was on the Sports Bet Twitter account and if I was a betting man which clearly I am not, I reckon they were taken to the cleaners with that bet.
There may or may not have been a few punters in this office including Billy Harrigan that did clean up and were kind enough to buy me lunch for such good early mail.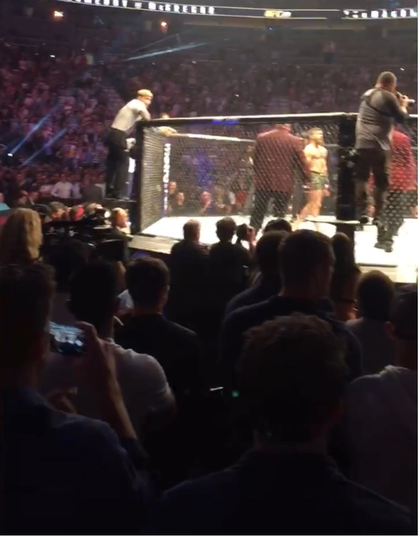 With seats like this above..... the knob in the Souths jersey was always a good chance of getting paid out by the good boys and girls at Sportsbet.
It paid for his trip to Vegas that's for sure!!!
Sportsbet also paid out over $1m in losing bets on the Canberra Raiders on the weekend due to the controversial circumstances the Roosters and Uncle Nick won yet another title.
So well done Sportsbet and my mate Chrissy from Sports Bet.
Don't worry you boys are still well and truly in front on my account!!!
What's Hot
KKT - Konekt Limited closed up 68% on Tuesday to finish at 48.5c on $1.5m stock traded. They were up because APM agreed to acquire 100% of the issued share capital of Konekt for a cash price of $0.49 per share (Scheme Consideration) via a court-approved scheme of arrangement (the Scheme).
The Konekt Directors are also anticipating to pay a fully franked special dividend of up to $0.05 per Konekt Share in cash on or shortly prior to the implementation of the Scheme (Special Dividend).
The Scheme Consideration of $0.49 per Konekt Share will be reduced by the cash amount per share of the Special Dividend.
With 700 staff and 107 branches across Australia, Konekt is one of the largest integrated employment placements, workplace injury management and workplace health solutions providers in Australia.
Konekt's focus is on helping organisations, individuals and government to maximise workforce participation and productivity, and minimize the impact of workplace injury.
Details on yesterday's news are listed below:
Konekt enters into Scheme Implementation Deed with APM
ESR - Estrella Resources Limited closed up 27% yesterday to finish at 1.4c on $2.9m stock traded. The reason they were up so was because they have released some very high gold grades including "Bonanza" gold intersections from two diamond holes drilled north of the Munda Gold Pit.
A peak "Bonanza" value of 1m @ 234.7g/t Au was returned in drill hole EMD002 and I dare say that was the one that is getting the market excited.
Bonaza intersection is located within an exceptional broad high-grade zone of 16m @ 21.6g/t Au which includes 9m @ 35.9g/t Au.
Munda is located within the gold and nickel rich Widgiemooltha region and is southwest of the operating Widgiemooltha Gold Mine, owned by Mincor Resources.
I have met the CEO before and he may or may not even read this tonight as he is or was on this list.
Some details on the news are listed below:
Munda Drilling Returns Bonanza Gold Grades
RIM - Rimfire Pacific Limited closed up 25% to finish at 0.005c on $224k stock traded. There was no news in the market but they are looking for copper and gold up in North West NSW where there has been a fair bit of activity lately.
Other than that I don't know too much about the Rimmers but some details on what they do are listed below:
ABOUT RIMFIRE
Rimfire Pacific Mining (RIM) is an ASX listed resources exploration company with its major focus at Fifield in central NSW, located within the Lachlan Transverse Zone (LTZ). In 2011 the Company made a greenfields discovery, named "Sorpresa", announcing a JORC Inferred & Indicated Maiden resource in 2014.
Rimfire is exploring for a major copper / gold or gold mineralised system such as at Northparkes (Cu/Au) or Cowal (Au) on 915km2 of Exploration Licences 100km west of Parkes in central NSW. Multiple prospects with potential for further gold discoveries exist in the area around Sorpresa which are part of Rimfire's 681km2 contiguous tenements. Rimfire also holds two exploration licences covering 234km2 ; located 40 to 60kms south of the Fifield Project, in a prospective area now part of a moratorium associated with the MinEx Cooperative Research Centre program (minexcrc.com.au)
Good luck to all the Rimmer shareholders.
SVY - Stavely Minerals Limited closed up another 13% on Tuesday to finish at $1.25c on $20.1m stock traded. There was no news in the market but they did release an investor presentation to the market and maybe there was something in that which has got the market excited again.
On the 26th September this year they released some drilling results which saw the stock go from 24c to a close of $1.25c yesterday and did in fact trade as high as $1.39c intra day.
The investor presentation was released @ 3:45pm and the stock was under pressure ever since, so I dare say it wasn't the investor presentation that got punters excited but they certainly still seem pretty excited given the price movement and volume.
Some details on the news that put a rocket under them are listed below:
Thursday's Gossan Porphyry Copper-Gold Project – Diamond Drilling Update
What's Not
HRR - Heron Resources Limited closed down 29% yesterday to finish at 19.5c on $510k stock traded. The reason they were down was because they came back on trading after being off the market since August and have announced they have raised a lazy $91m @ 20c.
Heron Resources Limited is engaged in the exploration and development of base and precious metal deposits in Australia. Heron's primary focus is on its 100% owned, high grade Woodlawn Zinc-Copper Project located 250km southwest of Sydney, New South Wales, Australia – one of the few new zinc projects that is fully-funded to production or at least it should be now after this little raise.
Some details on the funding are listed below:
A$91 Million Funding Package for Woodlawn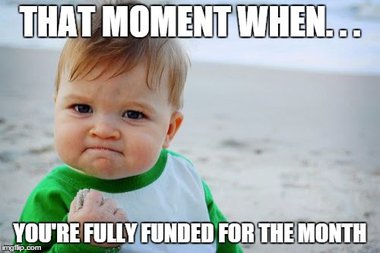 BD1 - Bard Life Science Limited closed down 15% to finish at 4.2c on $2m stock traded. The reason they were down was because they announced it has reached the phase three milestone of its contracted assay development program to transfer its BARD1 assay to the Luminex platform.
The Company has completed the evaluation of the pilot research use only (RUO) BARD1 kits and signed off on the phase three assay validation milestone under the contract development agreement with Thermo Fisher Scientific.
BARD1 Life Sciences Ltd is an Australian medical technology company focused on developing and commercialising non-invasive diagnostic tests for early detection of cancer. BARD1 owns a proprietary tumour marker platform with potential diagnostic and therapeutic applications across multiple cancers.
The pipeline includes BARD1 auto anti body tests in development for early detection of breast, ovarian and lung cancers. BARD1's mission is to detect cancer earlier and save lives, so fingers crossed for everyone they can do it.
It's not one I follow very closely but some details on the news are listed below:
Phase 3 Assay Development Milestone Reached, Agreement Extended
What's Doing
A stock that is listing Wednesday @ 10am which I think is well worth watching is called KTIG Limited (KTG.asx) who raised $7m @ 20c which was done by the boys and girls at Alto Capital.
The last listing these guys did around 2 weeks ago was called Osteopore Limited (OSX.asx) @ 20c and was trading at north of a buck yesterday.
5 Bags in pretty quick time, fingers crossed they can do it again with KTIG.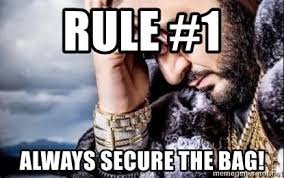 I did meet up with the company late last year or early this year can't remember and I will be seeing them again next week after the investor relations chick kindly got me a slot.
Some details on what these guys do are listed below, I didn't get any stock personally but I did have a few clients that were lucky enough to get some and I do intend on buying a few for a trade on the open tomorrow, so just be well aware of that.
Unless of course they open up at ridiculous levels (which could easily happen).
The 'K-TIG System' is a high-speed, high-productivity welding technology that has been developed through seven years of research, technology development, product development and market validation by K-TIG and earlier technology originally developed by the Australian Government's Commonwealth Scientific and Industrial Research Organisation (CSIRO).
K-TIG's technology has been field tested and has been exported to customers in 20 countries with blue-chip customers including GE, Siemens, Bilfinger, Doncasters, Defence Materials Technology Centre and the UK Nuclear Advanced Manufacturing Research Centre.
Based on customer data and testing undertaken with GE, Siemens and Titan (K-TIG Savings Assessments) the K-TIG System is able to perform a conventional 6 hour tungsten inert gas (TIG) weld in less than 3 minutes, with reductions in welding time in excess of 90%. Overall cost savings (time, labour, wire, gas, preparation, grinding) based on the K-TIG Savings Assessments are routinely in the range of 80-95%.
K-TIG seeks to change the economics of fabrication for its customers through the introduction of its 'Welding-as-a-Service' (WaaS) business model, service delivery via its cloud-linked controller and the generation of recurring revenue streams for the Company from a global customer base. Investors should be aware that K-TIG is currently loss making and refer to Sections 6 and 7 for further historical financial information of K-TIG.
On 29 April 2019, the Company announced that it had entered into a binding agreement to acquire K-TIG, a precision fabrication business. Completion of the Acquisition requires the Company to re-comply with Chapters 1 and 2 of the Listing Rules.
Letter from the Board The Acquisition is subject to a number of conditions, including obtaining the necessary Shareholder approvals, which are being sought at a General Meeting scheduled for 15 August 2019.
This includes approval for the Company to be renamed K-TIG Limited (proposed ASX code: KTG). The purpose of the Public Offer is to raise up to $7,000,000 (before associated costs) by the issue of up to 35,000,000 Shares at an issue price of $0.20 each.
All of which was approved and expect to see some action/volatility in the stock on Wednesday.
---