Melbana sets sights on Cuban oil, Australian gas dreams
Hey! Looks like you have stumbled on the section of our website where we have archived articles from our old business model.
In 2019 the original founding team returned to run Next Investors, we changed our business model to only write about stocks we carefully research and are invested in for the long term.
The below articles were written under our previous business model. We have kept these articles online here for your reference.
Our new mission is to build a high performing ASX micro cap investment portfolio and share our research, analysis and investment strategy with our readers.
Click Here to View Latest Articles
This product is classified as 'very high risk' in nature due to its location and geopolitical situation of the region. Finfeed advises that extra caution should be taken when deciding whether to engage in this product, however if you are not sure whether it is suitable for you we suggest you seek independent financial advice.
Australian ASX-listed, independent oil and gas company, Melbana Energy (ASX:MAY) has a promising portfolio of exploration, appraisal and development stage opportunities in Cuba, Australia and New Zealand.
The company has four key assets, and is currently focused on three areas in particular: the Block 9 and Santa Cruz onshore oil projects in Cuba, the Beehive project offshore Australia in the Bonaparte Gulf and its Tassie Shoal projects located offshore northern Australia.
Melbana's project footprint looks like this: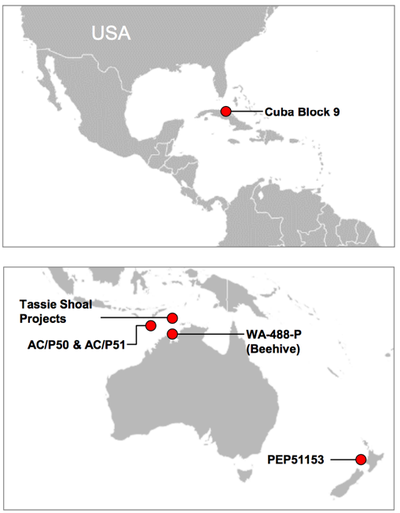 It is Block 9, however, that is Melbana's primary focus.
The Cuban government awarded Melbana the Production Sharing Contract for Block 9 on 3 September, 2015 giving it rights to 2,380km2 of onshore area located 140km east of Havana.
It was a big win for Melbana, with Cuba being an underexplored oil region which has only recently opened its doors to foreign investment. Also of importance is the fact that Block 9 is on strike and only ~30km from the multi-billion barrel Varadero oil field. It also includes the Motembo oil field, the first oil field ever discovered in Cuba.
Melbana's second Cuban opportunity is its Santa Cruz incremental oil project, which is part of the northern oil trend along with Varadero. In essence, the Block 9 area is in a proven hydrocarbon system with multiple discoveries.
Although Melbana has remains a speculative stock and investors should seek professional financial advice if considering this stock for their portfolio.
The company is prequalified as an onshore and shallow water operator in Cuba, providing an established foothold in the country, in a region highly prospective for oil. A 2004 US Geological Survey stated that there was, "Total undiscovered technically recoverable reserves in North Cuba Basin of 4.6 billion barrels of crude oil, 9.8Tcf of natural gas and 900 million barrels of natural gas liquids".
Finfeed spoke to MAY Company CEO, Robert Zammit about why he sees the company's presence in Cuba to be a case of the right place at the right time.
"Cuba has an existing producing oil industry, and the government has a national oil company which manages the hydrocarbon sector. 45,000 barrels of oil a day are being produced in Cuba and they encourage foreign investment," he said.
Zammit said a slew of foreign investment laws, including an eight-year tax holiday, has also been passed, which has opened the doors to a number of explorers. They will join the CA$453 million capped TSX-listed Sherritt International; a mining and oil company which has been operating in Cuba for 25 plus years.
There are further positive factors.
"In addition, oil is priced on international benchmarks and we have the right to export it if we need to — but there is a market in Cuba too," Zammit said.
MAY has 100% ownership of the 'Block 9' title in Cuba's north, including entitlements for up to 25 years. The map below illustrates its proximity to Varadero and its three key targets: Piedra, Alameda and Zapato.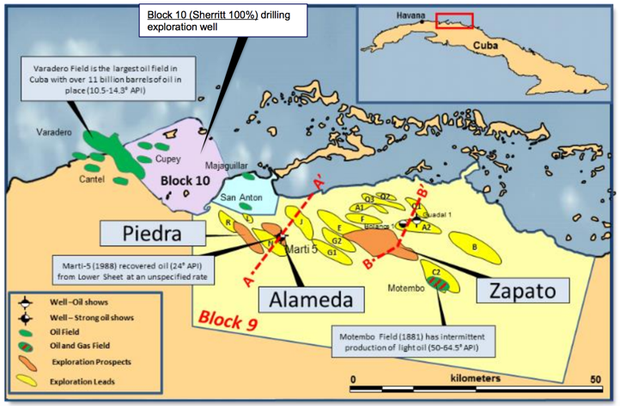 Santa Cruz opportunity
MAY's second focus in Cuba is its Santa Cruz opportunity. Santa Cruz oil field has been producing since 2004. As it is a known oil field, finding and extracting additional barrels is regarded as a lower risk activity and accordingly, the question for MAY is not 'Is there oil at Santa Cruz?' but rather 'how far the oil extends into the various zones and how can MAY improve the efficiency of production?'
"Melbana has an exclusive right to study the Santa Cruz oil field and negotiate a long term contract with the government entitling Melbana to a share in any incremental production," Zammit said.
In March this year, Brandon Hill Capital Limited published an Oil & Gas Flashnote on MAY's Santa Cruz ambitions, specifically relating to its announcement that it was granted a period of exclusivity by the Cuban National Oil Company (CUPET) to evaluate the potential to enhance production from the Santa Cruz oil field.
The report stated: "We believe this is a very important development for Melbana and demonstrates the significant opportunities available for the Company in Cuba. [...] Overall, we believe shareholders should be encouraged by this announcement and confident in the corporate strategy, which focuses future investment in Cuba."
Why Cuba?
Oil exploration in Cuba has been somewhat constrained in the modern era due to an embargo from the US which disallows US citizens to invest in Cuba without explicit government permission – which is hard to obtain.
"European companies have been able to come in, as well as Chinese and Russian companies contributing to an effective oil sector in Cuba. However being an Australian company with very experienced people and access to western technology, we can bring a different perspective and methodology to our work there, which is a further opportunity for us," Zammit said.
"The area we are in is underexplored by regional standards. The northern side of the Gulf of Mexico is prolific with oil rigs everywhere. We've been getting everything in place in readiness for a partner, we can drill, we've got a path forward ... we have an office in Cuba. We are going through the stakeholder engagement and permitting process. Ultimately, certainly in the long term, we want to find a suitable partner," he said.
Interestingly, MAY's Block 9 includes Motembo, one of the first oil fields discovered in the country, which is light crude oil. Some criticism regarding oil exploration in Cuba is that there is a lot of heavy oil, which is not as valuable as lighter oil, is also harder to extract. Yet Melbana's Block 9 is in an area where light crude oil was found.
"There are oil fields all over the place in this part of Cuba, and a number of wells have found oil on Block 9.
"Some of the practices we noted were used in the past at these wells are now outdated, and we would naturally be using newer technology and more modern practices now," Zammit said.
The company's ambitions to ramp up its exploration and drilling plans at Block 9 is well-timed, with the CUPET's explicit strategy to accelerate oil exploration in the country.
As well as Varadero, Block 9 has multiple other producing fields within close proximity, including the Majaguillar and San Anton fields immediately adjacent to Block 9.
MAY has been targeting two wells at Block 9 that it hopes to drill as soon as possible. With the number of discoveries around the region, the company believes that the project is de-risked to an extent.
Conveniently for MAY, there are already many drilling rigs operating in Cuba, and the company is in discussions regarding securing the use of a suitable rig
"Our team has extensive experience in this kind of complex geology from their global work in the past. Oil and gas -rich regions in PNG, Canada and Kurdistan show similar geology to that found at Block 9.
"Melbana's resource assessment is that there are 12.7 billion barrels of oil in place with prospective (recoverable) resources of 637 million barrels of oil. Our main focus now is looking for partners towards drilling the key high impact prospects we have identified," Zammit said.
The below video from MAY gives a further insight as to why the company sees itself in an ideal position with its projects in Cuba.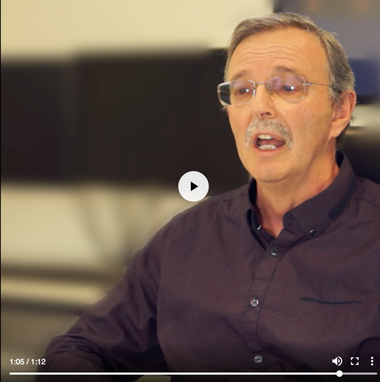 According to the company, it is a straightforward process to work with the Cuban government on permitting and approvals, as the process is well-defined, and a compensation formula is pre-determined.
MAY is focused in particular on three wells at Block 9, with Alameda, the deepest one, being the frontrunner prospect and the first that MAY plans to drill.
"With Alameda, this one well goes through three different potential oil reservoirs and each has an independent chance of success, and a range of outcomes, but the best estimate is, if you add it all up, we are chasing 130 million barrels at Alameda. That's a big number," Zammit said.
Of course MAY's success here is yet to be determined so investors should seek professional financial advice if considering this stock for their portfolio.
Beehive project: "One of the biggest undrilled hydrocarbon structures in Australia"
MAY has a large oil prospect in Australia called the Beehive prospect. WA-488-P (100% owned by MAY) is located in the Petrel Sub-basin in the Joseph Bonaparte Gulf between the producing Blacktip gas field and the undeveloped Turtle and Barnett oil discoveries and has an area of 4,074 km2.
The Beehive Prospect is one of the biggest undrilled hydrocarbon structures in Australia. French major Total (Euronext:FP, NYSE:TOT) and Australia's Santos (ASX:STO) have agreed to fully fund a 3D seismic survey over the Beehive prospect, in return for a further option to acquire an 80% participating interest in the permit by fully funding the Beehive-1 exploration well.
This week, the company announced that the Polarcus Naila — a modern 14 streamer 3D/4D seismic vessel, used for research and surveys — is expected to commence acquisition of the Beehive 3D Seismic Survey in July and be completed before the end of August 2018. The survey will take a maximum of 30 days. MAY is aiming for the survey to be conducted in the near-term.
"The Beehive project has been around for a long time, but our team has applied some new thinking to it using their global experience, and we attracted some big companies with Total and Santos.
"They are funding a 3D seismic survey which should happen within a month. We have given them an option to farm-in to take 80% of the permit and if they do, they will cover 100% of the costs of the first well, which is the big cost of a project like this.
"These plans are dependent on the seismic survey, which will give them a clearer image compared to what they've been able to see before," he said.
Beehive is considered a very large prospect, spanning 18km.
Tassie Shoal Projects
When MAY originally formed, its focus was on finding gas. It found gas in the area around Tassie Shoal which is a shallow water area offshore northern Australia, however it was what's known as 'dirty gas' containing high C02 content.
The high C02 content meant it could not be used for normal gas supply, however, the composition of this gas is ideal for the production of methanol — which can be used as an additive in petrol, as a fuel itself and as a basis for many chemical products. Methanol is a globally traded product around the world.
The company saw an opportunity to develop a methanol production facility with this resource it has discovered.
"Our engineers asked, how can we build an economic methanol plant in Darwin? It was too expensive to build there as there would need to be a long expensive pipeline and local costs were not competitive. The question became, 'What about building a facility on a barge type structure and siting it closer?'" Zammit said.
"It couldn't be a floating solution, it would need to be fixed to the seabed — that's when we developed the idea of finding a shallow area to fix a structure onto. That place we found most suitable after an exhaustive search was Tassie Shoal. It's quite large and the shallowest point is 14 metres. A concept was developed with the help of our partners and environmental approval was granted.
"We have approval for two methanol plants, each world scale, however the challenge was securing enough funds to build it and develop the upstream production as well."
Eventually, MAY sold its high CO2 gas resource to an Australian oil company to focus on the production facility development with the intention of buying back the gas and after negotiations failed to secure an agreement, it has been resold to a number of parties over many years. The resource remains undeveloped.
"Now we are in the position of looking to get access to gas from the Tassie Shoal region and bringing to fruition our concept of two methanol plants," he said.
The Tassie Shoal LNG and/or Methanol Projects, with long term environmental approvals in place (approvals to 2052), remain potential development paths for stranded resources, including Evans Shoal gas.
MAY stated in a recent announcement that the Tassie Shoal LNG Project's "shallow water platform fixed to seabed design" remains a low cost development option for LNG production "should a means of disposing of the high CO2 content in Evans Shoal gas be economically achieved".
In addition, the Tassie Shoal Methanol Project, with its ability to receive and process raw gas at the field with up to a 30% CO2 content, remains an alternative development path should the titleholders prefer to proceed with an achievable low-cost development plan for high CO2 gas.
Recent reports that the Barossa Joint Venture has entered FEED (front end engineering and design) to replace declining Bayu Undan gas availability for the Darwin LNG plant highlights that there remains a number of discovered gas fields in the region of Tassie Shoal that are undeveloped and stranded, according to a recent announcement from MAY.
MAY's big picture prospects
"We've got a good team working with us, with plenty of combined global experience from multinational companies. We have expertise working with these types of large scale projects," Zammit said.
"We've also got a very experienced team in-country in Cuba, led by the former exploration director of the CUPET Dr Rafael Tenreyro [B.Sc (Mining Eng.), M.Sc (Geophysics), M.Sc (Petroleum Geo.), Ph.D. (Expl Geophysics)] who is well respected in the area.
"What we need, now, is partners for our main game. We have partners working with us on Beehive, and we are now looking for partners for our projects in Cuba."
---