Hate from Hollywood: Is business really that bad?
Published 10-JUL-2017 13:02 P.M.
Hey! Looks like you have stumbled on the section of our website where we have archived articles from our old business model.
In 2019 the original founding team returned to run Next Investors, we changed our business model to only write about stocks we carefully research and are invested in for the long term.
The below articles were written under our previous business model. We have kept these articles online here for your reference.
Our new mission is to build a high performing ASX micro cap investment portfolio and share our research, analysis and investment strategy with our readers.
Click Here to View Latest Articles
For decades Hollywood has taken either an irreverent or downright hostile approach to capitalism. Jonathan Jackson discusses whether Hollywood's negative approach to business is a political stance or just a crowd-pleasing exchange between studio and audience. Whatever its motivation, business, of course, isn't always the villain it's made out to be.
Made in 1927, Fritz Lang's film school staple Metropolis was one of the first cinema experiences to question the motivations of leaders of large corporations. Its main ideology was portrayed through the film's theme of the struggle between the working class and its rulers. Made during the Weimar Republic era, the film was heavily influenced by government ideologies such as fascism and communism.
According to UFILM Analysis "one of the ideas that had become popular during World War I in Germany was known as volkgemeinschaft, an expression that aimed to remove class tensions and create a "people's community."
While on one hand the film was revered as an artistic masterpiece, audiences also took the protagonist's empathy for the factory workers as favouring a communist viewpoint.
Metropolis signalled that politics would always play a role in the way art is perceived. It also sounded the bell for the cinematic world's generally negative portrayal of business motifs.
Modern Times, the last of Charlie Chaplin's Little Tramp films, takes a comedic look at a man's struggles to survive a modern industrialised world, satirising mass production and the grindstone of industry.
It is a heartfelt movie, humorous and meaningful from a man who put his soul into every silent expression.
This time it was the Nazi Party declaring Modern Times communistic. Although it's also possible Germany's prohibition of the film at the time may well have been due to the Nazi Party's belief that Chaplin was of Jewish ancestry. But I digress.
Why so negative, Hollywood?
Since the 1920s, Hollywood has portrayed industry, finance and capitalism in a predominantly poor light. Why?
The Economist has summed it up best: "Alas, negative portrayals of finance, and of capitalism in general, are here to stay. Popular narratives often demand a hero or a villain, and film-makers clearly find it an easier sell to present businessman in negative roles. Audiences will continue to lap up this message, before driving away in their privately produced cars to their privately owned homes, fondly believing, at least for a few minutes, that they are not part of 'the system'."
The system! It seems when it comes to business, we rail against impropriety: Wall St is the enemy, the banks will take your home... the brokers will take your money. At its very core the financial system is corrupt.
I have always found it interesting, however, that the very antithesis of 'the system', the so-called mad scientist, is one of Hollywood's other favourite villains.
Politics and cinematic narrative
While this isn't a discussion about political leanings, political influence in the cinematic world is more entrenched than you may think.
Take The Wizard of Oz. I have watched this film more times than I care to count. As a middle-aged man, I am still excited by its technical wizardry, its score and its sheer brilliance on each and every film-making level. (The fact Gone with the Wind won the Oscar that year is irrelevant – I know who the more deserving recipient was!)
The idea that The Wizard of Oz is at all political would be laughable if you were just invested in Dorothy's journey down the Yellow Brick Road, however it is believed that this movie is an allegory of American monetary politics. It's certainly a well-versed thesis.
USA Gold posits: "...an obscure high school teacher published an essay in American Quarterly claiming that Baum's charming tale concealed a clever allegory on the Populist movement, the agrarian revolt that swept across the Midwest in the 1890s. In an ingenuous act of imaginative scholarship, Henry M. Littlefield linked the characters and the story line of the Oz tale to the political landscape of the Mauve Decade. The discovery was little less than astonishing: Baum's children's story was in fact a full-blown "parable on populism", a "vibrant and ironic portrait" of America on the eve of the new century."
Author Frank. L Baum always stated that the book was purely for children, which doesn't necessarily preclude political ideology, but it's interesting how one man's political thesis can either distort the truth or unravel a hidden political agenda.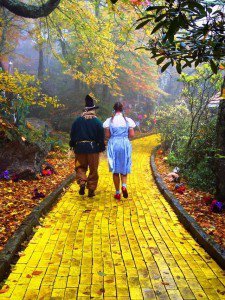 Political allegory is usually more overt and scathing than what's purported to be occurring in The Wizard of Oz.
First 'The Grapes of Wrath', then Citizen Kane
In a departure from his usual American frontier fare, John Ford's Grapes of Wrath based on the John Steinbeck novel of the same name, tells the sad story of land owners who staked their claims 50 years earlier, only to be forced off their land by bankers and big landholders.
"Who's the Shawnee Land and Cattle Company?" asks Muley, a neighbour of the Joads family who are refusing to sell. "It ain't anybody," says a land agent. "It's a company."
For many years the Grapes of Wrath was considered the best American film of all time. Then came Citizen Kane.
As the dearly departed Roger Ebert expressed in one of his many reviews of the movie, "Citizen Kane covers the rise of the penny press (here Joseph Pulitzer is the model), the Hearst-supported Spanish-American War, the birth of radio, the power of political machines, the rise of fascism, the growth of celebrity journalism."
But is Kane so essentially bad? Or does that come only after he loses sight of who he is?
Citizen Kane is one of the most complete films ever made; arguably, at its heart, it is a film about a man who built an empire, only to die alone.
Greed is good?
If anyone takes the heat in mainstream Hollywood films, it is the broker, the accountant, the money lender and the banker. Ebenezer Scrooge set the scene years ago.
A Christmas Carol was penned by Charles Dickens in 1843 and the first characterisation of Scrooge made it to the big screen in 1938. Money lender and businessman Ebenezer Scrooge was redeemed by the ghosts of past, present and future. Once again, capitalism came under attack only for Scrooge to be made to see the error of his miserly ways.
The novel itself is a Dickensian masterpiece and there has been several great adaptations (even the Muppets got in on the action). But the story, of course, follows a pattern of business bashing that seemed to reach its height in the 1980s and has since become even more scathing.
Even John Hughes' Ferris Bueller has something to say about railing against conformity, while highlighting all the great traits of a successful businessman. While I'm at it, is Star Wars an anti-capitalist tale about bringing down an empire?
From Wall St, to Glengarry Glenross, The Wolf of Wall Street, to The Big Short, those who may actually be making you money are portrayed as the immoral raiders of your bank accounts or the fleecers of your life savings. (Or in the case of American Psycho – lost in some demented imaginary world view.)
Some are redeemed. Some pay for their sins, but from the outset they have believed in one mantra: Greed is Good.
The 'greed is good' speech is one of director Oliver's Stone's finest moments: The words cut like a Ginsu knife. They are magnificently delivered by Michael Douglas, who won the Best Actor Oscar that year.
Here's the transcript, which when you dig down cleverly argues several points. :
'The new law of evolution in corporate America seems to be survival of the unfittest. Well, in my book you either do it right or you get eliminated.
In the last seven deals that I've been involved with, there were 2.5 million stockholders who have made a pretax profit of 12 billion dollars. Thank you.
I am not a destroyer of companies. I am a liberator of them! The point is, ladies and gentleman, that greed — for lack of a better word — is good. Greed is right. Greed works. Greed clarifies, cuts through, and captures the essence of the evolutionary spirit.
Greed, in all of its forms — greed for life, for money, for love, knowledge — has marked the upward surge of mankind. And greed — you mark my words — will not only save Teldar Paper, but that other malfunctioning corporation called the USA.'
Interestingly, BusinessEthicsBlog.com points out: "The first thing to note about this speech is how little of it is actually about greed — roughly the last third of the speech. The first two thirds is a critique (disingenuous, as it happens, but not therefore off-target) of the complacency of overpaid corporate executives."
Director Oliver Stone is known for his social and political commentary, but this is Stone at his cutting edge best: a critique that puts corporate America to the mirror and doesn't like what is reflected back.
Just as important as Wall St is The Big Short, a parable about Wall Street's un-regulated, un-policed and out-of-control gigantic banks. It is the true story (with fictional liberties) as Dennis S Kelleher describes of "bankers making huge, high risk bets in an insatiable pursuit of billions of dollars in bonuses (more than $127 billion in New York City alone in the five years before the crash). Their demand for higher-yielding subprime mortgages and their creation of even higher yielding derivatives on those mortgages generated an irresistible incentive structure that was a ticking time bomb just waiting to blow up."
And boy did it blow. Here are some statistics for perspective:
Cumulative default rates on subprime mortgages spiked to 25% in 2007
In 2011, three years after the crash, 13% of all homes in the United States were sitting empty.
In the city of Detroit alone, there were more than 33,000 abandoned homes.
By 2010, two years after the crisis hit, the average US homeowner that was being foreclosed upon had not made a mortgage payment in 11 months. By 2011, the average US homeowner foreclosed upon had not made a mortgage payment in 17 months.
In June 2016, the New York Fed warned again about the ticking mortgage subprime time bombs once again being amassed.
Is it any wonder the finance industry is the world's pet hate?
I can't finish here without bringing up one of my favourite all time films: Trading Places. Who knew frozen oranges could be so exciting, or that commodities trading could actually be made interesting?
I would boldly argue Eddie Murphy and Dan Ackroyd had their finest moments in this film.
In 2013, the film celebrated its 30th anniversary and was still as relevant as ever. At the end of the film Winthorpe (Ackroyd) and Valentine (Murphy) are selling frozen concentrated orange juice futures en masse, with the knowledge that the crop report will show no hard freeze, implying bountiful oranges, which will cause the price to collapse. They are shorting the market in a vengeful move against former employers Mortimer and Randolph Duke.
So, the greedy Duke brothers get their comeuppance. The once greedy Winthorpe is redeemed and Valentine, the subject of a horrible social experiment conducted by the evil upper classes, ends up sipping cocktails on the beach:
It's a perfect ending. I'd bet anybody the sum of $1 dollar they couldn't disagree.
Is it all about crowd-pleasing?
Everyone needs a villain to hate. It is part of the escapist fun of going to the movies and there are no doubt genuine reasons to be sceptical of the finance industry.
Yet as I've strived to demonstrate here, Hollywood has a history of cherry-picking the worst case scenarios to represent the industry.
There are exceptions. Tom Cruise as Joel in Risky Business is an all-too-likeable college rogue; and while I believe Wolf of Wall St is one of the most overrated films of all time, I don't dislike DiCaprio's portrayal of Jordan Belfort.
Ultimately, however, it's just so easy to dislike the person who takes your money, makes millions and leaves you in the poor house.
We root for redemption, or perhaps the Big Fall, because we are either jealous, appalled, angry or just plain sick to our stomachs watching businesses get away with murder.
Hollywood jumped on this momentum early and never looked back.
For anyone left wanting more than the epic audit above, Jackson recommends the following films:
Glengarry Glenross
Boiler Room
Steve Jobs (Michael Fassbender version)
The Social Network
The Devil Wears Prada
The Social Network
The Insider
Margin Call
Up in the Air
It's a Wonderful Life
---