A definitive guide to ASX pot-stocks
Hey! Looks like you have stumbled on the section of our website where we have archived articles from our old business model.
In 2019 the original founding team returned to run Next Investors, we changed our business model to only write about stocks we carefully research and are invested in for the long term.
The below articles were written under our previous business model. We have kept these articles online here for your reference.
Our new mission is to build a high performing ASX micro cap investment portfolio and share our research, analysis and investment strategy with our readers.
Click Here to View Latest Articles
Canada this week celebrated its much-anticipated green day, officially ending almost a century of prohibition by legalising recreational pot use.
Canada could see C$7.2 billion in total sales in 2019, according to Deloitte's 2018 cannabis report. Deloitte also estimated earlier in the year that Canada will burn through 600,000 kilos of weed per year post-recreational legalisation — an amount that exceeds the country's growing capacity.
By contrast, Australia's pot industry — wherein medicinal use is legal but restricted, with recreational use remaining illegal — is at a far more embryonic stage.
In 2016, researchers from the University of Sydney estimated that the Australian domestic market for medicinal cannabis could grow to be worth in excess of $100 million a year.
When Australia legalised exports of medicinal cannabis this year, in a bid to dominate a global market that's set to be worth US$55 billion or more by 2025, pot-stocks and investors alike seemed to ramp up their collective game.
The ASX's rapidly expanding crop of pot-stocks now include over 20 companies, several of which have exposure to the buzzing Canadian and US markets. Here's our comprehensive guide to navigating them.
Affinity Energy & Health (ASX:AEB)
Market cap: $15.95M
Current share price: $0.017
Sector: Nutraceuticals and cosmetics
Previously Algae.Tec, Affinity is a diversified plant-based health and wellbeing company, with a core operating division centred on developing both algae and cannabis-based products for supply to global nutraceutical markets.
The former algae-based biofuel researcher moved into nutraceuticals and then medical cannabis, raising $2.5 million at the beginning of the year to bolster its pot focus.
Affinity recently joined forces with skincare specialist, Skin Elements (ASX:SKN), to develop a new range of algae and cannabidiol (CBD)-based skincare products. This will see AEB supplying its algae and cannabis oil formulations for SKN to use in new innovative products, which will in turn be supplied to key global markets.
Algae and CBD both have antioxidant properties, helping to reduce signs of ageing when used in skincare. CBD assists in reinvigorating the receptors which interact with the endocannabinoid system, increasing moisture and elasticity.
Althea (ASX:AGH)
Market cap: $104.7M
Current share price: $0.52
Sector: Medical cannabis and access education
The newest pot-stock on the ASX, Althea made its debut in September, raising $19.65 million in a highly coveted IPO.
The Melbourne-based company specialises in importing, cultivating, producing and supplying medicinal cannabis to patients in Australia.
Althea also has indirect exposure to the flourishing Canadian weed space. It's backed by one of Canada's biggest pot-growers, C$4.89 billion-capped Aphria (TSE:APH), which will supply both pot industry expertise and proprietary products.
This translates into sharp leverage for newcomer Althea, in which Aphria holds 25%. Aphria's current annual production rate of about 35,000 kilograms, only achieved last spring with a tripling of previous capacity, is set to nearly triple again by the end of this year.
Thanks to this strategic partnership, Althea began importing and supplying five Althea-branded medicinal products to eligible patients back in May. It's now reached its 100 patient milestone.
Althea plans to inject more than $10 million towards building a three-tonne-per-year cultivation, extraction and manufacturing facility in Skye, Victoria.
Funds from the IPO will be also used to grow Althea Concierge, a digital platform and free-to-download mobile app that foster medical cannabis-related patient support and education.
Atlas Pearls (ASX:ATP)
Market cap: $9.4M
Current share price: $0.022
Sector: Medicine
In 2013, pearl farmer and skincare specialist, Atlas Pearls and Perfumes, bought 50% Essential Oils of Tasmania (EOT), and the subsidiary has become a player in the CBD-based natural medicine space.
Last year, it joined forces with Australian pot producer, LeafCann Group, to get a medicinal cannabis licence in Tasmania. The end goal is to seek out a series of licenses to support a full supply chain of medical cannabis solutions.
According to Atlas, Tasmania is the natural choice for medical cannabis operations, given that the state already has a significant poppy farming industry, which provides restricted ingredients to the pharmaceutical sector to make morphine, thebaine and codeine.
Atlas, however, doesn't seem to have done anything pot-related since striking that deal (with no updates available), and has been focused on the Japanese pearl market.
AusCann (ASX:AC8)
Market cap: $273.5M
Current share price: $0.88
Sector: Biotech
AusCann aims to produce high-quality, economical, clinically validated cannabinoid medicine. It has operations across all aspects of the medical cannabis value chain, from cultivation and production, through to manufacturing and distribution.
It's licenced to grow and manufacture pot-based medicines in Australia, and is initially targeting treatments for neuropathic and chronic pain in Australia and Chile.
AC8 has an extensive distribution network, recently broadened through the establishment of a relationship with Australian Pharmaceutical Industries (ASX:API), which has 466 high-profile brand pharmacies in its clutches.
AusCann is backed by one of Canada's most prominent weed heavyweights, C$14.71 billion Canopy Growth (NYSE:CGC | TSX:WEED), which recently sparked attention by completing the first legal export of cannabis products from Canada to the US.
That relationship allows AusCann to import medications from Canada and supply them to Australian patients even before its first crops are grown and formulated.
AusCann also has other strategic relationships in place with Chilean grower Fundacion Daya, opium poppy exporter Tasmanian Alkaloids, Phytoplant Research, Zelda Therapeutics (ASX:ZLD — also on this list), and Curtin University.
Here's AC8 managing director, Elaine Darby, talking shop: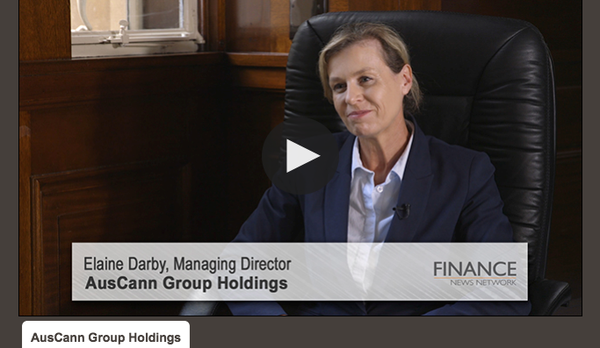 Bod Australia (ASX:BDA)
Market cap: $43.18M
Current share price: $0.63
Sector: Biotech and cosmetics
Bod Australia is a cosmetics and natural medicines company, and has built a multifaceted pot business underpinned by a supply deal with Swiss botanical extracts manufacturer, Linnea Natural Pharma Solutions, and an exclusive licence and manufacturing agreement with Singapore listed company, iX Biopharma (SGX:42C).
BDA has developed a sublingual cannabis wafer — designed to dissolve under the tongue — using its proprietary ECs315 cannabis extract and iX Biopharma's WaferiX technology.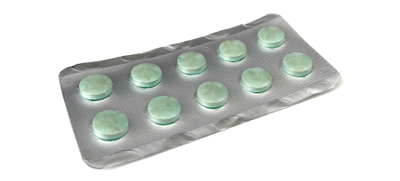 The company also entered into a research collaboration with University of Sydney's Lambert Initiative — a leading authority in cannabinoid therapeutics — for the development of a compound marker required in the Phase I clinical trial of the cannabis wafer.
BDA kicked off Phase I trials in July, testing its impact on everything from multiple sclerosis to anxiety. Results are expected in November.
Botanix Pharmaceuticals (ASX:BOT)
Market cap: $67.41M
Share price: $0.089
Sector: Biotech and skincare
Based in Perth and Philadelphia, Botanix is developing next generation therapeutics to treat serious skin diseases. It's working on topical treatments for skin conditions such as acne, psoriasis and atopic dermatitis.
The active ingredient in its products is a synthetic form of cannabidiol, which has a well-established safety profile. Its lead product is BTX 1503 for treatment of moderate to severe acne. The company completed its first acne patient studies with BTX 1503 in January, and has begun a Phase 2 clinical trial in June, which is expected to be completed in mid-2019.
BOT has also licensed a novel transdermal drug delivery technology called PermetrexTM — a dermal delivery device allowing 10 to 20 times more of the active ingredient to get through the skin.
Cann Group (ASX:CAN)
Market cap: $379.7M
Current share price: $2.72
Sector: Biotech
With a market cap of over $300 million, Cann Group is Australia's most valuable pot-stock, and recently started to make money from pot sales, posting its first full year revenue of $1.5 million.
It was also the first Australian pot-stock to obtain a research and cultivation licence, and is already growing the stuff at a facility in southern Melbourne. CAN produced it first crop in August last year, which is being sold to the Victorian government.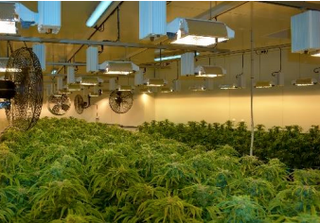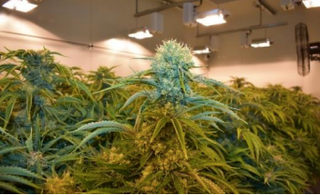 It's another ASX pot-stock to benefit from having a major Canadian shareholder. Aurora Cannabis (TSE:ACB), one of Canada's biggest pot players with a market cap of C$13.95 billion, has a 22.9% stake in CAN.
Other strategic partners include Agriculture Victoria, CSIRO, and La Trobe University.
CAN is also building Australia's largest state-of-the-art medical cannabis growing facility near Melbourne Airport, which is expected to employ 170 staff.
The company is now working with cannabis genetics specialist, Anadia Labs, to identify the most suitable material for import.
CannPal Animal Therapeutics (ASX:CP1)
Market cap: $14.43M
Current share price: $0.15
Sector: Animal health
Humans aren't the only ones shown to benefit from medicinal marijuana. The plant can also have positive health effects on our furry friends, with the ability to create a calming effect, dull chronic pain, and significantly improve quality of life.
The companion animal drug market is an expansive and quickly growing one, with an estimated size of US$12 billion for cats and dogs alone.
One of several ASX pot-stocks that have cottoned on to this is CannPal, which is researching the benefits of medical marijuana for companion animals. CP1 has identified an opportunity to develop first-in-class cannabis-based medicines for cats, dogs and horses that have already shown safety and efficacy in humans and rodent studies.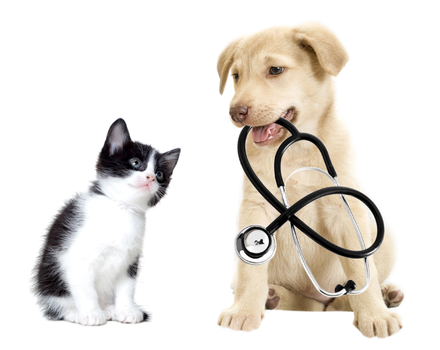 CP1 is aiming to establish a new standard of care in animal health by providing veterinarians with regulatory approved, cannabinoid-based pharmaceuticals, and providing pet owners with better access to standardised, dosage controlled and high-quality cannabinoid-derived products to treat companion animals in a safe, ethical way.
Its lead drug candidate, CPAT-01D, is an innovative cannabis-derived pain control for dogs. The drug is at clinical stage, with Phase 1B of a Pharmacokinetic and Safety Study now underway following the success of Phase 1A, which showed excellent safety and tolerability.
CannPal has also teamed up with the University of Melbourne to research epilepsy treatment for dogs.
Creso Pharma (ASX:CPH)
Market cap: $71.75M
Current share price: $0.60
Sector: Biotech, animal health, nutraceuticals, edibles
Creso Pharma is another cannabis innovator that's using the green stuff to improve the lives of both humans and animals.
Creso was the first company to import medical cannabis into Australia. Notably, it's also the only ASX-listed company that fully owns a Canadian cannabis facility. The small-cap is contemplating a dual-listing on the TSX to deepen its Canadian connection.
CPH formally entered the blossoming Canadian market by acquiring Mernova, a Nova Scotia-based medical cannabis growing operation. Earlier this month, CPH's application to become a licenced producer was accepted by Health Canada — a major milestone — which will transpire in a cultivation licence.
With that in place, Creso is focused on fast-tracking its state-of-the-art, indoor growing facility in Windsor, Nova Scotia, to meet high and rising demand for recreational and medicinal marijuana products. The first crop is expected to be planted at the end of the year.
Something else that gives Creso a distinctive edge is its diversified business lines — it works on multiple applications for cannabis innovation, including nutraceuticals, animal health, and lifestyle products including weed-infused edibles and craft beer.
Here's Creso's chief operating officer, John Griese, talking about the company's product portfolio, including its JV with CLV Frontier Brands to sell terpene-infused beers under the brand name OBMJ (Old Boy Mary Jane):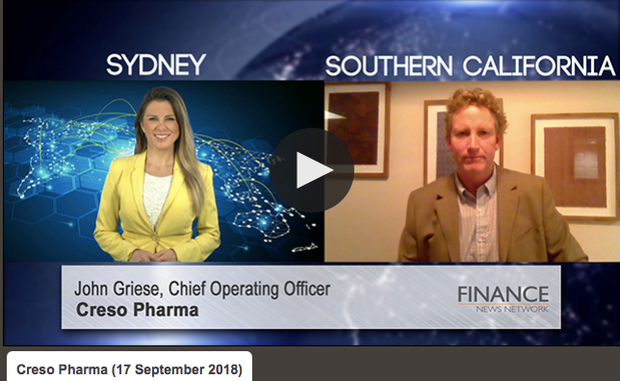 Elixinol Global (ASX:EXL)
Market cap: $242.8M
Current share price: $1.95
Sector: Hemp, nutraceuticals, medicine
Elixinol operates in the rapidly evolving industrial hemp, dietary supplements and medicinal cannabis sectors, spanning three businesses: Hemp Foods Australia, Colorado-based medical hemp producer Elixinol LLC, and emerging local medical cannabis business Elixinol Australia. The US division is the third biggest seller of hemp CBD dietary supplements in the country.
It's taking a disciplined approach to driving growth, supported by investment in farming and production capabilities in the bustling Colorado pot space. EXL has a considerable export footprint with sales to 40 countries, which it plans to grow significantly in the not-so-distant future, with an eye on Europe and Japan as key markets.
Elixinol also says that it's the only ASX pot-stock to record a profit so far. Since its ASX debut in January, EXL has more than doubled in size. In the first half of 2018, it delivered a maiden profit of $0.6 million and record revenues of $14.9 million — up 110% on the 2017 first-half.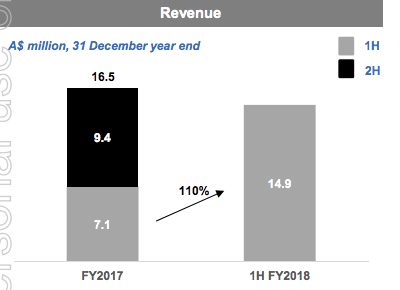 This strong growth resulted from a notable increase in product sales, driven largely by EXL's Colorado-based business.
Eve Investments (ASX:EVE)
Market cap: $15.88M
Current share price: $0.007
Sector: Medicine, edibles
EVE is a vertically integrated health products investment company. One such investment is Meluka Health, whose medicinal honey brand, Meluka Honey, has secured a medical cannabis supply.
Meluka, alongside NSW tea tree oil producer, Jenbrook (another of EVE's investments), have clinched an agreement with THC Global (ASX:THC — also on this list) to grow cannabis on Jenbrook's organic plantation.
Under that deal, Meluka Honey will have exclusive access to the medicinal cannabis for use in the development of a cannabis honey product. Meluka is planning for the weed to be available in Q1 2019.
Medicinal cannabis honey is produced by bees pollinating on hemp or medicinal cannabis plant nectar.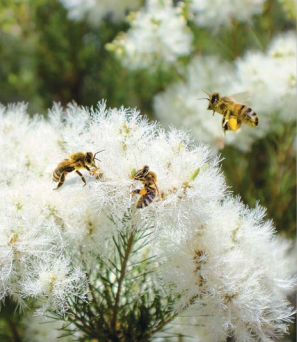 eSense-Lab (ASX:ESE)
Market cap: $8.07M
Current share price: $0.090
Sector: Vaping tech, e-liquids
Israeli life sciences company, eSense-Lab, is focused on creating on 'virtual plants'. It combines genetics, mRNA, protein expression and phytochemical profiles to generate a comprehensive model of rare or high-value plants. It can then use this model to 'reverse engineer' a terpene profile — a naturally occurring formulation of different individual terpenes, which together account for many of the plant's health and medical benefits, while also exactly replicating the flavour and fragrance of the targeted plant, at a more sustainable cost.
The result is a line of terpene profiles with commercial and medicinal application. ESE is particularly interested in the e-liquid market, and has developed a formulation that provides the aroma of various weed strains.
E-liquids are used for vaporising and are manufactured using either propylene glycol (PG), vegetable glycerine (VG), or a combination of both. Note that vaping is considered to be a safer and healthier alternative to smoking cannabis.
According to a report by BIS Research, the global recreational and medicinal vapor market was estimated at US$11.43 billion in 2016 and is expected to grow over US$86.43 billion by 2025.
In September, ESE revealed that after a positive 6-month testing program, it has struck a supply deal with an as-yet-unnamed UK-based company — one of the three largest operating in the e-liquids market.
That company will implement eSense's terpene products into the food additive sector as an alternative to the cannabis infusion edibles, which is still seen as legally problematic in many countries.
Impression Healthcare (ASX:IHL)
Market cap: $8.83M
Current share price: $0.023
Sector: Medical
This mouthguard maker is making its green foray, developing a range of pot-based products, including cannabis chewing gum.
Impression, which is best known for its anti-snoring mouthguards, is hoping to become one of Australia's first licensed distributors of medicinal cannabis products.
It's in the throes of applying for all the necessary licences from the State Department of Health, Victoria and the Federal Office of Drug Control, and expects to be able to import, store, distribute and export medicinal cannabis products from its Melbourne-based laboratory and manufacturing facility by the first quarter of 2019.
Impression is also collaborating with US cannabis researcher, AXIM Biotechnologies (OTCQB: AXIM), with a LOI and exclusivity agreement in place so far.
AXIM is developing a wide variety of cannabis-based products, including its flagship chewing gums, MedChew Rx (designed to treat symptoms of Multiple Sclerosis) and CanChew RL (to treat restless leg syndrome).
Impression is set to license and distribute AXIM's current and future range of products in Australia and New Zealand, subject to regulatory approval.
It's also in the throes of applying for licences from the State Department of Health, Victoria and the Federal Office of Drug Control for importing, storing, distributing and exporting medicinal cannabis products. It expects to have this all of this in place at its Melbourne-based laboratory and manufacturing facility by the first quarter of 2019.
LifeSpot Health (ASX:LSH)
Market cap: $6.13M
Current share price: $0.079
Sector: Vaping tech
Medical diagnostic and monitoring tech company, Lifespot Health, is on the verge of commercialising Seng-Vitalä — a 'smart' vaporiser for cannabis oil or herbs, used for medical purposes or just for fun.
It's fully integrated with the ISO 1348-compliant diagnostic BodyTel platform.
The unique Seng-Vital vaporiser was developed by Lifespot subsidiary, Seng Vital Pty, and is activated by patient fingerprints. Its embedment in the medically certified software infrastructure of BodyTel allows both patients and authorised physicians to retrieve and evaluate the readings and data collected on the BodyTel Data Monitoring & Collection platform.
The Seng-Vital Cannamed® bluetooth cannabis vaporising system, meanwhile, can also input data from edibles and drinks, which opens Lifespot up to significant global opportunities.
Lifespot says it is in discussions with interested parties in Canada, US, Israel, Australia and NZ.

Medlab Clinical (ASX:MDC)
Market cap: $88.4M
Current share price: $0.42
Sector: Biotech
Medlab Clinical is a life sciences company with a focus on chronic disease and pain management. It's particularly interested in the role medical cannabis can play as an alternative to traditional opioid medication.
It's developed two pot-based cancer pain management medications, which have differing cannabis formulations — NanaBisTM and NanaBidialTM.
NanaBis is used to improve symptoms relating to intractable pain in cancer patients who don't respond well to, or have severe side-effects from, traditional opioid analgesics.
NanaBis is a whole plant 1:1 extract of cannabidiol (CBD) and delta-9-trethydrocannabinol (THC), while NanaBidial is a whole plant extract of THC and predominantly CBD.
Here's Medlab's Sean Hall on how the company is offering something new to challenge opioid reliance:
Both products utilise Medlab's patented NanoCelle platform, which has been designed to deliver nanoparticles of active pharmaceutical ingredients into the side of the cheek rather than via traditional gastrointestinal/hepatic and ingested routes. This method aims to improve the ease of delivery, as well as the speed and rate of absorption into the bloodstream.
Medlab has been granted a licence to export cannabis relating to the development of both NanaBis and NanaBidial.
Market cap: $86.11M
Current share price: $0.070
Sector: Biotech, cosmetics/skincare, nutraceuticals
MGC Pharma was the second company to originally emerge in the ASX pot space. It's cultivating a seamless global supply chain from planting to extraction, with a focus on innovating pharma-grade medicinal cannabis products to improve the lives of patients across the world.
Its underlying business encompasses the entire medicinal cannabis value chain, echoed across its four core operating divisions: MGC Pharma, Derma, Botanic and Nutraceuticals.
MGC already has a wide-reaching global footprint with facilities and research across Australia, Slovenia, Malta, the Czech Republic, with plans to expand into the Asian, UK, and North America markets.
It's recently smashed a major milestone in its mission to become a world-leading pharma company. Last week, shareholders rejoiced when it announced that its first medicinal product offering, CannEpil, is now available for supply in Australia through specialist prescribers under the Authorised Prescriber Scheme (APS).
CannEpil is an orally administered medical cannabis treatment for drug-resistant epilepsy, which accounts for about 30% all cases. The product has undergone years of rigorous testing and now it's been green-lit by the Therapeutic Goods Administration (TGA), which will make the product available in Australia through specialist prescribers.
The company will now begin commercial-scale production of CannEpil at its GMP-certified facility in Slovenia, which will in turn kick-start revenue generation for the company's core pharma activity. The first batch of CannEpil is expected to be available for sale in Australia by December.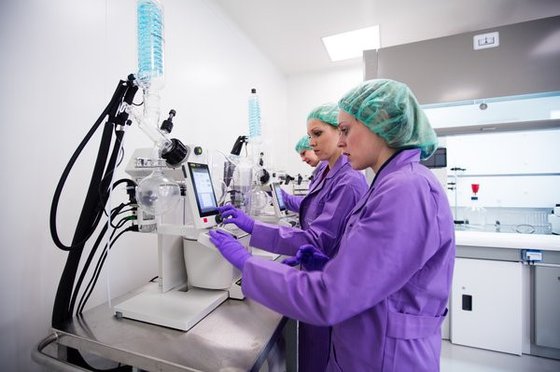 MMJ Phytotech (ASX:MMJ)
Market cap: $75.94M
Current share price: $0.33
Sector: Investment
MMJ was Australia's first pot-stock. It's repositioned itself as a global cannabis investment company, with a diversified portfolio of investments mostly focused on the lifestyle and recreational market.
Earlier this month, MMJ CEO, Jason Conroy, told Proactive Investors that his vision is to turn the company into the "Berkshire Hathaway of cannabis"...
MMJ has exposure to Canada's medical and recreational markets. Its portfolio includes Ontario-based MediPharm Labs (TSX-V:LABS), which owns Canada's largest medical cannabis oil production facility; Edmonton-based retailer Fire & Flower; cannabis drinks maker BevCanna; edibles creator Bien; and Cannabis Access, an Australian cannabis access portal.
Queensland Bauxite (ASX:QBL)
Market cap: $60.82M
Current share price: $0.037
Sector: Hemp, medical
This unlikely miner-turned-pot-stock has a stake in two medical cannabis companies — an unlisted Australian pot and hemp company, Medical Cannabis Limited (MCL), and an established medical cannabis producer with the all-important licences and infrastructure already in place, Medcan.
Through acquisitions like these, QBL is hoping to become a leading provider of nutritional hemp and medicinal cannabis products to supply the growing domestic and international global markets.
MCL has launched Australia's first grown and processed hemp seed oil soft-gel capsules. It's also clinched a deal to supply hundreds of Coles stores around Australia with various products and oil blends that have hemp ingredients.
In July, Medcan was awarded import and export licences from Australia's Office of Drug Control (ODC). This enables the company to legally grow and cultivate both THC and CBD products in Australia.
Last year, QBL also teamed up with the aforementioned Affinity to develop cannabinoid-based products for the animal health market.
Rhinomed (ASX:RNO)
Market cap: $32.95M
Current share price: $0.28
Sector: Med-tech
Melbourne-based Rhinomed is a respiratory tech developer that's looking to "radically improve the way you breathe, sleep, maintain your health, and take medication."
Earlier this month, it inked a 12-year pot licensing deal with Columbia Care, the largest medical marijuana operator in the US, to develop commercial solutions for nasally-delivered medical cannabis and cannabinoid compounds, analogues and derivatives. This was the first US medical cannabis contract for an ASX pot-stock.
The deal will see Rhinomed's anti-snoring nose stent, Mute, adapted by Columbia Care to deliver a slow-release dose of cannabis for sleep apnoea, pain control and PTSD.
Roots Sustainable Agricultural Technologies (ASX:ROO)
Market cap: $17.59M
Current share price: $0.27
Sector: Ag-tech
Roots is developing and commercialising disruptive, modular, cutting-edge technologies to address critical agricultural problems, including plant climate management and the shortage of water for irrigation.
Here's how Roots' its patented Root Zone Temperature Optimisation (RZTO) technology works:
Roots recently taken this technology to the medicinal cannabis space, and it's wasted no time getting its hands dirty.
Roots quickly kicked off its weed foray by inking a strategic agreement with American Farms Consulting LLC (AFC) to conduct an open field pilot in Washington state using RZTO technology.
Only a week after that, Roots sealed a second pot deal — this time with Canndoc Limited, one of Israel's leading medical cannabis growers, to launch a world-first proof-of-concept to cool medical cannabis roots grown in a greenhouse in northern Israel.
This is already producing impressive results that look to offer considerable value to farmers in the medical marijuana space. In August, Roots revealed interim results for this proof-of-concept, showing a more than 25% vegetative growth increase on cooled root zone cannabis plants compared with uncooled control plants.
Roto-Gro International (ASX:RGI)
Market cap: $48.38M
Current share price: $0.48
Sector: Ag-tech, hydroponics
Another ag-tech play, Roto-Gro is hoping to redefine the future of agriculture through innovation in cannabis technology. Its mission is to generate socially responsible, sustainable and profitable revenue by growing cannabis and perishable foods using its cutting-edge tech solutions, while maintaining the environment impact of traditional farming.
RGI's approach is holistic, providing streamlined solutions from concept to harvest, integrating both design and growing expertise. It's strategically focused on the thriving Canadian and US weed markets.
Its first tech offering is a patented rotational hydroponic vertical farming system for medical cannabis producers, distributors and resellers.
The Hydroponic Garden System produces uniform, high-quality plants indoors, using less space and energy than a conventional hydroponic environment, and at lower cost. It results in 10 times the production of traditional 'flatbed' growing in the same amount of floor area, using 40% less electricity.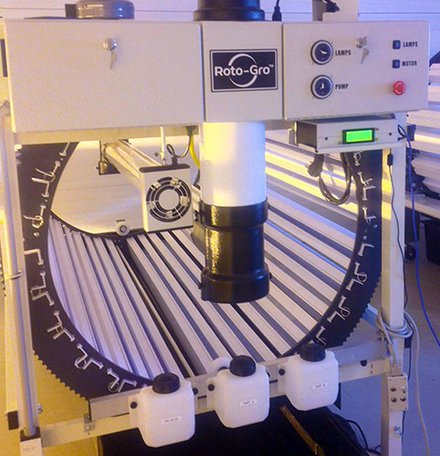 In collaboration with Miracle Valley Medical Alternatives M.V.M.A. Ltd., a Health Canada licensed producer, RGI is building a 29,000 square foot state-of-the-art cultivation and manufacturing facility in British Columbia, which will produce up to 5,400 kilos of pot per year. Phase one will see some 10,000 square feet of grow rooms outfitted with the company's hydroponic systems, complete with its iGrow software.
THC Global (ASX:THC)
Market cap: $69.15M
Current share price: $0.54
Sector: Biotech
The Hydroponics Company this month changed its named to THC Global, retaining its apt stock code.
THC is a diversified global medical cannabis business that's vertically integrated from 'farm to pharma':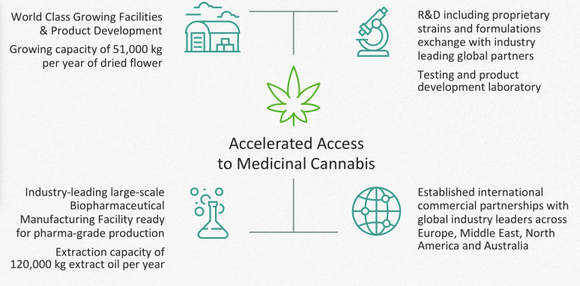 The vertical integration starts with a growing site in northern NSW and a burgeoning research and development facility in Queensland. It already has an off-take agreement in place for part of the NSW-born product.
This moves through to an industry-leading biopharmaceutical manufacturing facility ready for pharma-grade production.
THC has established international commercial partnerships with global industry leaders across Europe, Middle East, North America and Australia: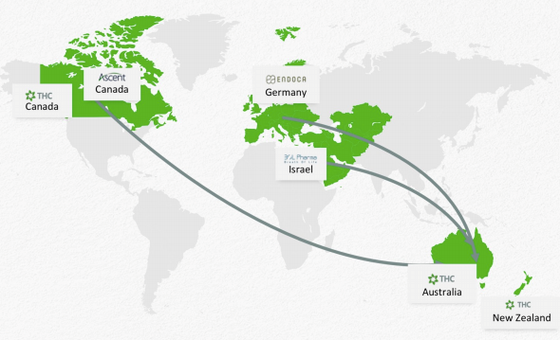 THC Global is another ASX company that's in a prime position to leverage the budding Canadian market — both in recreational and medicinal terms. THC's subsidiary, Vancouver-based Crystal Mountain, is expanding its warehouse complex and product range to support increased demand. Crystal Mountain makes and sells hydroponic equipment like lighting and nutrients.
THC is also incorporating a new subsidiary in Canada — Vertical Canna Inc — to undertake further investment in this space.
YPB Group (ASX:YPB)
Market cap: $12.81M
Current share price: $0.017
Sector: Anti-counterfeit tech
YPB is doing something quite different to its pot-stock peers. This small-cap is a brand protection and anti-counterfeit customer engagement solutions provider that wants to bring more trust to the booming cannabis industry.
YPB's technology enables companies from industries with a strong need for authentication to reduce counterfeiting. One such industry that has a crucial need for item-level authentication is pot, although it's not the only one YPB services.
YPB has signed up three weed industry clients to date in a series of deals falling under what YPB calls its joint Cannabis Confirmed initiative, which is being developed in a three-year partnership with Canadian pot company, Namaste Technologies (TSXV:N | OTCQB: NXTTF | FRA:M5BQ). This collaboration is expected to deliver significant revenues.
Namaste aspires to be the "Amazon of cannabis". In Canada, it's built a fully integrated e-commerce hub where patients can be seamlessly connected to doctors and a range of high-quality pot products, cultivators (both domestic and international), cannabis brands and consumption systems. It's also extended this capability into the recreational market.
The Cannabis Confirmed initiative seeks to stamp out fakes by empowering cannabis brand customers to confirm the authenticity of their products after purchasing online by scanning a unique serialised QR code — called a ProtectCode — on the product packaging to authenticate it. Authenticity triggers engagement and this interaction connects the physical product to the digital world, enabling direct brand-to-customer engagement via smartphone.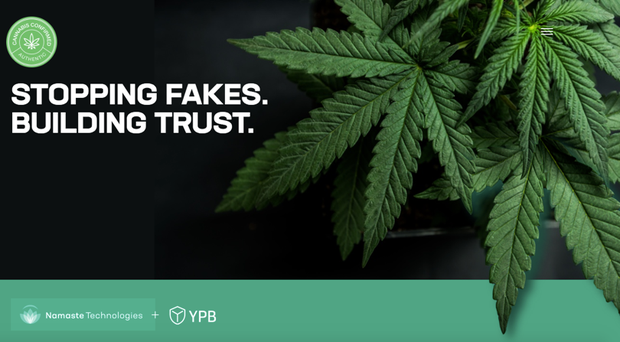 The first of these deals is with leading Chinese vaporiser manufacturer, Kingtons. The duo has also signed up Totem Vaporizers Inc., a leading vaporiser manufacturer in the weed industry, as well as Elev8 Distribution, a Colorado-based producer of cannabis vaporisers under the brand 7th Floor Vapes.
Zelda Therapeutics (ASX:ZLD)
Market cap: $52.87M
Current share price: $0.069
Sector: Biotech
Zelda has a clear first-mover advantage. Its founders recognised the potential for medical marijuana early on, establishing the company in 2015 to bring a scientific focus to the plant and to cultivate a valuable portfolio of intellectual property. ZLD listed on the ASX in November 2016.
With a focus on whole plant extracts and investment in rigorous clinical trials, ZLD is developing cannabis formulations that treat common medical disorders.
Through strategic partnerships with US-based Aunt Zelda's, a medicinal cannabis formulary, the Children's Hospital of Philadelphia, and its clinical advisory team, ZLD has access to exclusive patient data evidencing past therapeutic successes.
It has clinical trials underway in insomnia and autism, and pre-clinical programs progressing in diabetes-related cognitive decline, breast cancer, pancreatic cancer, and paediatric glioblastoma (brain cancer).
It's made significant research progress to date. In pre-clinical studies in breast cancer, the company has demonstrated that cannabinoid plant extracts had more potent anticancer effects than synthetic cannabinoids.
This pot-stock is collaborating with some of the world's leading research institutions, including Complutense University in Madrid, Curtin University in Perth, Australia, Telethon Kids Institute in Perth, and St. Vincent's Hospital in Melbourne to advance its research programs and generate IP.
In September, ZLD formed a critical partnership with German medicinal cannabis company, HAPA Medical. The deal provides HAPA with first rights to distribute and manufacture Zelda's products into the German market — giving Zelda with a foothold in what is expected to become the world's largest single medical cannabis market.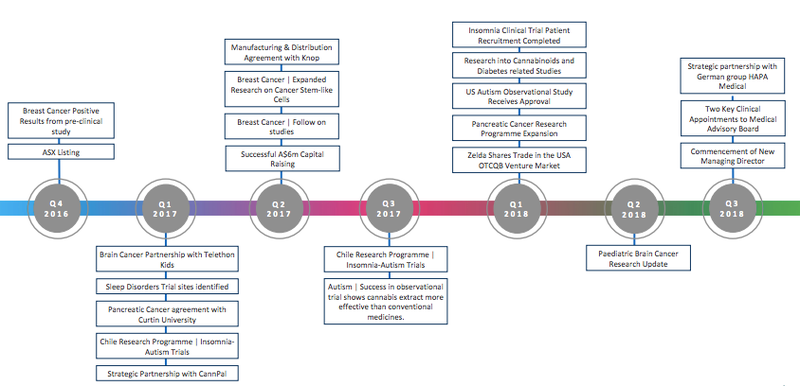 ---