Ten 'TechKnows' to test drive
Published 23-OCT-2019 09:00 A.M.
Hey! Looks like you have stumbled on the section of our website where we have archived articles from our old business model.
In 2019 the original founding team returned to run Next Investors, we changed our business model to only write about stocks we carefully research and are invested in for the long term.
The below articles were written under our previous business model. We have kept these articles online here for your reference.
Our new mission is to build a high performing ASX micro cap investment portfolio and share our research, analysis and investment strategy with our readers.
Click Here to View Latest Articles
The TechKnow Invest Roadshow provides retail and institutional investors, as well as brokers, an opportunity to learn more about a range of tech and biotech companies.
More than 20 companies will present at the conference on Thursday, October 24.
Interestingly, this conference isn't pitched individually at the tech and/or biotech sectors; it provides the opportunity for companies from both industries to strut their stuff.
This appears to be a good approach, as there is often a considerable crossover in terms of technology development, applications and target markets.
Further, both sectors tend to attract interest from investors looking for opportunities in early stage companies, taking advantage of share price upside for those emerging stories that transition to the 'next big thing'.
Finfeed takes a look at some of the companies under the spotlight, underlining their areas of interest, progress made to date and the key milestones to look out for in the near to medium-term.
We will also highlight some common industry trends that tend to be gaining increasing traction across the various sub-sectors.
Biotechs dominate list of presenters
While we noted that there is a mix of biotech and tech stocks presenting this year, there is a significant skew towards biotechs so we will look at some of those companies first up.
Volpara Health Technologies (ASX:VHT) kicks off the day with chief executive Doctor Ralph Highnam underlining the group's progress as a medical technology company dedicated to the early detection of breast cancer.
The company has set itself apart by improving the quality of mammographic screening, effectively paving the way for expansion in a health sub-sector that is growing at an alarming rate.
Volpara's artificial intelligence imaging algorithms enable breast imaging centres around the world to provide personalised, high-quality breast cancer screening based on automated, objective measurements of breast density, positioning, radiation dose, and compression.
The company's shares kicked off the year strongly, increasing 90% from around $1.00 to a 12 month high of $1.94.
However, they have since traded in a relatively tight range, mainly between about $1.60 and $1.80.
They appear to be fairly good value at this price, particularly given John Hester from Bell Potter has a price target of $2.27 on the stock, implying upside of about 40%.
He expects sales to increase more than five-fold between fiscal 2019 and fiscal 2021 with the group delivering its maiden net profit in 2022.
From an operational perspective, Volpara's work is supported by numerous patents, trademarks and regulatory clearances, including FDA clearance and CE marking.
Management has also demonstrated its ability to instigate corporate transactions with the 2019 acquisition of Seattle-based MRSA systems Inc, providing the company with a stronger US presence and an integrated product suite which will help detect breast cancer earlier.
MRS is a medical software company that provides comprehensive patient tracking and communication, and a radiology reporting platform for sub-specialty radiology applications including breast and lung imaging.
With clear evidence of an impressive sales growth profile, Volpara could be deemed as the stock that suits more conservative investors in a sector that can deliver its share of disappointments.
Here is a list of Volpara's short and medium-term goals, any one of which could be provide the share price momentum required to push up towards Bell Potter's price target.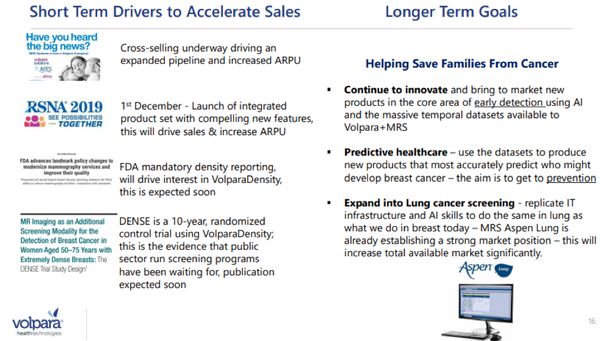 Noxopharm Ltd (ASX:NOX) is another company that is focused on addressing cancer.
However, it differentiates itself from Volpara in that it is a drug development group, focusing on cancer drug technology and in particular the potential benefits to cancer patients in being able to increase their responsiveness to radiotherapies and standard of care chemotherapies, but with lowered side-effects.
We mentioned that we would highlight areas where there is more intense activity, and it could be argued that the use of proven drugs and technologies combined with new solutions that make the traditional means of treating cancer is an increasingly common theme.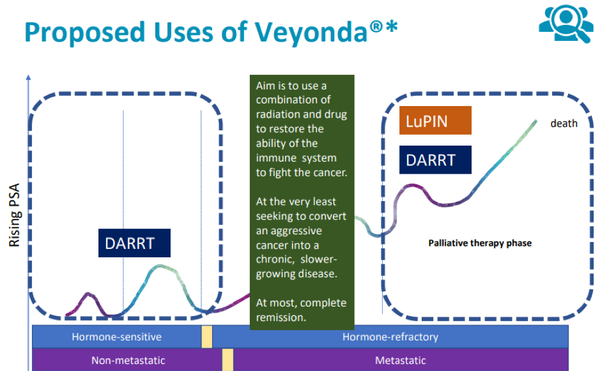 Noxopharm's Veyonda® (formerly known as NOX66) is the first pipeline drug candidate, with later generation drug candidates under investigation in an active R&D program.
Veyonda is currently being trialled in two prostate cancer studies, with other patient trials in planning.
Research is underway exploring Veyonda's active ingredient idronoxil's (IDX) potential to act as a well-tolerated STING agonist.
On Monday the company provided an update on interim data from a study where Veyonda is being tested in patients with prostate cancer which is late stage, progressive and metastatic and who have limited survival prospects.
The interim data indicated that the DARRT treatment regimen is on track to achieve these objectives.
The objective in DARRT-1 is for Veyonda to trigger a general immune response which means achieving an anti-cancer response in the tumours in the body after delivering radiotherapy to just one or two individual tumours.
The clinical objectives are greater pain relief, better quality of life, and longer survival in patients where palliative care is the current standard of care.
Cancer progression was blocked in the majority (80%) of patients (8/10 evaluable patients) over the 6-month period of observation.
Also at 6-months, over half of the patients continued to experience a clinically significant reduction (mean 73%) of their pain levels.
Another important area in the healthcare arena is detection - as they say, prevention is better than the cure.
Even early detection normally provides patients with a much better chance of survival and/or improved quality of life.
This is where Cyclopharm Ltd (ASX:CYC) comes into the equation as a company that has proprietary medical device and pharmaceutical products under the name TECHNEGAS.
This product has become the industry gold-standard in diagnostic functional lung imaging technology.
Cyclopharm distributes its products in 57 countries throughout the world with over 1500 nuclear medicine departments utilising TECHNEGAS.
To date, over 4.2 million patient procedures have been recorded.
From a technological perspective, TECHNEGAS is a structured ultra-fine dispersion of radio-labelled carbon, produced by using dried Technetium-99m in a carbon crucible, micro-furnaced for a few seconds at around 2,750 degrees centigrade.
The resultant gaseous substance is inhaled by the patient via a breathing apparatus, which then allows multiple views and tomographic imaging with a nuclear medicine camera for a superior functional imaging of the alveolar spaces of the lungs.
Another fast growing area in the medical services space is a mix of telecommunications, technical innovation and medical services.
Even the sometimes slow-moving medical profession can't avoid the emergence of digital technology, and in fact those who are taking advantage of it are reaping the benefits of much enhanced logistical support and better patient monitoring and accessibility.
There are two prominent unlisted companies operating in this space.
iCetana is a world leader in real-time AI-assisted video monitoring software with customers on four continents.
While its focus is more on areas outside of the healthcare space at this stage, its technology appears to have applications in terms of monitoring patient health in a home environment, an increasingly high demand area as we go on to discuss.
The patented video motion anomaly detection algorithms developed by iCetana transform security operations centres and identify risk events over a wide range of industries.
iCetana is pursuing a listing on the ASX in the coming months on the back of substantial pipeline growth particularly in the software-as-a-service part of the business.
Looking at this technology from a healthcare perspective, InteliCare provides family and care givers a real-time view of the well-being of people in an independent living environment.
This real-time view and the ability for family to be informed and act when something may be wrong reduces potential risks for seniors or people with disability living at home alone.
InteliCare uses data from in "smart" sensors to build a model of normal domestic routine within a home.
An early view of deviations from routine may indicate a health or wellbeing issue, that when addressed will avoid complications leading to potential future higher levels of care.
ResApp Health Ltd (ASX:RAP) is developing digital healthcare solutions to assist doctors and empower patients to diagnose and manage respiratory disease.
The company is creating easy to use, affordable, clinically validated and regulatory approved diagnostic tools that only require a smartphone.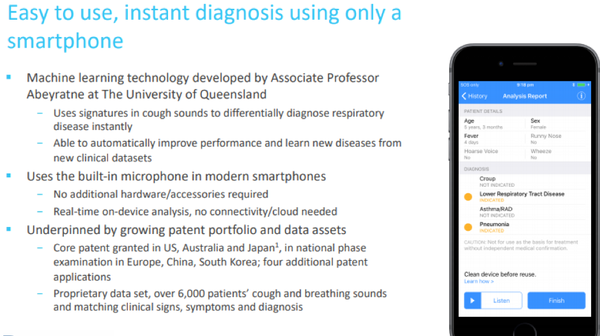 ResApp's solutions are designed to be easily integrated into existing telehealth solutions, and the company is also working on apps to provide respiratory disease diagnosis and management directly to consumers and healthcare providers.
ResApp is also developing an app for the diagnosis of sleep apnoea.
PainChek Ltd's (ASX:PCK) vision is to be first to market with innovative pain assessment products and services that improve quality of life for people in pain.
PainChek® is the world's first pain assessment tool that has regulatory clearance in Australia and Europe.
Using AI and facial recognition technology, PainChek® provides carers across multiple clinical areas with three important new clinical benefits, namely the ability to identify the presence of pain when pain isn't obvious, to quantify the severity level of pain when pain is obvious and to monitor the impact of treatment to optimise overall care.\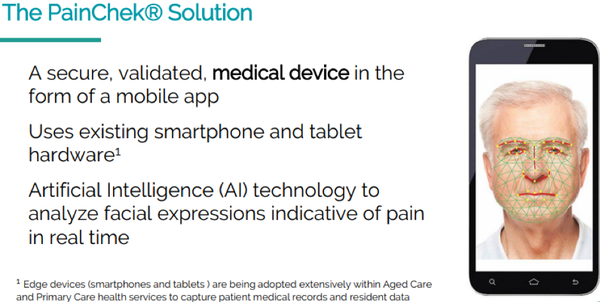 The provision of communications solutions in the medical industry has even spilled over into the veterinary care space.
1st Group (ASX:1ST) is a digital health group building Australia's leading health services portal, MyHealth1st.com.au, Australia's online pet service portal PetYeti.com.au and corporate and government solutions platform GoBookings.com.
These integrated platforms provide an easy to use online search and appointment booking service and offer a range of value-added apps and services that facilitate digital patient and customer engagement.
The company improves lives by connecting consumers to a variety of healthcare services and information anytime, anywhere, so they can get well sooner and stay well longer.
1st Group launched its first platform, MyHealth1st.com.au in 2012, and PetYeti.com.au around 2 years ago.
Both platforms are supported by the GoBookings system, and these platforms now integrate with over 45 practice management software systems.
Today the company supports over 10,000 sites/practices across Australia and New Zealand with an addressable market in excess of 150,000 sites/practices and total potential market size of $1.9 billion per annum based on today's fees and known product/service range.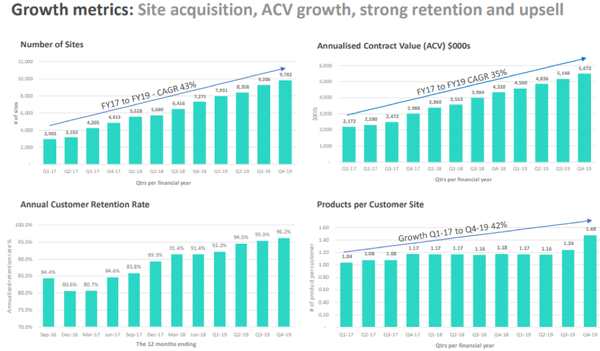 One company that spans the tech, manufacturing and fabrication spaces is K-TIG (ASX:KTG).
The group is commercialising a high-speed, high-productivity welding technology that was originally developed by the CSIRO.
The K-TIG System has a unique competitive advantage as it is able to perform a conventional 6-hour weld in less than 3 minutes producing overall cost savings of 80-95% and reductions in welding time in excess of 90%.
K-TIG boasts a strong client base with its customers spanning 20 countries and including the likes of GE, Siemens, Bilfinger, Doncasters, Defence Materials Technology Centre and the UK Nuclear Advanced Manufacturing Research Centre.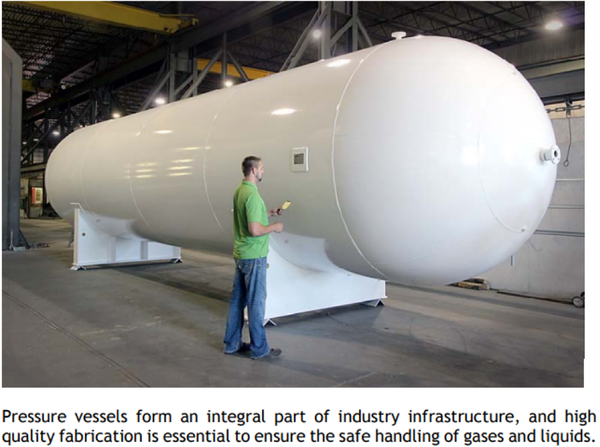 K-TIG continues to change the economics of fabrication for its customers through the introduction of its Welding-as-a-Service (WaaS) business model, service delivery via its cloud-linked controller, while in turn generating long-term recurring revenue streams for the company from a broad global customer base.
Taking the manufacturing and fabrication theme a step further, First Graphene Ltd (ASX:FGR) is a global leader in the commercialisation of graphene with applications across a range of industries.
FGR has a robust manufacturing and delivery platform which produces a high quality graphene material.
This advanced material is being commercialised out of its Western Australian facility for use in a range of markets including polymer liners for mining equipment and other wear liner applications, composites for leisure and recreational products, such as boats, and also for footwear.
Management has indicated that future applications may include automotive coolants, fire retardants, and cement products.
The number of applications is diverse and FGR is the only company able to provide the polymer and composites markets with bulk quantities of graphene material.
Graphene is forecast to create a materials market valued in excess of $300 million by 2022.
This is expected to support multi-billion dollar industries across transportation, construction, industrial products, energy storage and electronics.
The addition of less than 1% PureGRAPHTM by weight typically provides more than 40% improvement in performance of key parameters such as tensile strength, abrasion resistance and thermal conductivity.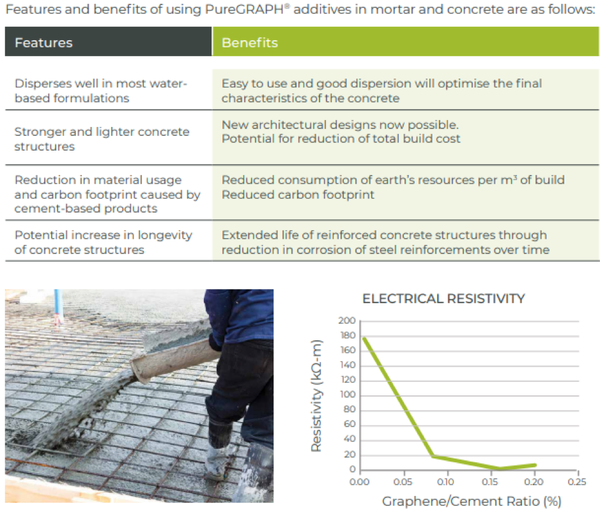 In August, FGR announced that in conjunction with Steel Blue it had manufactured prototypes sets of safety boots incorporating PureGRAPH®10, developing a product that should provide improved mechanical properties while also having additional benefits in areas such as thermal heat transfer, chemical resistance and reduced permeability.
Established in 1995, Steel Blue is Australia's leading supplier of safety boots and the only one to receive the Australian Physiotherapy Association endorsement.
Highlighting Steel Blue's prominent industry position and market share, the company began exporting in 1996 and now services New Zealand, Europe, USA, Papua New Guinea, South-East Asia, West Africa, the Middle East, Trinidad and Tobago.
That's just a small sample of the quality of companies presenting at October's TechKnow conference. For a full list go to https://www.techknowinvestroadshow.com.au/
---