HeraMED's new age technology addresses age-old problems
Hey! Looks like you have stumbled on the section of our website where we have archived articles from our old business model.
In 2019 the original founding team returned to run Next Investors, we changed our business model to only write about stocks we carefully research and are invested in for the long term.
The below articles were written under our previous business model. We have kept these articles online here for your reference.
Our new mission is to build a high performing ASX micro cap investment portfolio and share our research, analysis and investment strategy with our readers.
Click Here to View Latest Articles
Medical technology group HeraMED Limited (ASX:HMD) has gone from strength to strength since listing on the ASX in December 2018, excelling in the area of product development and distribution, but also forging alliances with high profile medical institutions.
This includes a collaborative agreement with Mayo Clinic to co-develop a new platform based on the clinic's successful OB Nest Project, a service model designed in collaboration with Mayo Clinic Department of Obstetrics and Gynaecology, and the Centre for The Science of Health Care Delivery.
The Mayo Clinic has been established for more than 150 years, and employs more than 4500 physicians and scientists along with 54,000 allied health staff across 19 hospitals in five US states. It has been ranked No 1 hospital in the world for three years in a row by US news and world reports.
To fully appreciate how the company has established such recognition it is important to gain an understanding of the group's technologies, the rationale behind their development and the important part played by a Board of Directors that many blue-chip companies would like to boast.
Grasping these factors will not only throw a light on HeraMED's achievements to date, but they should also point to the company's outstanding prospects going forward.
Practical applications behind the technology
Importantly, some of the basic concepts underpinning HeraMED's new medical devices have already been embraced in other industries, in particular the monitoring and communication of critical data from remote sites that provide the user with a convenient and time effective alternative to manage particular tasks without face-to-face consultation.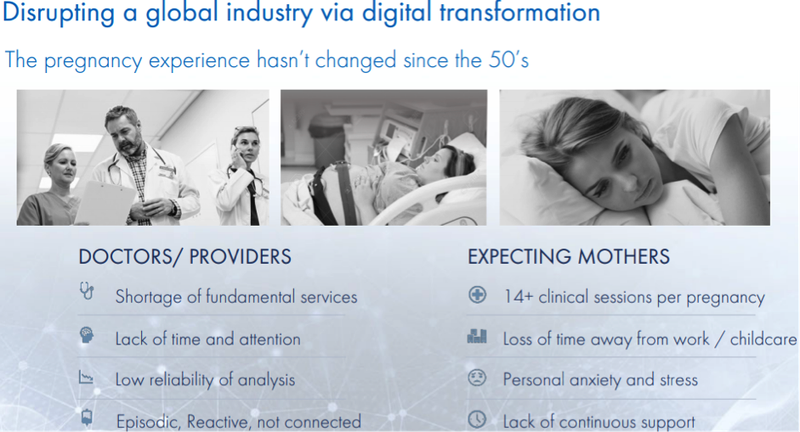 HeraMED is disrupting the global healthcare industry.
A good example is home security where devices such as movement monitors that can intuitively determine when there is a deviation from normal activities can be operated in a similar manner.
These are linked to remotely located carers who are alerted when such deviations occur, allowing for a quick response to address what may be a medical problem with the homeowner or perhaps a security breach.
As you will see, there are some similarities between the way these devices work and the benefits they achieve.
On this note, Software Solutions mobile developer Nile Lars recently wrote an article in wired.com which discussed the applications of connected medical devices and apps, questioning whether they are leading the IoT revolution or vice versa.
In part, he said, ''Wearable devices and home health monitoring devices assisting patients is a common thing now.
''Chatty medical devices are extremely appealing for patients of any age range.
''The devices are capable enough to transmit vital sign data from a patient's home to the hospital staff.
''It allows them to have a real time monitoring of patient's health.
''These devices use wirelessly connected glucometers, scales, heart rate and blood pressure monitors.
''Devices helping in monitoring real time ICU procedure are indeed a big part of IoT.
''There are devices for wireless ultrasound monitoring and remote vital sign monitoring from a hospital environment.''
Industry data suggests HeraMED is targeting a lucrative market
The digital healthcare market is predicted to reach US$423.1 billion by 2024.
The AI healthcare market is set to jump to US36.1 billion by 2025.
Aligning this information with consumer habits, global research house McKinsey & Company recently reported that 70% of consumers prefer to use a digital solution to monitor their health metrics at home.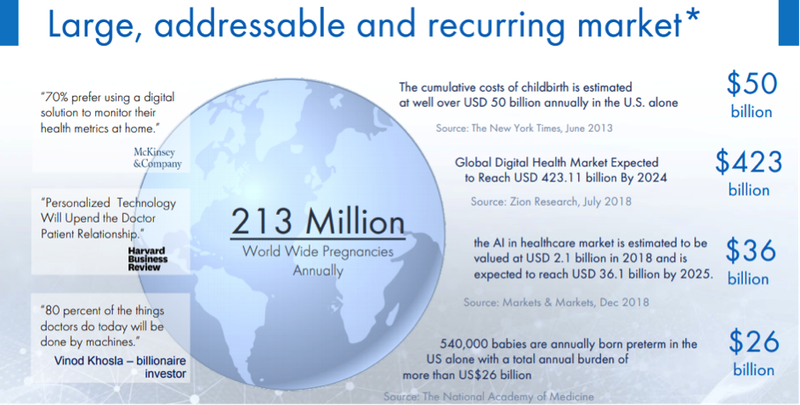 HeraMED is targeting a large addressable market.
These markets are being pushed higher by new entrants, including Google, which as part of its reorganisation into healthcare, is absorbing DeepMind Health, a part of its London-based AI lab DeepMind.
DeepMind's Streams app has been developed to help the UK's National Health Service (NHS) transition into 'an AI-powered assistant for nurses and doctors'.
Google is moving quickly in this space, and its recent partnership with the world renowned Mayo Clinic is set to redefine how health care is delivered and as indicated in the following statement by Gianrico Farrugia, M.D., president and CEO of Mayo Clinic, digital technologies will be instrumental in accelerating the pace of health care innovation.
"Data-driven medical innovation is growing exponentially, and our partnership with Google will help us lead the digital transformation in health care.
"It will empower us to solve some of the most complex medical problems; better anticipate the needs of people we serve; and meet them when, where and how they need us.
''We will share our knowledge and expertise globally while caring for people locally and always do it with a human touch."
The dream team
HeraMED has the products that tick all the boxes referred to by Farrugia with a particular focus on patient empowerment and the medical profession's ability to more efficiently and conveniently anticipate the needs of patients under their care.
At this stage, we would normally cut to the chase and conduct a thorough examination of the underlying technology and products that have been developed to achieve the aforementioned goals.
However, in HeraMED's case it is the human resources providing the strategic direction and tech know-how that has led the company down the path of developing new age technologies addressing age-old issues.
In examining HeraMed's Board of Directors, one of the standout common denominators is the level of expertise they have demonstrated in establishing highly valuable relationships with leading industry players which in many cases provided the platform for success.
Chief executive and co-founder Mr David Groberman has had years of experience in conducting research and development and engineering for medical technology companies such as Phillips, Bayer, Medtronics, GE, and Siemens.
Non-executive chairman, Ron Weinberger was appointed to the board of Nanosonics in 2008 when the company had a market capitalisation of approximately $50 million.
His strong scientific background and understanding of international markets was instrumental in growing Nanosonics to a $1 billion company by the time he retired in 2016.
There are plenty of entrepreneurial success stories across the board with non-executive director Doron Birger's background including chairman of NASDAQ listed Given Imaging prior to its takeover by Medtronic for US$1 billion.
David Hinton provides extensive experience in both tech and communications with the latter being extremely important for HeraMed given the emphasis on optimising communications between patients and medical staff via remote devices.
Hinton will also be instrumental in providing corporate direction, having been successful in driving ASX listed telco Amcom from a mere minnow to a $1.6 billion merger with Vocus Group.
Developing devices and building bridges
HeraMED's flagship product is HeraBEAT, and while it was brought to market in 2018, it could be argued that 2019 was the watershed year for the device based on the number of distribution deals and collaborative agreements that have been struck.
HeraBEAT is a medical grade foetal heart rate monitor, with patent pending technology and a unique user interface.
The device offers several advantages, including a portable Ultrasound Doppler device that makes it reliable, safe to use and proven, whilst amplifying its accuracy and efficiency.
The technology works in the following manner:
Proprietary "Smart Search" technology uses advanced algorithms to accurately locate the foetal heartbeat.
HeraBEAT also enables immediate and user-transparent data sharing with doctors, caregivers and other medical professionals who can analyse the data to produce better care.
The following video illustrates HeraBEAT in action:
Providing a hospital grade standard for home
"HeraBEAT was designed from scratch to be as reliable and as accurate as Phillips' or GE's professional monitors," Groberman says.
"The difference is that these other devices can only be operated by a physician or a midwife in the hospital and cost somewhere between $5000 to $10,000 US dollars."
Multiple clinical trials conducted by different healthcare professionals and industry leaders across the globe, have proven that HeraBEAT works.
While this device has been extremely successful and well received, HeraMED has just dipped its toe in the water in terms of creating a holistic prenatal healthcare solution.
HeraMED and Mayo take it to another level
The collaboration between HeraMED and Mayo Clinic has resulted in the development of HeraCARE, a cloud-based SaaS pregnancy monitoring platform based on the Mayo Clinic's successful OB Nest platform.
OB Nest is the product of five years of research between 2011 and 2016 and has undergone 14 prenatal care option trials and tests.
It has become the standard of care in the prenatal field, reducing the costs of care and improving patient satisfaction.
Study results have concluded that OB Nest reduces doctor visits from 14 to 8 per pregnancy and lowers pregnancy stress.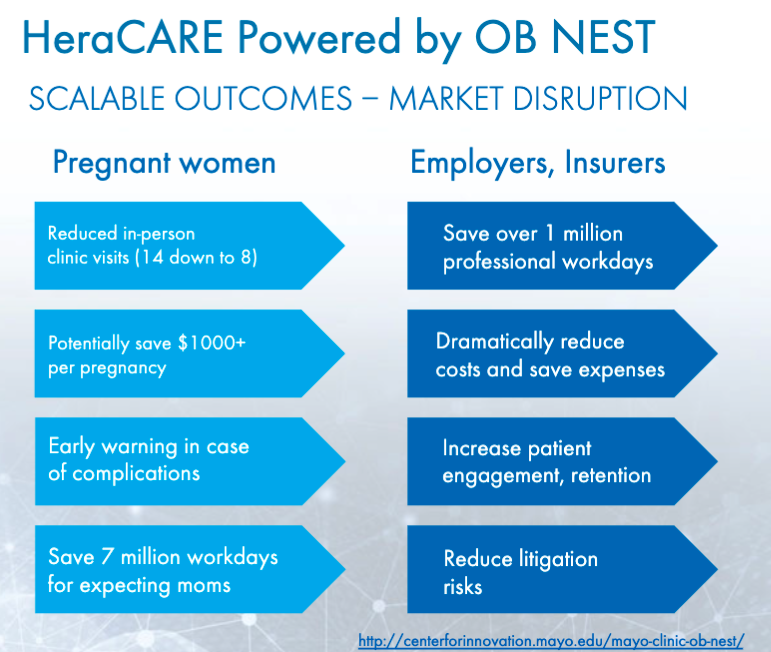 HeraCARE is powered by the Mayo Clinic's OB NEST.
HeraCARE in action
HeraCARE is an in-home monitoring platform with which patients can leverage technology and expertise.
Once operational HeraCARE will deploy AI powered algorithms and a combination of a digital platform and smart connected devices to assist expecting mothers as well as healthcare professionals in better managing pregnancy care, with a focus on personalised, continuous and proactive home-oriented solution.
HeraCARE is effectively an end-to-end medical grade solution, providing real-time data on various body functions such as blood-pressure, weight and heartbeat.
HeraMED is on the front foot in terms of introducing the technology to healthcare providers which is not only providing test data, but also has the potential to fast track distribution once those providers are ready to roll out the devices.
Tests are already being conducted by one of Brazil's largest healthcare providers, Hapvida Saude.
Hapvida has a network of over 100 hospitals and 1000 clinics across 11 states. It has integrated HeraCARE Pro into its IT systems, to be used by medical professionals and patients across multiple sites as part of a broader pilot trial.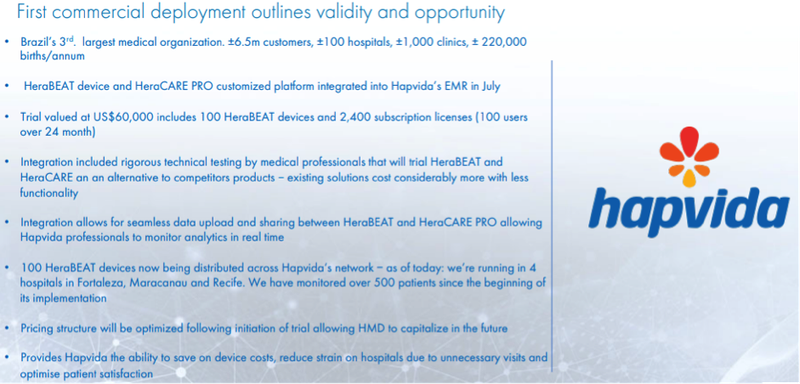 HeraCARE is being rolled out to Brazil's largest healthcare network.
So far, the trial has been highly successful with HeraMED achieving seamless data upload sharing between operational HeraBEAT monitors and the HeraCARE Pro platform from Hapvida.
HeraBEAT monitors with cloud support have been fully deployed into 15 hospitals and clinics across Brazil, with solutions being trialled amongst approximately 750 pregnant women.
The expectations are that successful trials could underpin increased uptake.
When looking at the addressable market in Brazil alone, the scalability of HeraCARE's pricing model is impressive.
Commercialisation incorporates recurring revenue model
Of course, one of the key questions shareholders will be asking is, ''when is pay day''.
HeraMED has developed a payment model which provides users with flexibility in terms of the level of services required.
The following table details how HeraMED is set to monetise HeraBEAT and HeraCARE, a key feature being the focus on recurring revenues which will provide shareholders with a sense of predictability in assessing year-to-year income.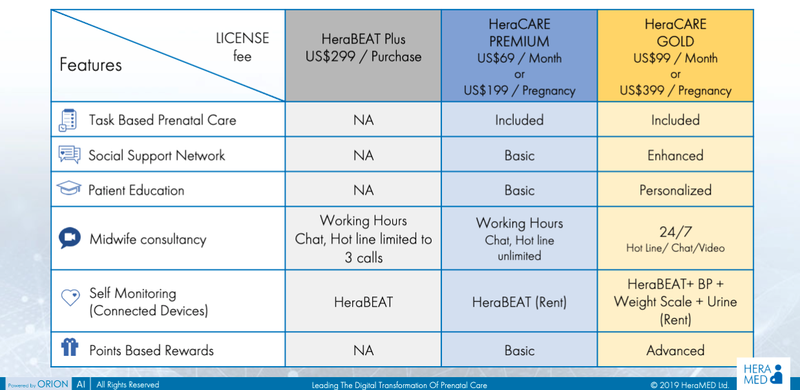 HerBEAT and HeraCARE pricing options.
By applying this pricing platform HeraMED will provide a base service offering to existing clientele on a month to month subscription model.
This not only ensures recurring revenue for HeraMED, but it provides all parties with a revenue sharing co-operation model, particularly enticing in terms of bringing on board large healthcare institutions.
Potential to expand breadth of data
As well as its relationship with Hapvida, HeraMED has also signed an agreement with Brazilian technology and software provider IntMED to expedite co-development, geographical adaptation and progress the uptake of HeraCARE.
IntMED is already in partnership with Hapvida, yet could broaden HeraMED's scope considerably through its relationships with Pague Menos, one of Brazil's largest pharmacy chains and Unimed, Brazil's largest healthcare network.
There are 2.9 million births in Brazil each year and IntMED will assist HeraMED to ensure the best possible uptake of the platform in the region.
IntMED will receive one third of revenues received by HeraMED from any prospect introduced by, engaged by or managed by IntMED.
Further revenue sharing deals have been agreed, but the key takeaway here is the vast network of providers that HeraMED will have access to via this new relationship.
Artificial Intelligence opens up new fields
Artificial intelligence can be used to detect tumours, manage diabetes and heart disease.
It is now used in hospitals, via Med-tech apps, to connect surgeons with doctors and nurses and to ensure that patient histories are up to date and known to all relevant parties.
AI can help facilitate better patient outcomes, reduce the costs of care and increase staff awareness of potential patient issues.
The AI HeraMED is using is known as Orion and again, it is being developed in conjunction with the Mayo Clinic.
Orion is the result of HeraMED's research achievements in pregnancy monitoring anlaysis and has been designed as an alternative to current manual, paper and expert-based analysis.
Orion is trained to detect precursors that can indicate possible pregnancy complications before these become a problem.
In Orion, a massive pregnancy monitoring datasets with Convolutional Neural Nets (CNNs) is being integrated with deep learning algorithms in order to identify both existing as well as new risk factors.
It empowers physicians, optimising their time to apply their knowledge in a more focused, intelligent and efficient way.
Largest global repository of foetal monitoring information
In the corporate arena, the adage 'cash is king' is often bandied around, but for a company such as HeraMED data is the Holy Grail that is central to the company's ability to successfully develop machine learning algorithms for the healthcare industry.
In discussing the relationship with Mayo Clinic and the impact it has on data access, Groberman said, ''In a lot of cases, the required data doesn't exist.
''You need to collect the data using your own systems and you need thousands of data records in order to really make the outcomes work.
''Now the biggest value and advantage that we have here, is that there are hundreds of thousands of data records of pregnancy monitoring information in the world.
"We've started with the Mayo Clinic and in the long term we are attempting to own the biggest repository of foetal monitoring information in the world.
''This will really allow us to fast track the development of the algorithms.
''It includes the physician and the patient and the result of the pregnancy.
''So, there's a lot of engineering and sophistication and machine learning work to be conducted, but the data place will be there for us to work on.''
Entry into Europe
HeraMED has recently entered the European market via an agreement with a leading wellbeing and electronics distributor in Germany.
Duttenhoffer, a leading European distributor of wellbeing, electronics and digital imaging products with annual revenues of ~€250 million, will distribute HeraBEAT in Germany, Austria and Switzerland.
The agreement also came with a purchase order for approximately €30,000.
Duttenhofer represents some of the world's largest brands including Siemens, Braun, Sharp, Zeiss, Sony and Samsung and has strong connections to medical services providers which allow HeraMED to approach medical institutions and Health Maintenance Organisations (HMO's) in its network
In further good news, Israel Innovation Authority (IIA) advised HeraMED that it successfully passed the first stage of the approvals process required to receive a grant from the Israel Innovation Authority.
The grant is to be issued as a collaboration between the Israeli government and the Mayo Clinic to promote collaboration between Israeli companies and the Mayo Clinic.
With the scope to enter new geographic markets and apply its technologies to other healthcare areas, it would appear that HeraMED has a bright future.
---