Emerging syngas producer Leigh Creek delivers, but wait, there's more
Published 22-FEB-2019 10:53 A.M.
Hey! Looks like you have stumbled on the section of our website where we have archived articles from our old business model.
In 2019 the original founding team returned to run Next Investors, we changed our business model to only write about stocks we carefully research and are invested in for the long term.
The below articles were written under our previous business model. We have kept these articles online here for your reference.
Our new mission is to build a high performing ASX micro cap investment portfolio and share our research, analysis and investment strategy with our readers.
Click Here to View Latest Articles
In a game changing development that more than doubled the market value of Leigh Creek Energy Ltd (ASX:LCK), the company achieved one of its key milestones through the commercial success of the group's pre-commercial demonstration (PCD) facility at the Leigh Creek Energy Project (LCEP).
Leigh Creek could be considered a mix of a resources company and a developer of purpose-built technology, but essentially it is an emerging producer of syngas, or synthetic gas
An important factor to understand is that syngas isn't a new product, meaning there won't be lengthy lead times to get the technology approved for use.
Standard environmental approvals needed to be gained to develop the trial plant, and there will be the usual regulatory checks and balances as the company moves towards developing a full-scale project.
Where Leigh Creek's management has shown its expertise is in identifying the fact that there will be more than just a shortage of gas supply, but there will be users who can benefit substantially from using syngas and/or its by-products rather than traditional gas.
As widely documented, gas supply is struggling to keep up with demand on the east coast of Australia, and recent merger and acquisition activity, as well as investment in both new and brownfield projects suggests that Leigh Creek is a right place, right time proposition.
What is syngas
Given the industry backdrop and Leigh Creek's transformation from a $50 million company to a $100 million plus entity it was hard to go past as our stock of the week.
Providing further interest was its potential to develop a niche product with applications that would suit a wide range of users. It's also a superior offering, to some industries, compared with gas that is delivered from both conventional and unconventional sources.
The feed material for production of the syngas will come from Leigh Creek's coal fields in northern South Australia.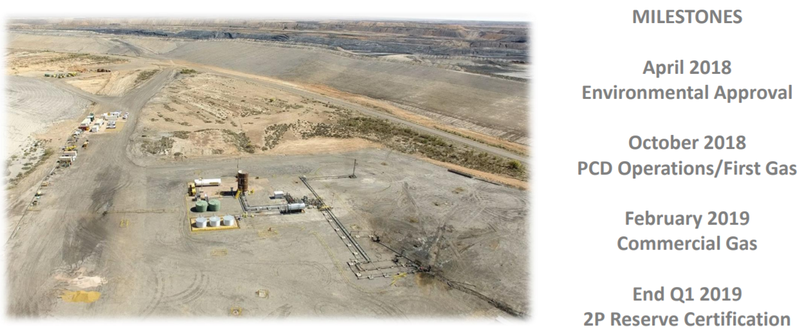 The production process is in-situ gasification (ISG), also known as underground coal gasification (UCG), a process that converts coal from its solid state into a gaseous form, resulting in the generation of synthesis gas (syngas) containing methane, hydrogen and other valuable components.
Bear in mind this is completely different to the coal seam gas process, where fracking and other parts of the operation have come under scrutiny.
The syngas can be used to produce electricity directly or further refined into a variety of products including synthetic methane and ammonia.
For the ISG reactions to commence, air is introduced through the inlet well and an initiation device is used to create very high temperatures. As the temperature and oxygen concentration reach optimum levels, a series of reactions convert the solid fuel into syngas, which is then extracted through the outlet well.
The ISG process is a chemical conversion from solid coal to gas rather than a combustible conversion ('burning') which would create heat and carbon dioxide rather than syngas.
As indicated below, the area in the coal seam where the gasification takes place is referred to as the gasifier chamber, and the reactions that form syngas typically occur at temperatures of between 900°C and 1200°C.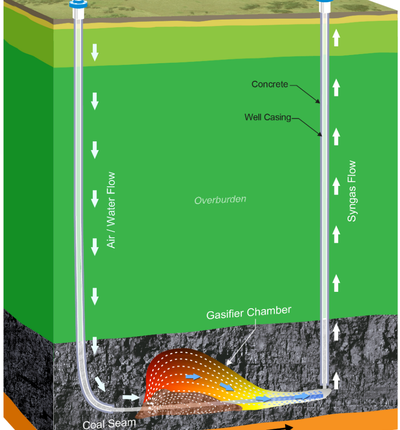 ISG receives government support
Though ISG has been used extensively throughout the world it has been tested sparingly in Australia, and unfortunately for companies such as Leigh Creek who have proven that they can employ the technology properly and reap the benefits in terms of producing a highly versatile and valuable end-product, others that have unsuccessfully dabbled in the area have given it a bad name.
While it would seem that the rush of support for the Leigh Creek project has dispensed with that stigma, management is cognisant of the need to be vigilant regarding its environmental responsibilities.
This has no doubt been instrumental in gaining the confidence of the South Australian government which has been extremely supportive of the project, understanding that it wasn't the technology, rather the developer that failed on a number of fronts when the Queensland government took a tough stance against the development of ISG projects.
Environmental benefits
Interestingly, there are compelling environmental arguments to support ISG compared with some other forms of energy.
Firstly, it is a proven technology that has been used for decades without repercussions in relation to harmful environmental developments.
With regard to site development and resource extraction and treatment, the process is streamlined with minimal disruption to the surroundings surface environment.
Above ground facilities can be easily located away from sensitive areas without impacting access to targeted reserves.
The need for above ground plant, production, or refinement facilities, or for solid waste handling and disposal operations is eliminated because ash, char, and other solid residual materials from the gasification process remain underground.
Groundwater contamination is not an issue as ISG can be conducted at depths well below freshwater and in saline water.
ISG also produces less greenhouse gas than conventional mining where significant amounts of waste rock need to be removed in order to access the below surface usable product.
Such projects should also make for compelling investment opportunities as the capital and operating costs are comparatively low.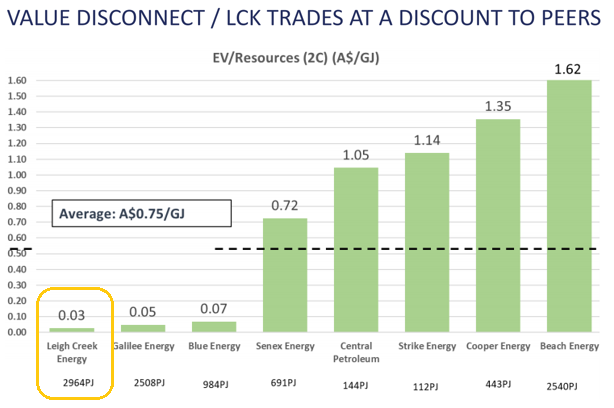 The cost of producing ISG gas is lower than surface coal gasification and other non-conventional gas developments.
When companies looks to finance greenfield projects through debt and/or equity raisings, or by attracting joint-venture partners, attractive returns on invested capital are beneficial in relation to negotiating funding on economically viable terms.
Supply options
While Leigh Creek is still at the early stages in terms of determining potential markets, there is the prospect of supplying syngas to supply constrained east coast markets or South Australia, particularly given the latter's problems with grid instability and power outages.
The Australian Energy Regulator noted that South Australia tends to experience volatile pricing, primarily due to the high proportion of intermittent renewable energy, combined with the closure in May 2016 of the large baseload coal-fired power station at Port Augusta.
The following chart demonstrates South Australia's strong reliance on gas (designated by grey) as a proportion of total installed generating capacity.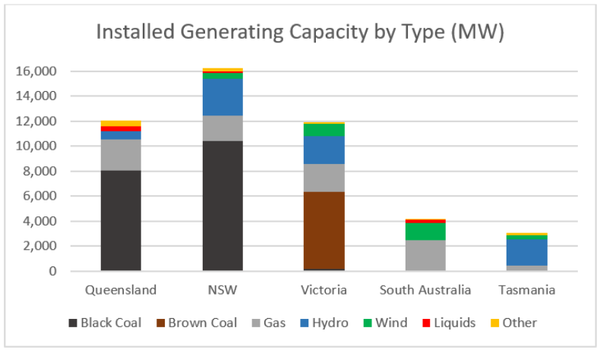 The figures indicate that Queensland and South Australia are more reliant on gas than New South Wales and Victoria, but the key factor is the degree of reliance on gas proportionate to total installed capacity.
Gas accounts for less than 25% of installed capacity in Queensland, while in South Australia it represents more than half the state's installed generation capacity.
Consequently, the injection of a new supply of gas from a producer such as Leigh Creek could assist in addressing a problem that is forecast to deteriorate further in coming years.
Aside from wind generation, the South Australian base load power generation consists solely of gas fired turbines, and the shortening of gas supply (net of LNG exports) in eastern Australia is impacting the profitability of base load generation and therefore electricity prices.
These events have made it increasingly difficult for large electricity consumers in SA to be able to secure affordable base load power.
With the likes of Olympic Dam and other large mining projects generating substantial amounts of income for the state, as well as creating job opportunities it is likely that the government will move sooner rather than later to address the power situation.
The state's manufacturing and mining industries can't function efficiently and confidently while unpredictable wind energy generation is the only backstop.
Though it is too early to call, given this backdrop it would appear that South Australia may be the most likely source of demand, and being a crucial development in terms of the state's future, this could work in Leigh Creek's favour when it comes time to fund and develop the project.
It is also worth noting that during the operations of the PCD, the company received multiple expressions of interest from domestic and international energy and fertilizer companies.
Management is continuing to advance these discussions toward a potential joint-venture or partnership.
Upcoming share price catalysts
Even after the recent share price run there would be the potential for further upside if a joint venture was established whereby a range of benefits such as contributions towards financing, sharing of development costs and the negotiation of offtake agreements were made possible.
The information gained from the PCD has positioned Leigh Creek to upgrade a portion of the company's large 2C resource (current 2C resource represents approximately 7.8% of the Australian East Coast gas resources) to a 2P reserve.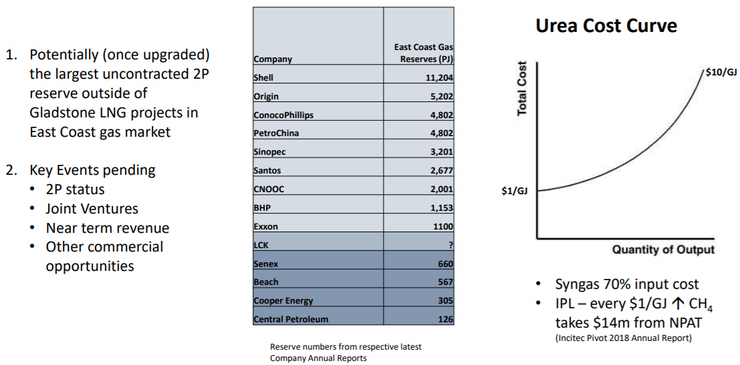 Management expects to be in a position to provide 2P reserves certification by the end of the March quarter.
The term 2C resource is defined by the internationally recognised Petroleum Resource Management System as the best estimate of sub-commercial contingent resources.
By comparison, 2P offers more certainty as it is an estimate of probable reserves, and with the company now able to attribute the term 'commercial' to the classification there is a significant.
Such an upgrade would provide additional confidence, potentially creating investor support.
Management also expects to receive expressions of interest from suppliers and gas buyers in 2019, and any commercial agreements relating to such discussions would provide added certainty, perhaps de-risking the development process.
Consequently, there are multiple share price catalysts, making Leigh Creek a 'watch this space' stock.
---