AJX emerges from year-long quiet phase with first announcement in ages. More to come says CEO
After 12 months in "quiet execution mode" our long term investment Alexium International (ASX:AJX) appears to finally be ready for a strong year of revenue growth, market expansion and news flow.
Today AJX announced "strong sales" of its new environmentally friendly mattress cooling product - we will cover how this news helps progress our overall investment plan for AJX in today's commentary.
AJX is a US-based company which develops and sells environmentally friendly advanced performance chemicals for flame retardancy and cooling, was first added to the Next Investors portfolio at 6.5¢ in March 2020.
We have since added to our position twice more.
Most recently was last month, when we bought AJX shares at around ~5.5¢ after seeing that private equity firm Colinton Capital was buying more shares on market.
Colinton Capital is a well-known private equity firm that takes a "hands on" approach to growing the market caps of companies that they invest in from the $100 millions to multiple $ billions. Colinton have been working closely with AJX for over 18 months now and hold ~12% of the company.
AJX's share price had been moving sideways for a year due to radio silence while the company was quietly working behind the scenes to accelerate commercialisation of its products.
We expect AJX to now emerge from this quiet phase after the CEO's commentary in the recent quarterly foreshadowing newsflow in the near term, and the share price seems ready to move up after a long 12 months of false starts.
AJX can be a complex story to understand and in our last note we created a simple milestone checklist for investors to follow AJX's progress. Here is where today's news fits into the picture...
We are generally watching for AJX to create → prove → commercialise new chemistries for cooling and flame resistance in different consumer markets like bedding, clothing, uniforms, upholstery, sporting goods and many other consumer market segments.
Today's announcement demonstrates further traction in the "commercialise" section of the market segment: bedding/mattress cooling.
AJX today reported a significant increase in sales over the past three months of its proprietary biobased and biodegradable phase change materials (PCM) — recently rebranded as BioCoolTM.
When we see an announcement about a new or existing technology, we want to see (A) how it will open up opportunities in a new market or (B) improve AJX's ability to commercialise an existing market.
Here is our basic create → prove → commercialise process steps for each new market AJX wants to enter:
Identify a new market (i.e. bedding, uniforms, body armour, etc...)
Design/Combine AJX chemistries for end use in this new market
Successful testing - confirm the new chemistry combination & manufacturing process works
Sign Manufacturer Partnership #1 - a product manufacturer agrees to use AJX chemistry in their end products
Sign Manufacturer Partnership #2 - second manufacturer proves there is a strong market
First revenue - initial cash generated
Increased Revenue - more cash generated
Multiple end uses in market - develop new uses in the newly established market
Today's news about increased sales in the mattress cooling market segment adds to an area where AJX has already made excellent commercialisation progress.
While we haven't seen the exact revenue numbers yet we expect to see more information in them in an upcoming quarterly, so we have marked today's news as "in progress" for "increased revenue".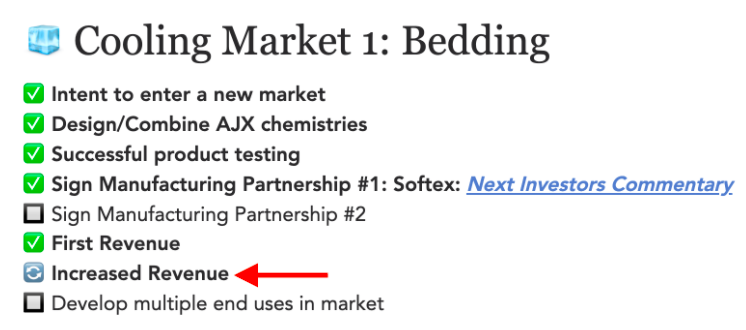 Deep Dive: What is BioCoolTM?
BioCoolTM is the name AJX has given to its environmentally friendly bed cooling chemical.
As investors, we try not to get too bogged down with all the names AJX gives its products (we think the product names are more useful for branding when selling to manufacturers in each market segment).
Our focus is on how fast AJX can create → prove → commercialise in each new market segment.
Let's take a deeper look at AJX's bio-based product for cooling beds, where they have seen increased sales - BioCoolTM.
BioCoolTM is a proprietary biobased and biodegradable phase change material (PCM) for use in bedding and textile applications.
After the successful creation of this technology less than a year ago, AJX says that BioCoolTM sales now account for 48% of its total product sales for mattresses, including both textile and foam applications.
BioCoolTM presents an attractive proposition for bedding and textile manufacturers seeking cost-effective ways to improve their environmental credentials. It is registered with the USDA BioPreferred program and has a bio content of 94% — the highest bio content of any microencapsulated PCM listed.
The initial sales focus has been on BioCoolTM application for textiles in the bedding industry, led by AJX's core customers transitioning from the Alexicool® technology to the more environmentally friendly BioCoolTM technology.
However, strong interest has also been received from new customers thanks to the features, functions and performance of BioCoolTM products, presenting opportunities for AJX to widen its customer base and increase market penetration in the bedding market.
The company is confident that "the demonstrable all-round superior characteristics of BioCoolTM products" will make it an equally attractive proposition for other textile applications as well as foam bedding applications.
Combined, these applications should deliver further revenue growth for AJX this financial year.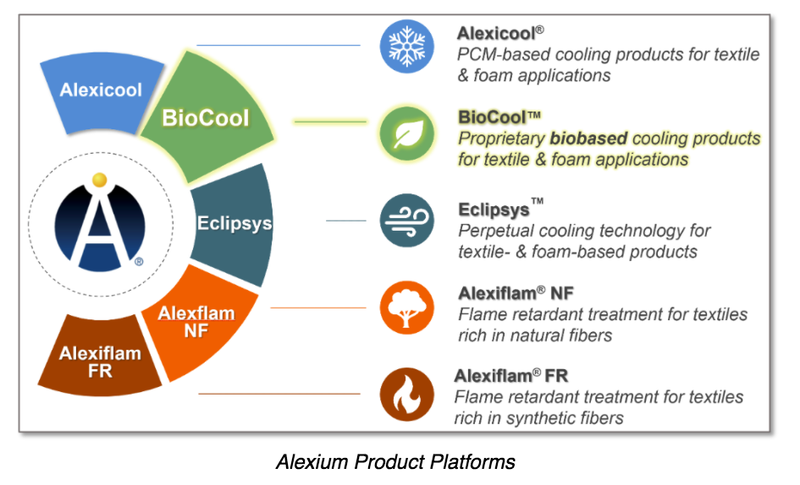 AJX: Sales jump for the quarter
Today's positive sales numbers come just weeks after AJX released its June quarterly report.
Cash receipts ($US1.6M) for the quarter were comparable with the prior reporting period, but sales numbers saw a major boost. AJX's US$2.2M in sales is up significantly from the previous reporting period and the same period last year.
This jump in sales was driven by strength of the new product lines and was supported by continued sales in AJX's core business.
Major progress has been made in recent times with AJX now actively engaged with more than six product platforms serving a range of addressable markets. This compares to just a few years ago when AJX was selling only two discrete products to a single market.
The company's BioCoolTM platform is just one of several recently announced initiatives that are driving revenue growth this year.
Cooling market 1: Bedding
AJX product name(s): Alexicool®, BioCoolTM, Total Mattress Cooling System (TMCS)
AJX's Total Mattress Cooling System (TMCS) has now been commercialised, recording its first initial sales. The TMCS mattress design provides an integrated solution (four different Alexicool® products) for enhanced and extended cooling through the night.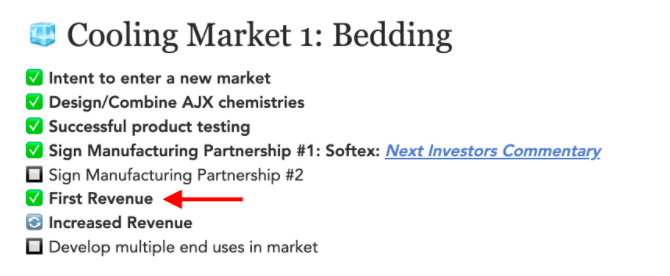 Cooling Market 2: Body Armour
AJX's product name: EclipsysTM (Phonon) for Body Armor market
Eclipsys'TM patent pending technology continually pulls heat away from the user, cooling them by up to 200% more than competing products.
AJX has now completed product design work for body armor and is in late-stage evaluation with a body armor provider. Early test data from human studies has shown that the EclipsysTM-based body armor reduces the heat index of the wearer's microclimate by more than 10°F.

We are eagerly watching for announcements about other end use applications for the Eclipsys technology to grow revenues in FY 2022: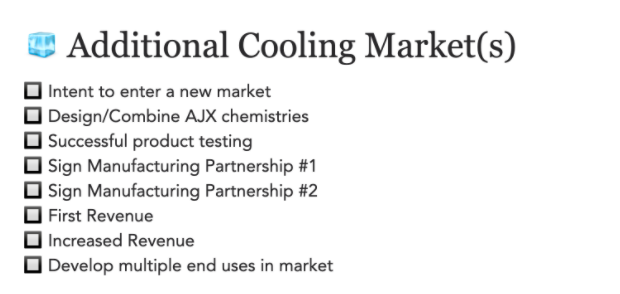 Flame Retardant Market 1: Military Uniforms
AJX product name: FR NyCo Technology
The company has also conducted a successful production-scale run of its FR NyCo technology and continues to work on optimal design and wearability. Production-scale goods will then be provided to the military for testing and evaluation.

Is this finally the year for AJX?
We have been invested in AJX for over 18 months and it looks like this might finally be AJX's time to deliver some shareholder returns.
Many shareholders have been in the AJX story for many many years before we came along and we are sure they will be happy to see the story come to reality too if this is the year AJX delivers the goods.
We try to invest in companies when we think they are ready for a price run, but we don't get it right all the time and sometimes we take a position a year or two too early and need to be patient for returns (cough, cough TMR, VN8, WHK).
Back in June, prior to the on market share purchases by Collington (and us) and the release of the healthy quarterly report, the company's share price was trading sideways at around 5¢ for ages. It has since hit a peak of 8.5¢ by early August amid strong volumes settling back in the 7's.
There have been a few false starts over the last 18 months for AJX when sellers came in and extinguished any fledgling share price runs. Hopefully the promised newsflow made in the quarterly will change that — as always we'll be watching and reporting back.
We suspect that if AJX continues to progress its commercialisation plan across its product lines and deliver positive sales growth, the company will continue to gain market traction and attract new shareholders to the register.
CEO Dr Bob Brookins certainly has a positive outlook, describing this as "the most exciting time that I have seen since I joined the company".
He credited a number of factors as contributing to this sense of excitement — the greatest being AJX's commercial success across its product platforms:
Market adoption of BioCoolTM products is strong.
Total mattress cooling system (TMCS) is commercialised with full run rate in 1H FY2022.
EclipsysTM product adoption for body armor slated for 1H FY2022 (a new market for AJX).
Other product lines are in late-stage customer-product evaluation and supply chain development is underway.
AJX is confident that sales will continue to rise through the year end based on the adoption trends for AJX's new product lines delivering a result that would almost certainly further support the share price going forward.
As shareholders, we look forward to the upcoming release of AJX's annual results and its strategic initiatives for the coming year.
---